Why Does Literature Hate Babies?
On the Sometimes Reciprocal Hostility Between Writing and Children
Literature has more dogs than babies
Literature has more dogs than babies, and also more abortions. Most babies who appear in literature are, by paragraph three, already children, if not even adults. But there are a few exceptions. In Beloved by Toni Morrison, a two-year-old baby is murdered by her mother so as to protect the child from a life of slavery, or from life at all, and the baby returns (it seems) as a ghost to haunt her family. A baby is an important character in Margaret Drabble's 1965 novel of a single mother in academia, The Millstone, albeit the baby appears more as a heavy pendant than as a being. And in Kenzaburo Oe's A Personal Matter, the narrator's baby is born with a seemingly deformed brain, extruded from his skull, and the narrator then travels around town with the baby, considers letting the baby die, but doesn't, considers sailing to Africa, but doesn't, and finally the narrator returns to the hospital and it turns out that the baby's deformity was only superficial and easily fixed, the baby is not a monster after all—so who is deformed? and who is a monster?—and the father, there in post–World War II Japan, is celebrated by his in-laws as if the good fortune is a reflection of his good moral character just as earlier his bad fortune was seen to be a reflection of his bad moral character. The novel The Fifth Child by Doris Lessing tells of a family with four children, and the whole family is pretty happy and ideal, even smug, until the catastrophically devilish fifth child is born, who, even as a baby, is terrifying. (Although one begins to notice that nobody other than his family seems to find the fifth child so difficult, or strange, and really the child seems simply not loved, and his only real fault as he grows up seems to be that he is more at ease in a class lower than that of the posh family who can no longer really afford the fantasy of the great house they inhabit.) In some of Lydia Davis's short stories, a baby often interrupts a thought, or is a thought. In Raymond Carver's "Feathers," a couple goes over for dinner to the house of another couple they don't know well, the house is a mess, there's a peacock wandering around, indoors, and then the visitors meet the host couple's baby, a baby about which the couple seem beatifically proud, and a baby who to the narrator is just enormously fat, the ugliest baby he has ever seen; and after witnessing the parents' love for their ugly baby, that same night the narrator and his wife go home and decide to have a baby themselves, and in the very end of the story we speed forward in time and find out that the man is upset that his wife cut her hair short and his life feels, with the baby, pressed and plain. In Anna Karenina, Tolstoy makes vivid and real both Anna's and Kitty's babies. (Tolstoy has also written about the inner life of a dying tree.) In Judy Budnitz's short-story collection Nice Big American Baby, several of the stories feature babies: one gestated for four years; another dark black though his parents are pale; many, many made by soldiers who are there and then gone. Maybe the most fully realized baby I have ever read appears in the Lorrie Moore story "People Like that Are the Only People Here," in which the baby is Baby and the father is Husband and the mother is Mother and the oncologist is Oncologist. In Jenny Offill's Department of Speculation we find a colicky and cherished baby and a breakdown (at least for a bit) of a marriage. I can think of no baby in Shakespeare, unless we count Caliban, which maybe we should. One might say that most babies in literature, when they appear for more than a moment, tend to be catalysts of decay or despair, as surely babies now and again in real life actually are (though literature is always only a convex looking glass, and not even a regularly convex one, more like an especially old and unshined spoon (and definitely a silver one)). So many of the modern written babies seem to have more in common with what are termed in Margaret Atwood's A Handmaid's Tale "unbabies" rather than "keepers." In their monstrous burdensomeness, these babies resemble my very favorite of all depicted babies, that nineteenth-century creature denied even the luxury of an infancy, that poor solitary wretch who on the first day of his life was already over six feet tall, and about whom his creator said, as if in repentance, "The world was to me a secret which I desired to divine." We're not to know. Mary Shelley's Frankenstein is not the infant joy of Coleridge or Blake, instead it is the story of an infant angry about being born at all, a half-rhyme emotionally with the book itself being termed by its mother / author to be her "hideous progeny"—a phrase more sad than flip, as Mary Shelley knew herself to be the progeny whose arrival led to the death of her mother, Mary Wollstonecraft, the vindicator of the rights of women. (And Mary Shelley then had to watch, after writing her book, her first, second, and third child die in infancy.) But if I seem to be wandering into an appraisal of babies—so underrepresented!—as in need of their own subaltern studies then I have wandered too far. We know babies are the only ones among us in alliance with time. They are the only incontestable accessors to power, or, at least, they are immeasurably more well-placed than their elder co-unequals. The way a baby, in a stroller, briefly resembles a fat potentate, for a moment unlovable, has something in it of the premonition. Even as to see a baby raise its chubby hand—to bow down before that random emperor can feel very right.
* * * *
Lots of writers have children
Sometimes those children write memoirs. It is rare that the memoirs are happy memoirs. This may say more about the nature of memoirs than the nature of being the child of a writer. (Whether being the child of a writer is really any worse than being the child of an accountant professor grocer realtor regulator will remain difficult to say since selection bias—children of writers more likely to write—makes memoirs, in relation to this question, a more than usually problematic dataset.) There is a certain consistency of complaint, I have noticed, among these memoirs: the child comes to show something to the writer-parent, who is writing in a room at home during the daytime hours, and the writer-parent says to the child, I can't right now, I'm working. There are also often descriptions of the looming, hostile, uncompromising door of the home office. Apparently it is very troubling for children to see their parents working, at least doing the kind of work that does not make itself visibly obvious, even if the total hours of work, and thus parental unavailability, are equal (or more likely substantially less) than the working hours of a parent simply leaving the house, to go, say, to an office, where the equally mysterious work of "office work" is, in the child's imagination, if they are interested in the imagining, done. Presumably these doors are simply the wrong doors on which to be knocking. I have consistently had a difficult time believing these memoirs, not that one has to believe memoirs, or that belief is what memoirs are there for. But the door seems like an obvious screen door. But screen for what?
I have never been the child of a writer, nor been a writer who had a child. (Being a writer who has a baby is really nothing like being a writer who has a child.) But I was once taking care of a three-year-old child, my niece, while I had no choice but to, in at least a minimal way, be working as a writer at the same time. It was the first time I was having a story of mine published in a major magazine, and I had to go over edits on the phone at a specific time, a time which overlapped with my picking up my niece from her preschool and then passing a couple hours with her, in a nearby Starbucks, until her parents were home—I didn't have a key to their apartment. My niece was and is an unusually easy, flexible child. I took her to the designated Starbucks, though the original reason for going to the Starbucks, which was Internet access (this was more than a decade ago), proved dysfunctional that afternoon. Regardless, I opened my laptop and tried to take the editorial call. It was a call, then calls back, it was going back and forth. My niece was annoyed that I wasn't speaking only to her. I promised I would speak with her soon. I continued to speak on the phone, with the editor. At one point, in between phone calls, my niece told me she wanted to go to the bathroom, so I brought her to the bathroom. Once were in the narrow stall, she took my phone from my coat pocket and threw it in the toilet. The phone did not work after that.
It is nice for children when their parents have offices outside of the home and are not seen to be doing work, I note to myself today, as the puma weeps while I speak on the cellphone, briefly, for work.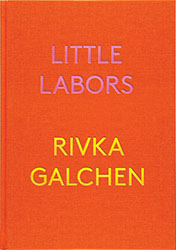 Excerpted from LITTLE LABORS by Rivka Galchen. Reprinted by permission of New Directions. Copyright © 2016 by Rivka Galchen.
---