Gone are the days when you could write a book a chapter at a time and hook people in a slow, serial burn. Now, if the internet is to believed, one must amass 100,000 followers on social media before they can even be considered for a book deal (every writer ever: why would anyone follow me? Weird.).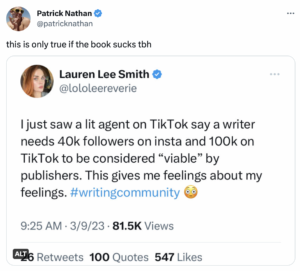 The current publishing landscape is tough for authors. A New York Times piece looking at the post-Global Financial Crisis economics of publishing noted that 7 in 10 authors don't earn back their advances, and these are shrinking to begin with. Dave Eggers' advance for A Heartbreaking Work of Staggering Genius came out to below $40,000—not TV money, as they say.
Publishers have subsequently become more selective, too, about which authors they pay to send on tour, as a 2015 piece in The Atlantic noted. To market their own books, authors often shell out for tours themselves, and are then often met with a room of empty chairs. (And you thought writing the book was hard.)
All this is background to a small fracas in the Australian publishing landscape this week. Author Laura Elizabeth Woollett published the exchanges she had with the founders of The First Time Podcast, which focuses on the publishing experience for newbies.
Woollet had reached out to the podcast to express interest in appearing on the show, and was sent back a "media kit" detailing the $600 fee for an appearance amounting to sponsored content. [Literary Hub reached out to The First Time Podcast for comment; no response had been issued at the time of publication.]
Now, first-time authors are not a deep vein to tap if your goal is to make money, so let us give the podcasters some assumption of benevolence. But the cottage industry of writing services, marketing, vanity publishing, and such make the line between "reasonable ask" and parasitic service hazy.
The mechanics of a bestseller remain opaque to those outside the industry who might not understand the power of an authors' credentials and relationships, or have perhaps seen the viral success of Stone Maidens, a self-published book that became a bestseller when the author's daughter posted about it on TikTok, and wondered if success was just one online appearance away. Ah, the mysterious power of BookTok.
A proper marketing budget for your book would be nice, but if that's not on offer, is $600 to go on a poddie worth it?