Why Are We So Afraid of Female Desire?
On Sex and Moral Panic, from the Victorians to the Hays Code
There are many stories in history and legend where rampant females are seen as posing a particular threat to the social order.
In classical mythology it was the maenads, or followers of Dionysus or Bacchus, who frenziedly tore Orpheus apart. Dolled up in fawn-skins, wine-fueled, and brandishing their thyrses (long sticks wreathed in ivy and tipped with a pinecone), on a night out the maenads were uncontrollable. In the 17th century, women were often seen as more lascivious than men, their passions ruled by nature rather than reason. Nineteenth-century physiologists clung to this notion that women were governed more by nature than by civilized thought. But they fiddled around with the concept of female nature, adjusting it to preconceptions about social class. They argued that women—at least the decent, middle-class sort—were pure at heart and not driven by physical passion in the way that men were. Lower-class women might be seen as more physical (read, more in touch with their animal nature) than their middle-class equivalents. In a certain male mindset this helped to explain why some middle or upper-class men turned to prostitutes. It could even be suggested that a class of "prostitute" women was a necessary evil, so that men could relieve their lusts on one group without compromising the virtue of "respectable" females.
Where this Victorian illusion that respectable women were passion-free beings prevailed was often in the face of plenty of evidence to the contrary and at great cost to women themselves. All women—whatever their class backgrounds—were effectively lumped into one of two categories: "respectable" or "fallen." That men were allowed a degree of license while women were caged in by expectations of chastity and virtue was all part of a distinct double standard of sexual morality which has persisted up to the present day. For a woman, giving vent to passion has always carried serious risks, quite aside from the physical risk of unwanted pregnancy. The social cost of being labelled unfeminine—or of being seen as a loose or fallen woman—has been high. Loss of reputation could expose a woman to the worst features of masculine exploitation: there was the danger that she would be seen as worthless and therefore "fair game."
Passionate feelings of all kinds could look unfeminine. Even writing about them was risky. Charlotte Brontë felt obliged to apologize for her sister Emily's rendering of the "harshly manifested passions, the unbridled aversions, and headlong partialities" of northern folk in Wuthering Heights. That a quiet, well-behaved girl could even imagine a Heathcliff was somewhat unseemly. Emily had been unworldly, a home-bred country girl, Charlotte explained, much accustomed to the rough folk of the rugged moorlands, and it showed in the "perverted passion and passionate perversity" of her characters. Not that Charlotte herself was able to fully disguise her passions: her love for the (married) French teacher, Professor Constantin Héger, with whom she lodged and worked in Brussels in the 1840s, was a disruptive influence in her life and erupts through the surface of her novels.
Women sometimes colluded with the idea of themselves as modest and passionless because that way they could look pure and innocent, avoid censure, and appear stronger candidates for masculine protection. In a world in which the balance of power between the sexes was so unequal, having a protector counted. It was extremely risky to look knowing, experienced, or in any way sexually needy as a woman. But it has also been hard for women to give expression to what they want, or even to recognize their own desire in the first place.
"That men were allowed a degree of license while women were caged in by expectations of chastity and virtue was all part of a distinct double standard of sexual morality which has persisted up to the present day."
As Marie Stopes had explained to her "young husbands," social conditioning could be very effective in blocking off desire. Understanding this goes some way towards explaining the vexed question of the appeal of "rape" scenes in imaginative literature, such as the episodes in E. M. Hull's The Sheik. Hull tells us that Diana's body "throbbed with the consciousness of a knowledge that appalled her." Even once sexually awakened, she feels that she has to keep her desires hidden, to protect herself. The fact that the heroine is overwhelmed by a strong, desirable hero at an imaginative level frees her from responsibility, excuses what otherwise might be interpreted as her own risky, culpable, or even unrecognizable sexual longings. That this "rape" only takes place within the realms of fantasy, where the woman/fantasist is in control of both the characters and the narrative, is crucial.
Dance was one medium through which women could express and explore desire and passion. The 1900s saw the eruption of what was widely described as "dance mania" or a "dance craze" in America and Britain, regularly linked—in the minds of both contemporaries and later historians—with new forms of liberation for women. The dance craze had various manifestations. There was the impact of Russian ballerina Anna Pavlova, choreographed by Mikhail Fokine in The Dying Swan in 1905. There was Diaghilev's Ballets Russes, reinforcing an already fashionable orientalism. There was ragtime; a passion for the tango in London, Berlin, and New York; the Charleston and Josephine Baker in Paris between the wars.
Dance allowed transgressive fantasies about both gender and power. Scheherazade, performed for the first time in Paris in 1910, was based on the first chapter of One Thousand and One Nights (Arabian Nights). In this story a despotic Persian king goes off hunting, and while he's away his favourite wife, Zobeide, persuades the eunuchs guarding the women to free the king's slaves. The black, male slaves are seduced by the concubines. Zobeide chooses the king's exquisite "golden slave" (Njinsky) as her lover. Scenes of breathtaking, orgiastic sensuality follow, before the king returns and massacres everyone except Zobeide, who takes her own life.
As cultural historian Mica Nava has emphasized, this was shocking and exciting on many levels. Lustful, libidinous women were shown dancing a defiance of patriarchy and initiating erotic adventures with black subordinates. Vaslav Njinsky, gorgeous and bisexual, became a cult figure. Whether androgynous as a bejeweled sex slave in gold harem pants, or stitched into silk elastic and rose petals, he fired the imagination of both men and women. After his performances in Fokine's Le Pavillon d'Armide, Le Spectre de la Rose, and Scheherazade, Njinsky found himself the object of what classical scholar and critic James Davidson has described as "a great geyser of sexual and romantic fantasies" across the world.
Highly significant for women were the performances of individual female dancers such as Isadora Duncan and Maud Allan. Isadora Duncan moved from California to London in 1898. She described her innovative, expressive form of dance as inspired by a mixture of classical sculpture (she studied Greek vases and bas-reliefs in the British Museum) and American ideals of freedom. She drew heavily on fantasy and imagination, performing barefoot in flimsy draperies or a Greek tunic. Ruth Slate, recorded in her diary that she had been particularly keen to see Isadora Duncan perform at the Duke of York's Theatre in London in 1908. Ruth's then boyfriend Wal, less keen, had stood her up, so Ruth decided to go alone. She found the performance a revelation, recording children dressed as sprites and fairies frolicking around with ferns and lilies; but it was Isadora's expressiveness and freedom that made such an impact: "I do not think I have ever seen anything more exquisite than Miss Duncan's dancing and my heart went out to the woman herself and loved her," Ruth enthused. Isadora Duncan's dance style was controversial: her lifestyle even more so. She was bisexual, and in 1906 had given birth to her first child without marrying the father.
Canada-born Maud Allan created even more ructions with her interpretation of Salome, first staged in 1908. Allan performed what dance historian Judith Mackrell has summed up as "an audacious choreography of desire." She wore very little apart from ropes of pearls and a wispy skirt. There were many who dismissed this expression of a young girl's physicality as the height of decadence, but it fascinated nonetheless. Like the ballet Scheherazade, it opened up a register of expression for female lust which was both shocking and appealing to many women. In 1918 the right-wing Noel Pemberton Billing, editor of a magazine called Vigilante, denounced and derided such eroticism as "the cult of the clitoris," by which he meant deviant and depraved. He further declared it unpatriotic, contriving to suggest that Maud Allan's close friendship with Margot Asquith, wife of the former prime minister, was implicated in a web of German conspiracy to bring down Britain. Allan sued, but in the context of wartime uneasiness Pemberton Billing got away with it.
Women's freedoms were both amplified and attacked as a consequence of the First World War. Young women moved into munitions work and previously male occupations, and many had their horizons widened by travel, work, and cinema. These new opportunities generated moral panics, such as that over "Khaki Fever": the belief that young women were turning into nymphomaniacs, throwing themselves at soldiers. Popular travel writer Mrs Alec Tweedie alleged that as soon as war was declared, "girls went out like cats on the tiles," looking for mates and shrieking madly. During the war, there were fears that young women's passions were being inflamed by cinema-going. As cinema historian Chris Brader has pointed out, films with titles such as The Shop-Soiled Girl or A World of Sin weren't calculated to reassure the censors, however mild the content. There was concern about improper goings-on in the dark of the picture palace, in dance halls, or indeed anywhere where young people hung about together.
Girls gathered together in groups were held to egg each other on to unruly behavior. Anxiety about this is clearly reflected in a story written by D. H. Lawrence, which was published in 1922. The story, entitled "Tickets Please!," features a group of girls working as conductors on trams during the war years. Described as "fearless young hussies," we are told that "they fear nobody—and everybody fears them." One of the girls, Annie, develops a passion for a young male inspector, John Thomas Raynor, who is something of a Don Juan. When she shows a desire for a fuller, more intimate relationship with him, the inspector, wary of her possessiveness, cries off. Annie and her mates lure John Thomas into the Ladies' Waiting Room and taunt him about his behavior, seeking some kind of retribution. They press him to make a choice, to commit himself to one or other of them. He gets uneasy, feeling himself cornered, and then the girls set on him like Bacchantes, ripping his clothes and drawing blood. When they let him go, crestfallen, Annie is left miserable, and the girls completely nonplussed.
"While it was risky for individual women to lose control or to surrender to passion, there could be safety in numbers."
The idea that women should know their place and behave with modesty was deftly satirized by Anita Loos in her 1925 comic novel, Gentlemen Prefer Blondes, and its sequel, But Gentlemen Marry Brunettes (1928). Originally subtitled The Intimate Diary of a Professional Lady, Gentlemen Prefer Blondes focused on the adventures of a pair of resourceful, libidinous American flappers, Lorelei and Dorothy, who travel around Europe creating mayhem. High-spirited and irrepressible, they zestfully pursue pleasure and personal gain. They are magnets for men wherever they go, and though good-natured, they exploit their suitors shamelessly. The men are shown as gullible, shallow creatures, somewhat infantile and often at the mercy of their wives and mothers. Lorelei, as narrator, is something of a philosopher. Twisting men round her little finger is to her a skill, a sensible strategy for the ambitious girl. And ambition in a girl, she reflects, is a form of prudence. Through the voice of Lorelei, Loos makes hay with the strictures of a society structured by class and patriarchy, up-ending double standards of morality. Courted by the rich Henry Spoffard, a moralist and prohibitionist, Lorelei suggests that a girl might be considered to be "more reformed if she knew what it was to be unreformed." Experience, to her, is invaluable: for how else can a girl learn what she wants? In Vienna, concerned about Lorelei's state of mind, Spoffard sends her to Sigmund Freud ("Dr. Froyd"), who confesses that he can find nothing wrong with Lorelei apart from her lack of repression. He advises her to cultivate some inhibitions.
The fashionable young woman, characteristically casting off her stays and inhibitions, caught the imagination of the 1920s. This image of the pleasure-seeking flapper could be tongue-in-cheek, but still basically positive. The term "It," denoting sexual attractiveness, was widely discussed at this time. Elinor Glyn, invited to Hollywood to turn her hand to screenwriting in 1920, claimed ownership of the term, based on her short story, "It," which she developed for the cinema screen in 1927. Glyn kept insisting that "It" was not merely sexual, but rather a quality of "potent romantic magnetism," but the public wasn't in the mood for such fine distinctions. Clara Bow's legendary performance as the "It" girl in this silent movie broke box office records in America. She played the part of a shop girl, Betty Lou, who set her sights on seducing and marrying the handsome owner of the department store in which she was a lowly employee. After a number of misunderstandings, and a lot of scheming, she pulls this off. The film—carried by Clara Bow's bubbly, appealing performance—celebrates Betty Lou as full of joie de vivre, irresistibly attractive and winningly feminine as well as having a shrewd eye for self-advancement.
Two other films of the period featuring girls on the make pushed the boundaries further. Warner Brothers' Baby Face (1930) starred Barbara Stanwyck as Lily Powers, a girl who survives sexual abuse and a deprived background by being inspired by Nietzsche and learning to exploit men before they exploit her. In an uncut version of the film she's advised to "crush all sentiment" and to face life "defiantly and unafraid," not to waste any energy "yearning for the moon."
A publicity poster for the film showed Stanwyck in a sexually challenging pose, declaring that "She had 'It' and she made 'It' pay!" Lily sleeps her way up through the management structure of the company she works for before eventually falling in love. The screenplay of MGM's Red Headed Woman (1932) was written by Anita Loos. In this film, Jean Harlow plays Lil, an out-and-out exponent of sexual opportunism who stops at very little to get what she wants, destroying marriages in the process. Lil is lustful and sexually self-possessed, juggling between her own sexual needs and determination to marry wealth as it suits her. The film proved highly controversial, and was banned in Britain. Both of these films starred uninhibited female characters who had no difficulty with owning or expressing desire, or in deploying various forms of sexual opportunism. Both characters, Lily and Lil, profited from such sophistication, and went unpunished. They stood as examples of precisely the kind of license and moral laxity that the Motion Picture Production (Hays) Code, which took effect in America from 1934, was designed to censor and clamp down on.
In films like Baby Face and Red Headed Woman the men's roles are undeveloped. They are like cardboard cutouts, characterized by, and differentiated from each other simply by age, wealth, and handsomeness, serving as ciphers for, or objects of, feminine desire. This is in contrast with the male icons of celebrity culture of the 1920s and 1930s. Here, the Hollywood "star" system, together with the production of movie magazines and other forms of journalism, encouraged mass adulation among female fans, usually involving a near-forensic interest in stars' personalities and private lives.
While it was risky for individual women to lose control or to surrender to passion, there could be safety in numbers. The maenads, after all, went around in a gang. In North America, by the late 19th century, groups of adoring girls had haunted matinée performances at the theaters in pursuit of actors whom they elevated to the status of "matinée idols" on account of their desirability.
Displays of collective passion became commonplace around matinée and movie stars, as fans fought to see and to touch their heroes, and to secure autographs and mementoes. There were historical precedents for this kind of thing. Back in the early 19th century, the composer and pianist Franz Liszt had inspired women to heights of devotion which contemporaries dubbed "Lisztomania." Women were said to have collected Liszt's cigar stubs, which they would encase in jewelry or hoard as relics. Such behavior has long been deplored and labelled hysterical. Late 19th-century observers spoke of a new disease affecting young women, which they dubbed "idolitis." In his historical study of matinée idols (published in 1972), writer David Carroll commented on "the hundreds of palpitating, breast-beating females" who cornered such performers in the 1890s and 1900s "like wolves surrounding a stag, some reaching out to stroke his coat, his shoes, anything; some standing planted to the earth on which he walked, in mute adulation."
Rudolph Valentino, variously described as "Love-God," prototype "Latin Lover," or the "greatest screen lover of all time" was a phenomenon on quite a different scale. An estimated 125,000 people rushed to see The Sheik within weeks of its opening in New York. Valentino is said to have received thousands of letters a week from adoring women in his heyday, although as in many of the stories which surround his popularity, it isn't easy to separate fact from fiction. Women were said to swoon or shriek at the very mention of his name. When he appeared in public, they snatched at his clothing, jewelry, or cufflinks for mementoes. After Valentino's shockingly sudden, untimely death from peritonitis in 1926, huge unruly crowds jostled to file past his body; there were faintings, hysterics, and even reports of women driven to suicide with grief. Valentino was, and remains a superstar, whose cult status has endured: his sex appeal is anatomized and hotly debated on the internet even today.
A significant part of Valentino's appeal on screen was transgressive. In The Sheik, a brown-skinned man, ostensibly an Arab, carries off a pale-skinned girl, likened in the text to a pretty boy or a white gazelle. The frisson of difference is there although ultimately we're reassured that Ahmed is the son of an English lord and not really an Arab at all. But fears about miscegenation were on the rise in the late 1920s, and soon the Hays Code set out explicitly to clamp down on suggestions of interracial romance. More generally, the movie production code asserted that scenes of passion, "impure love," and lustful kissing might threaten moral standards everywhere. Adultery should never be made to look attractive, in order to protect the sanctity of marriage and the home. All this had an impact. Film historian Molly Haskell noted that before the mid-1930s, American cinema could show women as sexually desiring in their own right "without being freaks, villains, or even necessarily Europeans."
"If it became harder to show women as explicitly sexually desiring, several films made just before and after the Second World War focused on heroines driven by unruly passions and worldly appetites."
Stars such as Jean Harlow, Norma Shearer, Marlene Dietrich, and Barbara Stanwyck all played convincing roles as women of uninhibited sexuality, pursuing men, enjoying sex, and challenging sexual double standards head on. In the later 1930s this changed, and sex had to take cover under metaphor. "It is the difference between Ginger Rogers having sex without children—Gold Diggers of 1933, Upper World (1934)—and Ginger Rogers having children without sex—Bachelor Mother (1939)," Haskell explained.
If it became harder to show women as explicitly sexually desiring, several films made just before and after the Second World War focused on heroines driven by unruly passions and worldly appetites. The most famous of these was of course Gone with the Wind, the historical romance epic based on Margaret Mitchell's 1936 novel of the same name, set in the American South during the Civil War. The novel was a huge hit when it was first published, and has continued a best-seller, with estimates of between 26,000 and 30,000 copies having been printed worldwide. In the text, the young Southern belle Scarlett O'Hara is introduced as trouble from the start. Her education at Fayetteville Female Academy has schooled her in feminine demeanor and taught her how "to conceal from men a sharp intelligence beneath a face as sweet and bland as a baby's"; but her green eyes are a give-away, "turbulent, willful, lusty with life."
She is passionately in love with Ashley Wilkes, who is bent on marrying the much more conventionally feminine Melanie. Scarlett is "fast." She throws herself at Ashley but gets nowhere. Ashley—represented in the book as a gentle, gallant, and cultivated young man—will never leave Melanie, however much Scarlett tries to push him into doing so. A man of honor, he is aghast at her lack of loyalty to a friend. In the meantime, Scarlett goes from man to man, marrying variously out of pique, out of self-interest, and for survival. Sex is not one of her goals: indeed it is really to be avoided; Scarlett wasn't keen on having babies. She feels nothing much for Rhett Butler, the handsome, debonair "hero" who watches her behavior with amused detachment and even admiration. Although Mitchell suggests that Scarlett experiences the odd sexual frisson in Rhett's company, when he is in gaol and teases her for her manipulative behavior, she owns that she wouldn't care very much were he to be hanged.
The reader/viewer roots for Rhett, but Scarlett continues to be driven by her "wild dreams, her mad desires" for the unattainable Ashley. In the film version of Gone with the Wind Leslie Howard, not altogether keen on the role, played the part of Ashley Wilkes. His performance failed to appeal to women viewers. Helen Taylor, who has made an extensive study of women's reactions to the film, was surprised by the vehemence with which most of her respondents dismissed Ashley as a "wimp" and couldn't understand why Scarlett would waste her time on him. Clark Gable's Rhett Butler, on the other hand, was every woman's dream. Nevertheless, when Scarlett and Rhett do eventually marry, the marriage degenerates into a mutually destructive power struggle, with neither character able to respond positively to tenderness in the other. We have to get to page 1,016 in this (very long) book before Scarlett starts to realize that her obsession with Ashley has had a negative impact on her life. But then she has a sudden revelation: "I loved something I made up" she confesses to herself: I made a pretty suit of clothes and fell in love with it. And when Ashley came riding along, so handsome, so different, I put that suit on him and made him wear it whether it fitted or not. And I couldn't see what he really was. I kept on loving the pretty clothes—and not him at all.
In the book, and at this point, Scarlett begins to respond to Rhett sexually. She realizes that Rhett's earlier accusation had substance: that she had been behaving all along like "a child, crying for the moon."
But it's too late. The tragic death of their daughter, Bonnie, and a row with Rhett, in the course of which she falls and miscarries another potential child, sharpens their mutual resentments and misunderstandings. The ending is well known. After a night of heady passion, when Rhett, in his cups, carries her upstairs and forces her into sex, Scarlett starts to feel something like love and compassion for him. The film shows her smiling coyly to herself in the morning light. But Rhett's had enough. And so off he goes, frankly not giving a damn.
__________________________________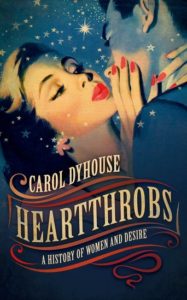 From Heartthrobs: A History of Women and Desire. Used with Permission of Oxford University Press. Copyright © 2017 by Carol Dyhouse.
---