Whose Death Gets to Count, and For What?
On Racism, Gun Violence, and the Failures of the Official Narrative
In her biography of Harlem Renaissance writer Zora Neale Hurston, Wrapped in Rainbows, Valerie Boyd explains why it was so difficult to track Hurston's whereabouts during her early twenties: "In 1911 it was relatively easy for someone, particularly a black woman, to evade history's recording gaze." She continues, "If not legally linked to a man, as daughter or wife, black women did not count in some ways—at least to the people who did the official counting."
The question of who counts and who is counted is not simply an issue of numbers. It's also about power. Collecting information, particularly about people, demands both the authority to gather data and the capacity to keep and transmit it. Those who have both the authority and the capacity need to feel that those they are keeping tabs on matter. In the aftermath of Hurricane Katrina, as the dead floated in the streets of New Orleans and the living were stranded on highways and rooftops, a huge crowd of mostly black and poor people descended on the city's convention center. When asked why relief organizations had been caught off guard, Michael Brown, the hapless director of the Federal Emergency Management Agency, responded, "We're seeing people that we didn't know exist."
In short, not everybody counts, and therefore not everybody is counted. We know, for example, how many American soldiers died during the Iraq invasion, because the US government had to keep record. One can only imagine the outcry if they hadn't. But we can only guess how many Iraqi civilians or insurgents have died, because there was no Iraqi state to count them and it was not in US interests to keep a tally, let alone learn their names. We know how many US police officers are killed in the line of duty in any given year, but there is no national tally for how many people are killed by police officers.
During the early 90s, when child and teen gun deaths ran at more than twice the rate they do now, many a child's death went unreported in the media. The deaths were deemed so frequent and predictable, and they occurred in places so foreign to those who had the power to cover them, that they might as well have been in Iraq. So back then, a young life could be extinguished without trace. The police would barely be interested. The circumstances, the names, the ages of the dead were not considered of sufficient public interest to log each one as a matter of course. Dan Kois, who ran the Gun-Death Tally for the online magazine Slate, says that would not happen today.
If the fact of a gun death is now generally reported, it is often done so in the most summary, almost dismissive, fashion. Such was the case for Samuel Brightmon's shooting, which appeared in the Dallas Morning News under the headline "Teen Fatally Shot While Walking Down Street." "Police are investigating after a teenager was fatally shot Saturday night when walking down the street in Southeast Dallas," the article read. "Police say Samuel Brightmon, 16, and another 16-year-old were walking in the 7300 block of Schepps Parkway around 11 pm when they heard gunshots. As the teens tried to run away, Brightmon was shot and collapsed in the street, according to police. Brightmon was taken to Baylor University Medical Center of Dallas where he was pronounced dead. No suspect has been identified."
The following day, the Dallas Morning News filed another brief report by Claire Z. Cardona, adding that: "Crime Stoppers is offering a $5,000 reward for information that leads to the arrest and indictment for the felony offense," and giving readers the number of the tip line to call.
The local Fox News affiliate ran a picture of Samuel bearing a wide, bright, toothy smile and wearing a blue and white shirt. He has clear skin, a strong jaw, and bright eyes—a face too young for life to put lines on it. The Fox website had almost identical information, under the headline "Dallas Teen Killed by Random Gunfire." "Dallas police are asking for help to find the person who killed a teen who was walking down a street. It happened just after 11 pm Saturday along Schepps Parkway in Pleasant Grove. Sixteen-year-old Samuel Brightmon was with a friend when they heard gunshots. They tried to run, but Brightmon was hit. He died at the hospital." They did manage to get a quote from his mother. "'It's so unreal right now. It's a million and one things going through my head, but then I just can't focus on anything. The only image I see is the last image I have of me holding him,' said Audry Smith, the victim's mother. Brightmon's friend was not hurt. Crime Stoppers is offering a $5,000 reward for information leading to an indictment."
That was it. They didn't have an awful lot to go on. The police report is similarly minimal, adding only that it believed the shooting was not gang related. There was no profile, no testimony from his school friends or teachers. No sense of who he was, let alone why he was killed. His death was counted. It just didn't count for much.
In short, not everybody counts, and therefore not everybody is counted.
Samuel Courde-Bernard Brightmon, known to his family as DaDa (a nickname based on his middle name), died less than a week short of his 17th birthday. He was the second of three children of Audry Smith and the third of seven children by Willie Brightmon. Willie and Audry were long separated, but Willie was a constant presence in Samuel's life. They were two of a number of parental figures, including his Aunt Debra (Audry's sister), and Claudia, Willie's second wife, who remained a good friend of Audry's.
Samuel's best friend was his sister, Whitney, a tall, reedy girl only 11 months his junior, who paid close attention as I twice interviewed her mother but said little. When they were younger, they'd sleep together because Whitney didn't like sleeping by herself. When they were older, Samuel would often climb into bed with Whitney after he woke up. They would finish each other's thoughts and sentences. "Them two, they were like Bonny and Clyde," says Audry. "Everyone used to think they were twins because they were so close in age and did everything together."
Whitney was Samuel's fiercest defender. "I acted like a big sister to him," she told me. Once, when they were at their Aunt Debra's house, Samuel told his aunt that some boys had jumped him. "Before I could even get my shoes on, my middle daughter and Whitney took out running to fight the boys for him," Debra recalls. "By the time I got there they had already found the boys and cornered them down. They were hot."
Samuel was a prankster. His friends recall his japes the way teenagers do—laughing so hard that you're still struggling to follow the story when it becomes clear that they've already delivered the punch line. The kind of anecdotes you really had to be there for. Once, he brought in a rubber duck and chased students around while making voices like Ernie from Sesame Street. Another time, he put on Whitney's pink, fluffy boots and scarf and made like he was on a catwalk. He put a cornball on someone's desk. His mother has a video clip of him doing a daft dance in school—all spidery legs and flapping arms. "That's him," she said. "Just goofy. Always."
The fact that he rarely made anybody else the butt of his jokes was consistent with his personality. He was conflict averse. And from an early age he was always eager to please. "He wanted to fit in," says Claudia, who met me at Soulman's Bar-B-Que, a Texas chain, at a location next to the freeway. "He was like the peacekeeper. So when the other sisters and brothers would get to fighting, he would always say, 'Let's stick together.'" She continued, "Whatever he did he just smiled his way out of it. He didn't want to get in trouble. So he would just put a smile on ya so you'd be like, 'Okay, I'll give you a second chance,' because of his smile. He was sweet."
"DaDa was like the son I never had," says Debra. "Whenever I needed something done, like taking out the trash or something a son would do, he would do it. If I just got home from the grocery store, I didn't have to worry about my groceries being taken out of the car. He was just a helpful kid. A happy kid. Full of jokes. He wasn't a fighter. He wasn't a troublemaker."
There was a worry that his trusting nature would get him in trouble. "My most fear for him was because he'll befriend anybody," says Willie. "He ain't never met no stranger. That's his type of mentality. He's so naive." Willie grew up in Marshall, Texas, a small town a couple of hours' drive away, not far from the Louisiana state line, where everybody knew everybody else. He felt Samuel's manner was better suited to his own rural upbringing than to an urban environment. "Back home, ain't no such thing as a stranger. But in the city, some people will take your kindness for a weakness. For him it was like, 'Oh Daddy, no, it won't be like that.' And I said, 'Yes, son, it will.'"
Debra also worried that his desire to please might lead him into bad company. Once, when Audry and the children were staying with her, Samuel started hanging around with a group of kids, including a girl he'd taken a fancy to, whom Debra didn't like and of whom both her daughters had given poor accounts. "I think he just wanted to make everybody happy," she said. "But these kids could have got him in trouble." Debra told him to stay away from them. She was worried that he was so anxious to please others that he risked losing all sense of who he was and what he wanted. "I broke it down for him. I used to try to get him to understand that it's okay to be different. I'd tell him, 'Be true to you. Be who you are.'"
Samuel took it badly. He huffed and sulked for a while. "He was upset about it that night," Debra recalls. "But the very next day he wrote me a letter apologizing for his behavior and saying he understood. That meant a lot."
Audry had worried for some time that what at first sight may have looked like an easygoing manner masked a deeper fragility. Samuel was dyslexic, and the early years of school had not been easy. "The handwriting," she says, listing the basics he'd struggled with. "Not catching on with the other kids. He was tired of going to summer school every year. The teacher always calling and saying, 'He needs help, he needs help, he needs help.' That took a toll on him emotionally and gave him low self-esteem," she says. "He was quiet and reserved. He didn't make friends easily. When he was younger he didn't like the sports. He didn't like the touching and the hitting. He was so sensitive he would always cry. He seemed desperate to please everybody." When he was around ten he told a counselor that he sometimes thought of hurting himself. The counselor recommended an evaluation, and after a few tests doctors suggested admitting him to a psychiatric ward.
That proved too big a step for Samuel. "He cried," says Audry. "Whitney cried. She didn't want him to go, and he didn't want to stay [at the hospital]. He didn't want to be away from Whitney or me. They felt like it was jail because of course they take your belt, your shoelaces, all of that. So they let him do the outpatient thing, where he would come in the morning and stay all day."
As he grew into his teens, he became more confident. He wanted to be a policeman. "From a young age, that had been his obsession," says Audry. "He loved cop shows—Criminal Minds, Cops, whatever was on. He even had a police app on his phone so he could track their activities." When he was 15, Audry moved Whitney and him from a big school with more than 3,000 students to a new, smaller school in the northeastern suburb of Richardson, near her work, in the hope that he would get more hands-on attention. He campaigned for the vice presidency of the student council, an elected position that demanded going to each class to canvass for votes. He pledged to get a basketball team off the ground, and he won. A team duly followed, although, because the school was so small, it played in a city league rather than against other local schools.
The first response in the comments section after the Dallas Morning News piece ran online came from one of Samuel's schoolmates. He called himself Parker Moore and identified himself as the student-council president of Samuel's school. He wrote, "He's a great kid and a go-getter. He was definitely going places in life. I last talked with him just on Monday about our ideas for a student council fundraiser. I can hardly believe this is really happening. Rest in peace, friend."
Samuel didn't have much of a social life beyond school and family, though he did have a girlfriend. He was basically a homebody. "He loved playing his video games," says Audry. "He wasn't an outdoor person. He loved his BB gun. He loved something to shoot at. But he never went anywhere. And if he went anywhere it was with me or Whitney." For most of Samuel's life, it seems, those closest to him did their best to protect him from both the tenderest parts of himself and the toughest elements of the outside world.
Such was the brief life whose death received such short shrift in the Dallas media. The woman who wrote the 81-word account of Samuel's death for the Dallas Morning News is Melissa Repko, a young, engaging reporter whom I met at a hipster coffee shop in a gentrifying part of town. Melissa occasionally worked Sundays on the crime blog. It's a shift with a macabre but predictable routine and a busy start. "If something's going to happen then it will usually happen between the hours of midnight and four a.m.," she says. "The kind of time when your mother tells you nothing good happens." Shootings, drunk drivers, and domestic violence are the staples from the Saturday night before. "There's a police database that I go to, and then I make calls. I search for murders, sudden deaths, aggravated assaults," she says. "It's pretty common to have at least one shooting, although they're not always fatal."
Two months after Samuel's murder she still remembered the case as much for what was not in the report as what was. "I did remember it only because he was so young and it's quite rare they have no indication of there being criminal activity." It was her task to record it, not to follow it up. So when the day was done, she'd hand the story over to the regular crime team, who take up the weekend stories they think are worth running with. Samuel's death didn't make the cut.
There are places in almost every American city where children and teens are expected to get shot.
That didn't surprise Repko. Indeed it would surprise very few. Pleasant Grove, the area where Samuel was shot, is poor, black, and located on the south side of Dallas; it is disparagingly known as "Unpleasant Grove." As one of Samuel's teachers said, "If it had happened in Richardson [the location of his school], people would have been in shock. But in real far south in Dallas, that's not unusual." Had she ever been there? "I don't go down that way," the teacher said. "That's not a safe area for a white woman." Evidently, it was not a safe area for a young black man either.
There are places in almost every American city where children and teens are expected to get shot—areas where the deaths of young people by gunfire do not contradict a city's general understanding of how the world should work but rather confirm it. To raise children there, whether they are involved in criminal activity or not, is to incorporate those odds into your daily life.
Herein lies one of the most tragic elements to emerge from my research: that every black parent of a teenage child I spoke to had factored in the possibility that this might happen to their kid. Indeed, most of them had channeled their parenting skills into trying to stop precisely that from happening. While others are exerting themselves to get their kids into a decent college, through their SATs, or to excel at sports or music, these parents (who love their offspring no less) are devoting their energies to keeping their kids alive long enough that they can transition either out of the neighborhood, out of adolescence, or both. It dictates who they think their children should socialize with, where they can go, and when they have to be home. So when you ask them if they imagined that their sons' lives could be so abruptly ended in this way, they give a knowing shrug. "You wouldn't really be doing your job as a parent here if you didn't think it could happen," one father in Newark, whose son was shot dead just a couple of hours later, told me.
It had certainly crossed Audry's mind that she one day might have to bury her son. Only she hadn't imagined it would be Samuel but her eldest, Jeremy. "Jeremy is the hardhead," she said. "The knucklehead. He stays in trouble. When you hear about a fight, it may have Jeremy's name in it. So you have to prepare yourself for Jeremy." One day that fall, while chatting with Debra after a report about a local shooting, she discussed taking out an insurance policy on her kids for precisely that reason. She said she'd look into it. But she hadn't got around to it by the time Samuel was killed a month or so later.
So your existence as a working-class African American makes you vulnerable; your presence in areas where working-class African Americans are most likely to live renders you collateral. "By the numbers," writes Jesmyn Ward in Men We Reaped: A Memoir, which relates how she lost five young men who were close to her in four years. "By all the official records, here at the confluence of history, of racism, of poverty, and economic power, this is what our lives are worth: nothing."
This reality was not lost on Samuel's family. "When it's a black child shot, it's a flash," says his father, Willie. "Like a flash of lightning. You see it and you'll be like, 'Was that lightning?' That's how it is when a black child gets murdered or gets killed. No big news. But when it comes to other races, oh, well, you know it's going to be on [channels] 1, 2, 3, 4, 5, 6, 7. . . . I hate to say it, but we still live in a racist world. You may have more opportunities. But in the end result you still living in a white world. And we're still thought of as less than. And basically they're saying we don't matter. But if it was their child, they want the world to come to a halt. I'm not speaking out of anger or anything. It's life."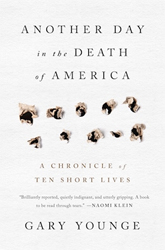 From Another Day in the Death of America: A Chronicle of Ten Short Lives. Used with permission of Nation Books. Copyright © 2016 by Gary Younge.
---