A star-studded 1972 table plan for a New School dinner honoring Russian poet Yevgeny Yevtushenko was recently unearthed by Dr. Samantha Rose Hill (Hill is a scholar of Hannah Arendt, and knows a thing or two about archives; you should buy her book.)
I FOUND IT! I FOUND IT! I FOUND IT!

Proof that Hannah Arendt and Bob Dylan were in the same room with each other in NYC in 1972 at a dinner for Yevgeny Yevtushenko. pic.twitter.com/63Es4YqOdy

— Samantha Rose Hill (@Samantharhill) July 20, 2022
As you can see, the guest list reads like a who's-who of heavyweight public intellectuals and literary superstars, but what jumps out most to me is Table 3, at which Bob Dylan and Kurt Vonnegut are both seated. (Pictured above as they appeared in 1972; you can listen to very faint audio of the dinner here.)
This was January of 1972. Vonnegut was 49 and at the height of his fame, having published Slaughterhouse-Five just over two years earlier; Dylan, at 31, was on something like a downswing, as his follow-ups to 1969's Nashville Skyline had been poorly received.
One can only speculate as to what the two counterculture icons might have discussed… In fact, it isn't even confirmed that Dylan showed up that night, though there's no reason why he wouldn't have; most of the previous year he'd spent in Greenwich Village. Vonnegut is on record as calling Dylan "the worst poet alive," but that was in a 1991 interview for Hustler. Who knows, maybe Dylan did something awful and offensive that evening that would catalyze Vonnegut's animus?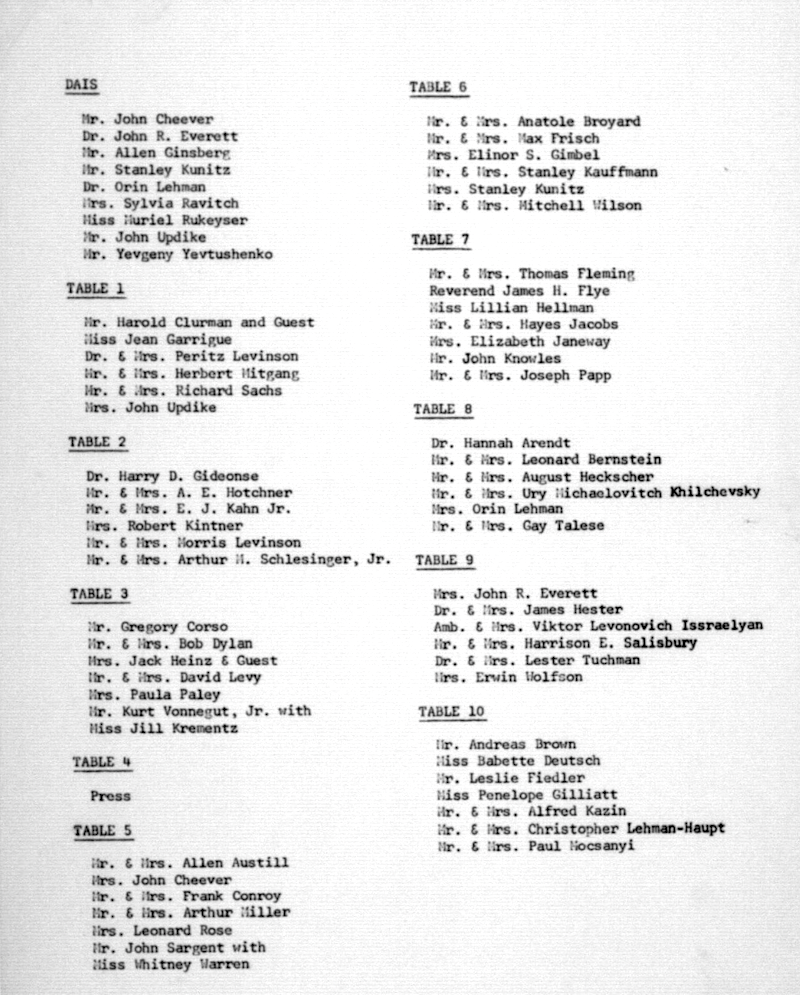 Table 3 is far from the only spot of interest at Yevtushenko's dinner (the mediocre Russian poet was probably the least interesting artist there, if we're being honest). Aside from the obviously impressive dais (Cheever and Ginsberg, lol), I'd love to hear snippets of conversation from tables 6, 8, and 10: Broyard mixing it up with Frisch! Talese trying to crack wise with Arendt! Deutsch, Fiedler, and Kazin trying to one up each other!
But yeah, if I had to choose one table, it would be 3. Which table would you choose?