Who Were the First Humans to Start Cooking Meat? And Why?
Alex Bezzerides Digs Into Mankind's Culinary History
At some point, an early human put two and two together and brought a piece of meat over to the sizzling flames. Or maybe the first grilled steak was purely an accident, the result of an out-of-control fire searing a carcass stashed a little too close to the flames.
Regardless of how meat ended up over the flame, it was a fortuitous step for humans. The combination of hunting and the control of fire is at the heart of the story of why so many people needed braces in middle school. Chewing a nicely seared steak is a lot less work than grinding your way through a raw piece of meat. This is especially true if you don't have a knife. Although humans were, by this point, using sharpened rocks to cut meat away from bone, they were not exactly using fancy chef 's cutlery. Cooked, tender meat falling off the bone would have made mealtime far easier.
There were several other advantages to cooked meat. Even before hominins started harvesting fresh game, fire would have helped take the funk out of raw carrion. With the advent of scavenging by hominins, prior to fire, bacterial infection had to be a serious concern. Everything about the odor given off by a dead animal suggests that if it has to be eaten, it should be well roasted.* Even with our modern conveniences for food preservation, humans still manage to get sick quite frequently from spoiled meat. Studies by anthropologists at Harvard have examined how cooking reduces the pathogen load in raw meat. Researchers took the carcass of a freshly killed wild boar and left it out in the open but kept scavengers at bay. At both 12 hours and 24 hours, they took samples of the carcass to see how funky the meat had become. After 12 hours, levels of nasty bacteria like Escherichia coli and Staphylococcus had already started to rise. By 24 hours, the levels were downright dangerous. When the researchers roasted the noxious piece of meat over an open flame, they discovered bacteria levels fell by as much as 88 percent. That might not sound good enough to make it onto the modern dinner table, but for early hominins, it certainly beat rotten, raw wild boar with a side of diarrhea-inducing, potentially lethal bacteria.
There were other advantages to cooking over the open flame. Cooking meat before eating it starts the process of breaking down protein and makes the meat's nutrients more readily available. The growing hominin brain needed all the nutrients it could get. The brain accounts for about 2 percent of human body mass but uses up to 20 percent of our caloric intake. By unlocking the true nutritive potential in meat via roasting, early hominins were able to feed their growing brains.
Having a pot meant food could be cooked for hours until it was so soft that chewing was hardly necessary.
There is one last aspect of cooked meat we should not overlook. It is quite tasty. Simply the thought of a perfectly roasted piece of meat with delicious fat dripping off it is enough to get the digestive juices flowing. We may never pinpoint how, and exactly when, hominins stumbled across the idea of roasting meat, but we can imagine what a pleasant surprise it must have been.
Humans are not alone in enjoying the savory sensation created by roasting. Given the option, all of the other great apes (chimpanzees, bonobos, gorillas, and orangutans) prefer cooked meat over raw. Unfortunately for them, with their comparatively smaller brains, they are unlikely to figure out how to rub sticks together to make fire anytime soon. They might as well be sitting in a garage trying to light a two-by-four by holding a match up to it.
I like to think about what kinds of meals our ancestors might have sat around and shared. Here is what I imagine a recipe for a meal like mastodon stew would have looked like:
INGREDIENTS: One mastodon, plants, water
DIRECTIONS: Kill, skin, and butcher one mastodon. Cut the mastodon meat into small pieces. Place the pieces into 250 medium-sized pots or one very large pot. Add anything else edible to the pot. Add water. Cook over fire for several hours until done. Feeds 1,000 to 2,000 people, depending on the size of the mastodon.
At this point in the retelling of our history, humans were getting closer to being able to make a meal like mastodon stew. They had the skills and tools necessary to hunt and butcher a large animal like a mastodon. They had control of fire, allowing them to prepare the mastodon in a safe and nutritious way. They needed just one more thing to be able to make a stew—they needed a pot.
As with so many aspects of the human body, the development of the jaw plays out in a "use it or lose it" scenario.
Pots are central to the whole stew concept. Compared with spears and fire, pots came along quite late in the tale of human development. Because it was more recent, we have a better idea of when it happened. The most convincing evidence suggests humans first made pots around 20,000 years ago in modern-day China. Having a pot meant food could be cooked for hours until it was so soft that chewing was hardly necessary.
There were other advantages to cooking in a pot. Prior to the pot, all of the tasty, juicy, calorie-rich drippings had been falling into the fire and sizzling away. Now they fell into the pot and became part of the stew. Having a pot also meant spending significantly less time tending to the meal. Humans were able to, for the first time, set it and forget it. Cooking a meal without having to stand next to it the whole time meant more time for gathering food or child-rearing or using one's increased mental capacity to come up with other creative ways of improving the human condition. Having free time is an integral part of the human story, and with increased efficiency of both hunting and cooking, humans were finally able to devote meaningful quantities of time to other tasks. Around the same time as the creation of the first pot, a particularly clever group of humans in the Middle East hit upon the idea of farming. Combined with the introduction of pottery, farming added a side dish of gruel to the main course of the day. Even individuals with the weakest, smallest jaws, unable to chew meat, could eat enough porridge to acquire the necessary calories to survive. Before gruel, the loss of a considerable number of teeth would have been a death sentence. With mush to eat, there were new options for fussy infants, and humans could keep smiling, toothless grandparents alive for the first time.
The combination of hunting, cooking, and farming created a diet that greatly deemphasized the need for a large jaw and left humans with a mouth full of large teeth that are total overkill for their modern job. In spite of their large brains and relatively small jaws, however, the teeth of hunter-gatherers were still a good fit in their mouths as recently as 10,000 to 15,000 years ago.
There were several reasons for those early, relatively straight smiles. For starters, people 10,000 years ago still had decent-sized jaws, larger than those we have today. Although food availability and processing technology had improved, humans still needed a strong jaw to tear through the meat and vegetables that were the mainstay of the hunter-gatherer diet at the time. In addition, teeth had already begun to shrink from their peak size around 3 to 4 million years ago, when the only option for dinner might have been a raw tuber. Starting around 100,000 years ago, as humans began to develop better food-processing skills, much of the selective pressure for large molars was reduced, and selection started for smaller teeth that would fit better in a shrinking jaw. By 10,000 years ago, teeth had shrunk even further, providing an even better match for the size of the human jaw at the time.
Hunter-gatherers still had a fair amount of chewing to do. This daily grinding of food was, perhaps, the most crucial factor leading to their well-aligned teeth. Because of all the chewing, the jaws of early humans developed more fully than a modern jaw reared on mac and cheese, applesauce, and smoothies. As with so many aspects of the human body, the development of the jaw plays out in a "use it or lose it" scenario.
In other words, if a human jaw is put through the evolutionarily appropriate paces, it may develop and function better than one reared on a diet of soft baby food and overly processed meals. Evidence in support of this idea comes from the work of Daniel Lieberman, a paleoanthropologist at Harvard University who has spent his career studying how evolution has shaped the human body. Lieberman and his colleagues tested this hypothesis about jaw development by raising two groups of hyraxes (little mammals that look like rodents but are actually more closely related to elephants) on either hard or soft diets.
The hyraxes on the mushy diet developed smaller jaws than those raised on the harder diets. In an article published in the Journal of Human Evolution, Lieberman and his team argue "that human faces may have become relatively smaller despite increases in body size because of reduced levels of strain generated by chewing softer, more processed food." The switch to a soft, processed diet was the final straw that broke the back of the tooth–jaw marriage. Human teeth have continued to shrink in more recent millennia, but they have not been able to keep up with a small jaw that doubled down on its reduced size in the absence of any work to stimulate its development.
Of course, the real victim in this story was never Homo sapiens with our malocclusions and impacted wisdom teeth. The real victim was the mastodon. Very shortly after humans developed the tools and techniques that allowed for hunting and cooking, mastodons vanished from the face of the earth, sometime around 10,000 years ago. Mastodons may have been wiped out by climate change, but it's also possible mastodon stew was the most delicious dish humans had ever made, and they quickly hunted the mastodons into extinction.
So is the modern tooth–jaw mismatch a result of our evolutionary past or is it due to our tendency to not work our jaws during the developmental years? Of course, those options are not mutually exclusive. Likely the answer is that both factors are at play. The modern jaw is both smaller than its predecessor and not put through the necessary chewing paces that would allow it to realize its full potential.
I would like to see an experiment that divided children by diet into soft and hard food groups and tracked their oral health into their teenage years. As I wait for the results of such a study, I'll hedge my bets and try to slip my young daughter some beef jerky and as many raw vegetables as I can get her to eat. Given her already solidly established love of oatmeal and yogurt, the more pragmatic approach is probably to start squirreling away money for braces as soon as possible.
__________________________________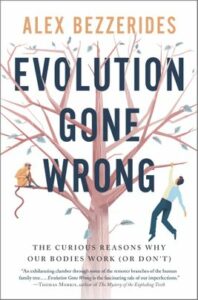 Excerpted from Evolution Gone Wrong: The Curious Reasons Why Our Bodies Work (Or Don't) by Alex Bezzerides © 2021 by Alex Bezzerides. Used with permission from Hanover Square Press/HarperCollins.
---