Where Blackness is a World of Possibility
Hafizah Augustus Geter on the Shape of Black Joy
To be Black in America meant a house full of warnings. My parents, no fools, knew a threat could be anywhere, no matter the façade. We were warned of strangers, the list of friends' houses where we could sleep over kept impossibly short. We were warned of booze and drugs, boys and men, the sugary blood that coursed through our bodies—knew when to say "yes sir" or "yes ma'am" and had heard it repeated a thousand times that police and prison were the most dangerous things a Black person could encounter on earth.
And my parents, who, in 1990s Akron, chose to send their newly immigrated daughters to a Catholic school filled with mostly white children, warned me and Jamila constantly: white people have limits. "No matter how much you think they love you," my father would begin. "Not true," I'd reply, so-and-so "are my best friends." Ah, ah, my mother would interject, nodding at my father while sucking her teeth against my protestations.
Though my parents had white friends, including one of my father's best friends from Ohio University, my uncle George—whom I adored, and who always went out of his way to make us laugh—there seemed to be nothing they trusted less than white people. The British had owned my mother's country until 1960. She'd attended Queen of Apostles College in Kaduna, a boarding and secondary school run by Catholic nuns.
Where my father had grown up under the shadow of colonization, my mother had grown up under its thumb. Both of my parents approached America with the skepticism and caution of people who had witnessed or been privy to a kind of destruction that made language inadequate.
Being, breathing, and sleeping inside the shadow a country made of you, my parents wanted their children to know, is to stare down the barrel of a gun. A barrel that has been, in perpetuity, cocked toward our intended extinction. History—that thing that white people had gotten to write, but we had to live—turned my parents soothsayers.
Twelve years after the 2002 passage of the Patriot Act, which must be renewed every five years (and was until it was finally allowed to expire in 2020), it was revealed that the government had been surveilling and collecting citizens' phone records and internet metadata. Beyond its National Security Letters provision, which allows the government to get phone records without seeking approval first, the Patriot Act's Section 213 makes it so that "sneak-and-peek" search warrants apply not just to terrorism but to any federal crime, whether felony or misdemeanor.
Together, my parents were always making our Black Period—their version, one where, if not our bodies, then our minds could be free.
Sneak-and-peek warrants mean the government, on the grounds of suspicions of my name, phone habits, internet history, friends, family, associations, or on a neighbor's distrust can search my home, office, garage—any place I call mine—without informing me first. How can I protect myself or my family from the murderous American state when it's the state who's watching? Private as I still am, these daily invasions of privacy and home fill me with anxiety—like when you catch your phone listening to you via the internet ads that suspiciously match your in-person conversations.
In America, drug prosecutions are the engine of our federal government's law enforcement operations and capacity. Disguised as a war against terror, Islamophobia contributes to the spread of the most persistent and pernicious American poisons: prisons and policing. Though it's been proven that sneak-and-peek warrants have provided no meaningful information to the War on Terror, by 2013, sneak-and-peek warrant requests had already exceeded eleven thousand. Of those requests, only eleven were rejected. And of the more than eleven thousand requests, all but fifty-two of those warrants were for drugs, not terrorism.
You can draw a straight line from Islamophobia and xenophobia to anti-Blackness. In America, studies have long shown that the War on Drugs disproportionately, unethically, and intentionally targets communities of color, especially Black communities. Prisons and policing are two specters that hang perpetually over Black everyday life, and my parents made sure I lived in polite terror of them both.
While rounding up immigrants, exiles, asylum seekers, and refugees, the carceral state also targets Black and Indigenous LGBTQ people. For example, Black trans women are incarcerated at ten times the rate of the general population and both Black and Indigenous trans women are more susceptible to violence from guards and other inmates. Forty-seven percent of Black trans people have been incarcerated, and over 40 percent of the female population of America's prisons are bisexual women or lesbians.
Through policies and social practices that allow discrimination, trans people who are unable to "pass" are locked out of mainstream work opportunities, only to be ensnared by laws that criminalize poverty, houselessness, and survival economies like sex work. By design the lives of LGBTQ people are made illegal. Illegalness, a form of erasure, too.
I've been policed by the state, by familial bonds, by white people, by Black people, by queers, by me. All this policing, over the years, constructed its own chains. I saw those chains and picked them up and I learned to get comfortable with them on. Even if I didn't hide myself well, seeing what the world did to Black people and to Muslims, in my queerness, I lived to never be found out.
Shame. America gives us its shame. I've worked my whole life to set it down. Brené Brown calls shame the "master emotion." Disability activist laura hélène calls it both social and interpersonal. Shame is a psychological colonization. hélène says being motivated by it can turn you into your own oppressor, and that shame "spawns the phenomenon of self-surveillance." For a time, shame had done just that in me. I'd forgotten the Black Period and, in the milieu of white America, shame surrounded me.
Now, as a grown woman, trying to trace the beginnings of all this erasure means I'm constantly swapping out one origin story to try on another. I take old memories, try them freshly on. In white America, a "secure community" requires police. But the Black folks that raised me lived with the attitude that a secure community was what, beyond white America's prying eyes and sabotage, we'd been patchwork-quilting together our whole lives.
I look back and there's an art gallery full of Black folks turning the room sweaty with laughter. There's summer and Ms. Asia's catfish fry. My father saying hold still as Jamila and I model for one of his children's books. There's my mother softly forking a thick glob of Blue Magic grease onto a wide-tooth comb and parting the hair on my tender-headed scalp. I remember that, outside school and work, our lives were abundant with Black Periods.
The first time my father truly entered the white world, he was eighteen. At the time, he was only the second person in the family to make it to college other than his aunt Linda, his grandmother Lizzie's last child, who—in a world where, without access to contraceptives, women gave birth across decades—was even younger than him.
With the United States barely desegregated, my father entered a white college where, with the other Black and African students, he carved out Black space. So far away from home for a Black boy who'd never been anywhere, he took up his inheritance. The lessons from home he carried forward. He remixed them across the diaspora and drew himself a Black Period of his own making.
He joined the Black fraternity Alpha Phi Alpha. Working together and through student protests, Black and African students, brought together through dinners hosted by Lindiwe Mabuza—the South African activist who helped bring my parents together—forced Ohio University to create a Black studies program. And though, in my mother's Africa, the British loomed everywhere, it was a Black continent, and colonization was so visibly the blight.
In a country like America, when it came to truth, it was on me to find it.
Together, my parents were always making our Black Period—their version, one where, if not our bodies, then our minds could be free. Eventually, I would learn to render a Black Period of my own—the Black Period I needed, the one that could, once again, get me home, and I would create it using the two greatest gifts that I inherited from my parents: this hunger in my belly for knowledge, and an obligation to community.
In our everyday lives, though we were warned about white people, my parents mainly paid the white world no mind. It was more something that was in the way. To move it aside, they did so in ways that, by their careful design, appeared to me and Jamila an afterthought. To be raised by people who lived in and centered Blackness and art meant my sister and I were reared in a world that reflected our image—a world where Blackness was a world of possibility. Outside of our school days, we were surrounded by people who were constantly inspired.
"Inspire" comes from the Latin "inspirare," with "spirare" literally meaning "to breathe." Breath—this process that is, by definition, a reverberation of time, biology, memory, and ancestors—this thing that should be so simply, so obviously the body's right is what, all over the world, Black people fight for.
An adult now, I know how angry the white world must have made my parents, but as children, we never saw them overtaken by it. That, in front of their children, white supremacy could have nothing from them, not even their rage, set precedent, priorities, but most of all, it set the fact that where we lived was what was real, and what was real was the Black Period. What was real was home. What's real is my mother—forever alive in some dream—gesturing toward the front door.
I know it's summer by the way she says "in or out," our dogwood, pink and blooming, and how the fattest black ants travel the neighborhood to stalk it. By the way the Fugees push out from my sister's bedroom in the attic and Lauryn Hill's voice is rough as the inside of a whiskey barrel. Ready or not, here I come / You can't hide / Gonna fiiiind you / And take it slow-ly . . . With her hair done up in Moesha braids, Jamila, finally sixteen, sings "The Score." There's our whole family watching Sister Act 2: Back in the Habit for the millionth time, and the way Lauryn Hill stood at that piano—the entire song, keeping her voice, like God's eye, on the sparrow.
Years later in South Carolina, there's me, my turn at the wheel of sweet sixteen, my bare feet kicked up happily on the bed. In The Miseducation of Lauryn Hill, she rang a bell I'd still recognize anywhere. In the classroom she asked us what we thought about Black love. In the streets, we happily doo-wopped, with something in Lauryn's voice calling up the ghost of James Brown's "Black is beautiful!" In Miseducation, Lauryn sang us Black and proud once again. She sang at our Blackness like we were the prize, her voice loving us giddy. And no matter how much our white friends loved the album, there was something in it only we could touch.
The poet Jack Gilbert writes, "Everyone forgets that Icarus also flew." That "everyone" included me. How lucky it is to me now, that no matter how far I might fall, my parents and my ancestors had given me everything I needed to rise from the ashes again. Though, in a country like America, when it came to truth, it was on me to find it.
Parul Sehgal, speaking of another kind of fall, asks in "The Profound Emptiness of 'Resilience,' " "Why rise from the ashes without asking why you had to burn?"
Only facts could solve this.
The poet in me cracked the gaps in America's stories open like a line break. You know what I found? Kiese Laymon's "Black abundance." Kujichagulia's "self-determination."
The Black Period was calling me home.
__________________________________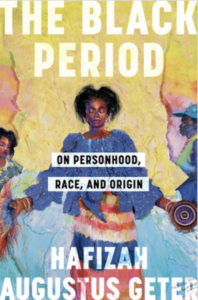 Excerpted from The Black Period: On Personhood, Race, and Origin copyright © 2022 by Hafizah Augustus Geter. Used by permission of Random House, an imprint and division of Penguin Random House LLC, New York. All rights reserved. No part of this excerpt may be reproduced or reprinted without permission in writing from the publisher.
---