Where Are All the Matriarchies in Fiction?
G.R. Macallister on a Curiously Neglected Subgenre
Fiction is always a work of imagination, but speculative fiction—science fiction and fantasy—is the genre where we can truly let our imaginations run wild. Fire-breathing dragons hoarding treasure, torching hillsides, sowing chaos? Sure. Giant robot soldiers piloted by teenagers? You bet. Post-apocalyptic societies scratching out a new existence after global disaster? Too many to count.
So why don't we see more science fiction and fantasy novels set in worlds run by women?
It's not that we can't imagine it, obviously. Authors have. In the past few years alone, epic fantasy novels like Samantha Shannon's The Priory of the Orange Tree and Rebecca Roanhorse's Black Sun have incorporated matriarchies into their vast world-building. Naomi Alderman's 2016 novel The Power drew a fictional blueprint for how a matriarchal society might come to be.
If you follow the matriarchal thread, it winds back to much older antecedents, through Nicola Griffith's 2002 SF debut Ammonite to Sheri S. Tepper's 1988 post-apocalyptic novel The Gate to Women's Country all the way to "The Yellow Wallpaper" author Charlotte Perkins Gilman's utopian Herland, published in 1915. It's not too hard to locate dozens of novels set in women-run worlds or societies, even if you don't include self-published works, which are so numerous and imaginative that if you find yourself saying, "There are no books about X," you're virtually guaranteed to be wrong.
But that's dozens of novels out of thousands, hundreds of thousands, in the genre. Obviously we can imagine matriarchy, and we can write about it. So why is the number of these books so comparatively small?
The easiest reason—or excuse, depending your perspective—is that in nearly all of recorded history, men have held power. Kings run kingdoms, which are still called kingdoms even when run by queens. So any author basing their fantasy world on a well-documented real-world one, from medieval Europe to Mughal India, can point to that precedent.
But look at the flip side: recorded history is not the same as actual history. Was Minoan Crete a matriarchy? Were Paleolithic hunter-gatherer communities egalitarian? There isn't enough evidence to prove either. The vestiges that ancient societies left behind were almost exclusively dug up by male archaeologists and interpreted by male historians. If you're going to trust recorded history, be mindful of who created the record. In any case, history is a jumping-off point for fantasy, not a guardrail, unless your version of recorded history includes dragons, elves, and ghosts.
These are choices for individual authors to make. The power to publish, however, is not entirely in the hands of authors, which leads to a second theory about the lack of matriarchies in fiction. Maybe those books are being written but not published. While the majority of books in general are bought and read by women, figures vary by genre, and speculative fiction has the reputation of having a larger male readership than many other genres. You could draw the conclusion that editors are selecting books for their perceived appeal to male readers, and if so, that these men want to read about, well, men.
But numbers to back up this supposed male/female divide (for readers who even identify in one of those two ways) are hard to come by. And even if it were true of adult fantasy, what about YA fantasy? This is a category more clearly dominated by female authors and primarily consumed by female readers, often featuring girls as main characters. Every author who sets a YA fantasy story in a patriarchal world makes a choice to do so. And it's not necessarily a bad choice!
As writers, we're advised to crank up the conflict, pressure, and stakes as high as we can. The protagonist of a story like Namina Forna's The Gilded Ones or Xiran Jay Zhao's Iron Widow isn't just fighting for her rights, she's fighting for her life, and she's fighting an entire society—oppressive, rigid, patriarchal—purpose-built to contain and deny her. The more obstacles in her way, the more impressive her eventual triumph. In this case, fighting an extreme form of patriarchy makes for a better story.
There's plenty of room in this genre for different approaches to matriarchy, even some that don't require eliminating the competition.
This would also account for why, when matriarchies do occur in speculative fiction, they tend toward extreme interpretations. Authors want to make a splash. It's a bigger, bolder statement when the matriarchy is either a utopia—"Everything's fine now that the women are in charge!"—or dystopia—"The women are in charge and now everything's worse than ever!" It's extremely rare for a society run by women to function simply as background.
The setting of Lauren Beukes's 2020 novel Afterland (released in some markets as Motherland) is a near-future world transformed by a pandemic that killed 99 out of 100 men, but it spends almost no page space addressing the new world's power structure. It's a cat-and-mouse chase tale with a mom and her son on the run, even if that son is disguised as a girl to protect his identity.
Given how infrequently worlds run by women show up in fiction, it's interesting how many of those worlds have devastated or eliminated the male population with some kind of planetwide disaster. At surface level, these books seem to imply that women can only run things if men are taken out of the equation. In addition to Beukes's Afterland and the long-awaited televised adaptation of Y: The Last Man, the past three years have seen a half-dozen similar scenarios presented in fiction.
Last year alone brought us Simone De Munoz's Manflu and Christina Sweeney-Baird's The End of Men, as well as Star Eater by Kerstin Hall, which puts a science fiction spin on the scenario with a planet run by cannibal nuns. Then there's Gretchen Felker-Martin's recent horror release, Manhunt, which dramatically shifts the premise by focusing on trans characters in the aftermath of a testosterone-targeting virus, and Sandra Newman's upcoming The Men, in which everyone with a Y chromosome disappears, blending the now-familiar gender plague element with shades of Tom Perotta's The Leftovers.
So what gives? Why does this sliver of a subgenre seem to dominate? I have a theory, and it ties in with the rarity of matriarchy in the genre as a whole. Patriarchy—or, to be generous, egalitarianism—requires no defense in fiction. For the reasons I outlined above (i.e. recorded history), a fantasy world built on male power will be assumed to be valid because that's the kind of world we live in now. It's familiar. But an author choosing a matriarchal world is always going to be questioned, asked for justification.
In other words, matriarchy is a choice; patriarchy is an assumption. But questioning the unquestioned is precisely what makes speculative fiction so powerful. There's plenty of room in this genre for different approaches to matriarchy, even some that don't require eliminating the competition.
Some reasons for avoiding matriarchal settings are solid; some are sketchy. But here's what I hope: I hope no writer out there is avoiding setting their story in a matriarchal society because they think it's already been done. Even in the handful of novels named above, no two matriarchies are the same. The matriarchal societies depicted in these books range from utterly brutal to remarkably idyllic, and the characters in these stories face many of the same obstacles to their happiness as characters do in any other book. My novel Scorpica is set in a matriarchal world of five queendoms, peopled by women who are heroes and healers, victims and villains, senators and warriors, shepherds and priests. Are their lives better because women are in charge? No, and the question would never even occur to most of them.
When I read fantasy novels as a kid, selecting from the options at in my small town's small library, it was a given that in those books, men would play every role of consequence. There are more options available to today's readers, young and otherwise. But could those options expand even further, to embrace a variety of matriarchies, showing an array of ways women can wield power? Without question.
Though publishing is notorious for "we already have one of those" thinking, if today's readers can propel two novels about Agatha Christie's 1926 disappearance onto the New York Times bestseller list in two consecutive years, they can surely handle reading more than one book about matriarchy in a lifetime.
_____________________________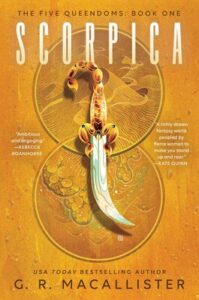 G.R. Macallister's Scorpica is out now from Saga Press. 
---