When You're Craving Oddities: 5 Books You May Have
Missed in July
Bethanne Patrick Recommends Deirdre Sinnott,
Jeffrey Ford, and Others
Sometimes as summer draws to its official close, I find myself craving odd things, like the Grape-Nuts ice cream a few places in New England still serve, or a sushi order composed entirely of eel nigiri, or iced coffee lightened with Irish cream liqueur. It's as if I'm trying to trick my mind into extending the long lazy days by giving it things to remember. That's how I feel about this month's group of titles. They're all odd, some to a greater extent than others, but they soothed my cravings for something different, and more important, memorable. I hope you'll find one or two of them to your taste, too.
*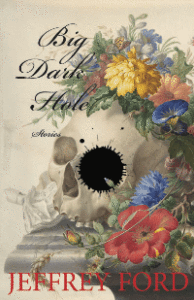 Jeffrey Ford, Big Dark Hole: And Other Stories
(Small Beer Press)
This collection reminds me why I love Small Beer Press; when they decide to take on a collection, it's because it's like nothing else you've ever read. Ford (A Natural History of Hell) writes like Peter S. Beagle on a meth bender. Nothing ordinary stays so; anything beautiful gets turned inside out and upside down. Six fleas rescued from a demonic carcass multiply and take over an entire traveling circus. An old-time mountain guide asks for no monetary payment—just your severed pinky finger. A costumed carnival monkey escapes and takes on every would-be human captor. All of this spun out in the most matter-of-fact prose, as if your disbelief was suspended before you even turned the first page. Ford's approach to horror and the paranormal feels folkloric in its folksy tone. Read this one around an outdoor fire and enjoy the creeps you get.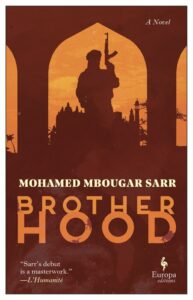 Mohamed Mbougar Sarr, trans. Alexia Trigo, Brotherhood
(Europa Editions)
Brotherhood is its Dakar-born author's debut and has already won the Grand Prix du Roman Métis, the Prix Ahmadou Kourouma, and the French Voices Grand Prize. Set in the fictional North African city of Kapel, Brotherhood follows what happens when a fundamentalist Islamic group (known as, of course, "The Brotherhood") takes over and begins to mete out its cruel justice on once-free citizens. Led by police chief Abdel Karim, The Brotherhood orders beatings, executes so-called adulterers, and generally engages in the kind of behavior violent bullies have favored for millennia, and soon enough a resistance forms, gathering around an underground newspaper called Ramaaj. That's when Mbougar Sarr twists his authorial knife to great effect: Instead of Ramaaj becoming a beacon of change, it disintegrates into an organ of corruption and greed. Wise readers will quickly see that what happens in Kapel could happen almost anywhere, especially when the people who seize power have no qualms whatsoever about making those who speak out seem most suspicious. Sadly, a fable for our times that is scarcely a fable.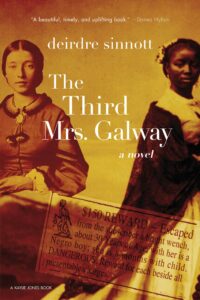 Deirdre Sinnott, The Third Mrs. Galway
(Kaylie Jones Books)
This novel reminds me that every place has a reason for existing. Who thinks much, these days, about Utica, New York? But in the mid-19th century, Utica was a hotbed of abolitionist thought, a place where, in 1835, the New York State Anti-Slavery Society was about to convene its first great meeting. Helen Galway, newly married to a difficult man who just took a drunken tumble from his horse, discovers two enslaved people sheltering in a shed on the Galway property. Author Sinnott is a Utica native who originated her city's Abolition History Day Celebration, facilitated "Resisting the New Jim Crow" at the National Abolition Hall of Fame and Museum, and is a historical consultant for the Fort Stanwix Underground Railroad History Project. She sensitively grounds her first novel in a white woman's perspective (Sinnott is white) while focusing the action and urgency around the Black Americans whose fate rests in Helen Galway's hands.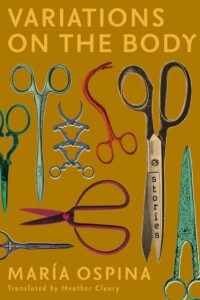 María Ospina, trans. Heather Cleary, Variations on the Body
(Coffee House Press)
This title really means "variations on female bodies during the worst violence of the 1980s and 1990s in Colombia," as Cleary's Translator's Note makes clear. For the women in Ospina's six interconnected stories, bodies may belong to infants in utero, or guerrilla groups, or to employers, or to men who whistle and shout upon seeing those bodies. Do the bodies ever, finally, belong to the women who inhabit them? For Ospina, who frequently employs several voices, AKA polyvocality, the answer is rarely easy, or clear. What she does seem to know and show is that for women in Colombia, a corporate job might seem as dangerous and rigid as serving in a militia, pregnancy not an unfettered joy but a complication when working as a nanny. One last note: If, like me, you've been plagued this season by insect bites (oak-leaf mites, begone!), you might want to save "Fauna of the Ages" and its graphic content about flea bites until chilly midwinter.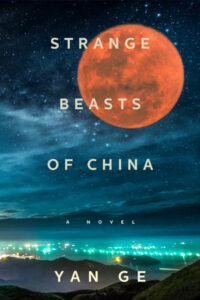 Yan Ge, trans. Jeremy Tiang, Strange Beasts of China
(Melville House)
Another oddity for the literary taste buds involves another fictional city, in this case Yong'an, in China. Narrated by an amateur cryptozoologist, we learn that she's finding out more about the city's fabled beasts, who are sorted into nine different groups: Sorrowful Beasts, Joyous Beasts, Heartsick Beasts, and more. Each chapter begins as taxonomy, with descriptions of a particular beastly physique, qualities, likes and dislikes (the Sorrowful Beasts are partial to vanilla ice cream and tangerine pudding, e.g.), and then turns into a story about a human encounter with one of the beasts. If the categorization and repetition involved seem a bit jejeune, consider that the author was just 21 when this, her second novel, was published in 2006 in China. Such is too often the fate of literature in translation, especially literature as lively as this, that portends authorial growth and mastery. When will we get to read the next Yan Ge novel? She's now written thirteen of them!
---