When Your Therapist Needs a Therapist
Adam Stern on Battling the Internal Biases that Block Counseling
There was a period before my time that all residents in psychiatric training underwent extensive therapy themselves. It stemmed from the psychoanalytic tradition. It was thought that one could not be a truly impartial emotional guide for patients without being attuned to one's own experiences and implicit biases. In recent years this tradition has softened tremendously. While residents from many other fields seek out therapy in secret, the process is less stigmatized for psychiatric residents. In fact, our residency had set up a freely shared list of local therapists who took our insurance or offered rates on a sliding scale based upon our relatively low resident salaries.
For days after Jane died, I felt lost. It was as though I had spent my entire life on a false path. I had thought that being a doctor would at a minimum leave me feeling as though I had helped my patients even when they had bad outcomes. It felt as though with all of my training and all of my years of study, I hadn't been capable of doing anything for Jane, and I wondered why I had devoted myself to this path at all.
I discussed it in Feelings class, and Nina and Jen reminded me that there were resources for this kind of professional crisis of confidence. I didn't think I needed therapy, but still I scoured the provider list hoping that somehow a name would jump off the page. Disappointingly, I only saw names of people I knew personally and therefore would never go see as a therapist, or people I had no idea about. I decided to take the list to Dr. Mook, who ran the clinician health service in addition to her many other jobs.
I sat down with her and told her what I had been going through. She listened intently and expressed empathy for what I had experienced—the feeling of powerlessness I had over Jane's course. She paused and thought for a while. She asked if I had a gender preference or if I wanted to see someone old and experienced or younger and more relatable to my current circumstances. Finally, she came up with the name of a woman who had trained in our program ten years earlier—Katherine Pettyjohn.
"I think that would work. I think she would be a good fit," Meg said.
Dr. Pettyjohn's practice was just a few stops down the road on public transit, and she took my insurance. If Meg thought she was good enough for me, or maybe vice versa, then I owed it to her to give it a try. I called her up, and we scheduled our first appointment for the next week.
When I arrived, I sat in the waiting room nervously. I hadn't felt ashamed about asking for help until that moment. There was a bias in my mind that if I were a psychological guide for my patients, needing my own guidance would expose me as a fraud. I felt that at any moment a colleague would step out and spot me. They wouldn't point a finger at me, but quietly they would judge me for being at a therapist's office. I thought about it some more and realized that it would also mean they were in a therapist's office. I was able to shake the shame pretty well, even when several weeks later I did see one of the senior residents exit from the office just as I was entering. We simply smiled at each other and went on our way.
It was as though I had spent my entire life on a false path.
Entering from the waiting room to Dr. Pettyjohn's little office was like settling into a warm bath. It was nicely decorated with homey art on the walls and perfectly sized throw pillows on the couch. She had a cup of tea next to her chair and offered one to me as well. The windows were enormous, and I thought how nice it would be someday if I could have sessions of my own in an office like this.
When she asked what had brought me into the office, I winced at the familiarity of the interaction. I told her about Jane.
"I'm so sorry," she said.
She was wearing a cotton dress and comfortable-looking shoes, which I continued to stare at.
"I'd like to hear more about your connection to this patient, but I'm also picking up on something else that I can't quite put my finger on."
"What do you mean?"
"Well, as you know, there won't be anything that I can do to help with Jane, though together we can hopefully find some ways of healthy grieving and coping with loss."
She paused and leaned just slightly forward.
"There's something else, though. Right? What brings you isn't the idea that you need help grieving."
I shook my head and began to tear up.
"I don't know that I want to do this anymore," I said, sniffling. She pushed a box of tissues in my direction.
"Go on."
"I'm working so hard at it, and when I actually sit down to think about what is important to me, I don't even know if I want to be a psychiatrist."
"What is important to you?"
"I want to—I need to—well, I don't know really."
"Take your time and tell me what comes to your mind. There are no wrong answers," she said.
I blew my nose and threw the tissue into the trash bin to my left.
"I want to help people. It's a cliché, I know, but I think it's true for most people who go to medical school. I liked the idea of being a doctor because it seemed almost like the perfect combination of doing well and doing good. It pays well—not yet, really, but hopefully someday—and I could feel good about making a difference in people's lives."
"And it feels like you're not achieving that?" I shook my head.
"Not even with Jane?"
"Of course not. She's dead," I said flatly, even though the anger was beginning to rise from within.
"Death is a hard thing to process. In medicine it's often a negative outcome despite its inevitability over time. But I'm not sure that means you didn't make a difference in Jane's life. Are you?"
For a moment I was speechless, pondering the question. Though Jane had shown me a very gruff exterior in our early meetings, she also let me in to share in her pain. In many of our encounters, she had seemed almost thirsty for someone to simply be in it—all of the suffering and the anguish and rage—with her. That was a function I could serve.
Pettyjohn and I went on to talk about a number of positive and negative experiences in my training. Upon closer examination, I realized that there were many patient cases where even though I was learning as I went, I could see signs that my actions were helping distressed people. There were others that made me feel helpless, enraged, unprepared, and even depressed myself.
"It almost sounds like projective identification," she said.
"Oh, yes. Right," I replied, not knowing that term.
"Sometimes when patients experience intense emotions in themselves, they can send them out to the world, and the people who are most receptive—in our case, psychiatrists—can sometimes start to feel the very same intensity of emotions that has been put out without even realizing it."
"Is that what's going on with me?" She shrugged.
"I don't know," she said casually. "We can try to find out if you like."
Pettyjohn and I met weekly for about two months. It was what would be considered a brief psychotherapeutic intervention. Grounded in insights, Pettyjohn offered a supportive stance and environment for me to come to terms with issues on my own. I found the sessions enormously valuable in helping me to see the field, and my experience in it, with greater clarity, warts and all. As I transitioned into my third year, which would be primarily in the outpatient setting, we decided that it was a good time for me to stop coming in.
"I'll be here if you'd like to get restarted in the future," she said.
"Thank you," I said.
__________________________________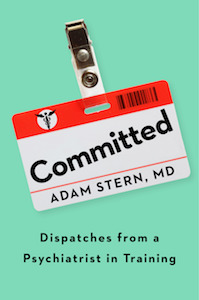 Excerpted from Committed: Dispatches from a Psychiatrist in Training. Used with the permission of the publisher, Houghton Mifflin Harcourt. Copyright © 2021 by Adam Stern.
---