When Your Memoir Has the Word 'Rape' in the Title
Michelle Bowdler on Writing the Word So Many People Won't Even Say
I wanted to write a beautiful book, a book about hope, love, optimism and resilience. I wanted to show readers the life I had built, slowly and with intention. The fact that everything had been only aspirational for too many years, and hard-won in the end, only deepened my need to share. As joy reemerged, it felt like greeting a long-lost friend returning from a desert island, years after believing they had perished. A return like that needed to be celebrated, did it not?
To understand the meaning of hope, joy, optimism, and resilience for me, I had to speak about rape.
I have disclosed my history over time to many friends and work colleagues. "There was a home invasion," I might say. "I was attacked," often my follow up. When I did choose the word rape, or, more accurately, rapes explicitly, the silence leading up to their response noticeably elongated, the look of horror and fear on their faces unmistakable. It didn't make me angry that they felt that way; I used to feel that way too, until it happened to me.
The temptation to hide the word because the reality of rape is so horrific only made it more critical that it stood front and center in my book. As it was in my life, it would be in my words. If I hid the word rape and its impact on me, it would make anything about my life a lie, an omission, a nod to shame and silence.
Rape is an all-too-common experience, its aftermath brutal. It is a crime of violence that involves the fact that nearly half of rape victims believed their attack would end in death. All of what comes afterward for rape victims is exacerbated by the ways society turns aside when the subject arises. For decades, society has accepted the mishandling of rape complaints by law enforcement. They close cases before an investigation occurs, ignore rape evidence, and often make victims feel as though they must reach a certain bar to be considered credible. A rape victim's experience of rebuilding their life cannot be told without speaking explicitly about what it feels like to be dehumanized and terrorized and then live in a world where rape is used for a laugh and dismissed with a wave; a world where the accused too often can retain their position of power and privilege so long as they simply declare, "Didn't happen."
In my memoir, I share a story about going to the police station to get my fingerprints taken. The detectives who first interviewed me advised me to do so. I hadn't slept; I was badly hurt; it was less than a day after two men had broken into my home—a random choice of a window to climb through that changed my life forever. I suppose I could have waited to venture out, but I did as I was told. Somehow, I believed if I went right away as instructed, the police who had dusted my house for prints could differentiate mine from those of the rapists and help find them.
To face that uncomfortable word and the injustice of its disregard means we can work to make change. I had to, in order to rebuild my life.
There had been a series of break-ins in my neighborhood in Boston and I felt a sense of responsibility to stop these horrific home invasions. In fact, the very night of the attack, I had attended a concert where a college friend had approached me with flyers about the spate of break-ins on our neighborhood and asked if I'd put some up to spread the word. I took them eagerly, anxious to help. When I got home, I put the flyers on the kitchen table and went to bed. Only a few hours later, I would feel like a different person—no longer able to engage in of much of anything beyond trying to survive the knowledge of what a night of terror and overwhelming violence had taken from me.
I gave my fingerprints to an officer, all the while feeling somewhat like a criminal myself. The ink dried immediately and the paper towels he pushed toward me did nothing to eliminate the stains. While I rubbed the ink, I become aware of a noise hitting my ears. It was a familiar sound, but out of place—a dog barking somewhere inside the police station. The detective frowned as the dog continued on, finally remarking to me with a grin, "Just like a woman, can't keep her mouth shut."
Just a day earlier, a former version of myself would have gotten up and effortlessly engaged this man in a discussion about misogyny, power, and politics. Or why he picked a job where he is supposed to protect people when he seems rather menacing himself. But I was rendered mute, as helpless as I was the night before; thinking only about whether I could survive one instant at a time. It is that moment when I fully realized what the rapes took from me—my power, my ability to speak up for myself and others, my former self.
I walked out the door.
I still think about this moment and how crushing it was—offering my fingers to law enforcement hoping it would help them in their investigation and witnessing such a bold and unapologetic display of misogyny. Years later, when I could once again claim my sense of self and purpose, I began to research more about my own case and how law enforcement's response then compared to the present day. I found that too little had changed; the minimization and dismissal of rape as a serious matter still exist and cause serious consequences for the victims of sex crimes.
Rape is a word I can't discard from my narrative. I won't. I can't.
I've been involved in activism work for well over a decade on issues related to the handling of rape cases by law enforcement. I can't even count the number of times I've been asked when doing a media event if I wanted my voice disguised, my face in shadow, or my name hidden. While I understand that this is a safety issue for some victims, I experience it as a statement that the reality of my life is unspeakable, and what happened so horrific that I need to disassociate myself from it by remaining anonymous. The implication I have taken from this constant question is that my life experience will pain others in some nebulous way if they get too close and really see me and it, even though the number of people impacted by sexual assault and abuse is of epidemic proportions.
My book has been out in the world only a short period of time. I have already received some pushback on the title. During author events, there is invariably someone who asks who chose the title, whether I think it might offend rape victims, and if it was done to be provocative. The reaction seems to center on the question mark—as if it minimizes the import of sex crimes, when the opposite is true. It's not a trick question or meant to be cheeky. It's a question I have been reckoning with for years, when I learned that rape evidence in massive numbers had been shelved in warehouses and crimes labs without being tested; when I learned about how rape victims were too-often treated when they did report the crime they had endured; when I heard so many dismissive comments about rape from politicians and judges; when I observed how it was not considered worthy of a serious investigation for ascension to the Supreme Court or the presidency. And, more personally, when I found out my rape evidence was never tested, my case never turned over to the newly formed Sexual Assault unit in my city, which was formed largely as a response to a series of home invasions of which I was a victim.
Rape is a word I can't discard from my narrative. I won't. I can't. I own it for myself and for millions of others who mistakenly believe what happened to them makes them damaged, partially because it's so abundantly clear how much society wants to avert its eyes. Rape is a violent felony that is treated as anything but. I could not have survived if I had looked away from its lingering aftermath.
My book asks a serious question about whether rape is addressed as a crime in our society and why we have acquiesced to its minimization as a norm. To face that uncomfortable word and the injustice of its disregard means we can work to make change. I had to, in order to rebuild my life. If we collectively refuse to turn away from the reality of the impact of sexual violence, we might all be able to create a better world for victims of violent crimes.
__________________________________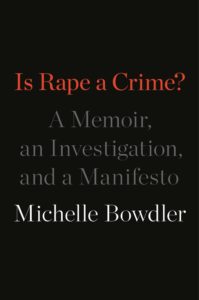 Is Rape a Crime? by Michelle Bowdler is available via Flatiron Books.
---