When Vogue Went to Russia
Glossy Magazines and the Search for a New Normal in the Former Soviet Union.
In August 1998, a rash of black-and-white billboards popped up over Moscow, all bearing a severe inscription: IN RUSSIA. AT LONG LAST. They were heralding an event that, in the barely emergent post-Soviet story line, felt like a milestone: the launch of Russian Vogue. Condé Nast—the world's grandest lifestyle upseller, the publisher of Vanity Fair, GQ, and Glamour, and, through its London-based Condé Nast International silo, their countless localized editions from Paris to Tokyo—was coming to Moscow. Russia, it seemed, had officially arrived.
These days, it might take some effort to understand how so much social significance could attach itself to the arrival of a fashion mag. For one thing, you'd need to consider the since-diminished role of the print media, which, perhaps, had nowhere been more outsize than in the Soviet Union in its last years. The so-called thick magazines—essentially, literary journals—were the wellsprings of glasnost, publishing not just crucial condemnations of Stalinism, such as Alexander Solzhenitsyn's The Gulag Archipelago and Yevgenia Ginzburg's Journey into the Whirlwind, but samizdat hits like Vassily Aksyonov's The Island of Crimea and cutting-edge foreign stuff like A Clockwork Orange—in an interesting translation that replaced the droogs' Russian-derived Nadsat slang with English. As a result, for instance, the drab monthly Novyi Mir's circulation hit 2.7 million copies in 1990. (The magazine still exists; its print run in 2015 was 3,000.)
Even more important was Yeltsin-era Russia's touchingly anxious impatience to acquire the trappings of a "normal country." Normal, the key word of the era, meant anything and everything, and was being applied with the same pleading intensity to every facet of life, from crucial to mundane; normal was WTO membership and daily deodorant use and a professionalized army and good pizza and a functioning parliament—and, yes, fashion magazines. One can argue that if 1990s Russia had gotten the bigger things on this wish list more readily, the world might be spared its current foreign policy. As things stand, it got Vogue.
It would also be useful to remember how profoundly not normal Russia was at the moment. The crumbling empire that my family left in 1992 was no more; among the ruins, new species scurried. Out of crooked privatization auctions that had redistributed the Communist state's riches to the redistributors themselves and their cronies, a class of oligarchs rose within months. Smaller business swelled in a grotesque symbiosis with a criminal underworld feeding off it, and a security apparatus feeding off that. The top predators in all three categories soon needed a place to stash the gains; Russia became the land of short-lifespan banks and even shorter-lifespan bankers.
"Normal, the key word of the era, meant anything and everything, and was being applied with the same pleading intensity to every facet of life, from crucial to mundane."
Most industry, science, and culture stopped cold or thrashed around in mad disarray. Those without entrepreneurial and/or criminal proclivities felt left behind; their discontent swelled the ranks of the Communist Party, now presenting itself as a scrappy underdog, back up. By the time of the 1996 presidential elections, the threat of an across-the-board Communist comeback became so great that Boris Yeltsin had to rely on oligarchs' collusion, mercenary American advisers, tightened media control, International Monetary Fund loans illegally funneled to his campaign, libel against the other contestants, voter intimidation, and finally good old ballot-stuffing to keep his job. The original sin of the new Russia—placing stability over democracy—had been committed, invisibly paving the way for Putin and, in the long run, providing a moral-equivalence justification for Russia's own meddling in the US elections.
But for now, in the summer of 1998, the worst seemed over. The party was back on. And a good party needed organizers, stylists, and chroniclers. There was no one better suited to all three roles than Condé Nast.
The company's top executive in the new market was a colorful East German named Bernd Runge, who had previous experience running glossies in France and the reunited Germany. Like many born in the DDR, Runge spoke Russian and had been to the Soviet Union before—in fact, he had studied at the Moscow State Institute of International Relations (MGIMO), a storied diplomat mill. A few years later, Der Spiegel would reveal Runge as a former agent of Stasi, the East German secret police. Code-named "Olden," even as a student he would report back to Berlin on his MGIMO classmates. So, ironically, the man charged with spreading the gospel of cosmopolitan glamour came from the same stock as the men who would recently jail you for same. Runge's pick for Vogue's first editor in chief, the brash and worldly Aliona Doletskaya, came with her own plume of KGB rumors; though she denies them, her biography certainly had a touch of the Bond girl about it, complete with diamonds (once married to the Soviet ambassador to Botswana, she had worked as a media consultant for De Beers).
Condé Nast's two nicknames in Moscow's media circles were Condensate, a pointless play on words, and the Fur Fridge. The latter alluded to the publisher's headquarters at Bolshaya Dmitrovka 11, which sat atop a huge cold storage for furs. The largely windowless building was one of the very few Moscow establishments to have stayed in business since the czarist times, persevering through wars and revolutions: the merchant grandes dames, the Stalinist inner-circle wives, the gangster mistresses—all needed someplace to stow their minks for the summer. The newest iteration of that elite tribe were the women Vogue would now target. The location was wickedly perfect.
On August 17, 1998, with the magazine's premiere issue at the printers, Russia defaulted on its debt obligations. The ruble cratered overnight, falling to one-third of its dollar value. Fortunes were wiped out, banks mobbed and then shuttered. Foreign goods, to which the Russians had just grown accustomed, vanished from the shelves. The country reentered crisis mode; Vogue's lush launch party underwent a hasty scale-down. Those at long last billboards now acquired an ironic ring. The Moscow Komsomolets tabloid predicted that Vogue's first Russian issue might become its last, and that the entire publishing house would pull out of the market it had barely begun to crack.
The Fur Fridge, however, survived. If anything, the crisis made Vogue even more of an aspirational beacon, and its dazzling editor into a huge celebrity.
In the loosey-goosey world of Moscow media, where half the people were winging it half the time, Runge's Condé Nast acquired a mythical reputation as the place where German discipline met ruthless Manhattan ambition. Doletskaya was said to turn away anyone "spoiled" by previous Russian magazine experience. All intra-office email correspondence was supposedly conducted in English. Rumors spread of employees going crazy from overwork and Byzantine intrigue.
By 2000, the magazine was riding high enough to test out a supplement called Men's Vogue: the newly monied Russian businessmen, after all, needed as much acculturating as their wives and mistresses. The experiment was so successful that, just a couple of issues later, Men's Vogue spun off from the mothership. In March 2001, with a cover featuring Monica Bellucci's hard nipples above the slightly odd exhortation to become a winner, GQ Russia was born.
GQ's original editor in chief was the mysterious Ram Petrov, whose name sounds like a Dolph Lundgren character from a straight-to-VHS movie. Petrov had put out only a few issues before being sacked by Runge and replaced by his deputy. No one in today's Moscow appears to know what he's up to now.
"The magazine was riding high enough to test out a supplement called Men's Vogue: the newly monied Russian businessmen, after all, needed as much acculturating as their wives and mistresses."
The deputy was a corpulent, red-bearded intellectual punk named Alexei Zimin, who couldn't be more different from the Fur Fridge stereotype of a high-strung workaholic. He and his gang of friends were young and talented, and had no fucking idea what they were doing. Zimin decreed that a real Russian "men's magazine" (a novel concept at the time; its only real competition was Artemy Troitsky's highbrow take on Playboy) should champion a kind of aestheticized dissolution. His crew were fans of the rising rock band Leningrad, which plied the same trade—boorishness with a meta wink. A representative early lyric of theirs: "Damn right I'm a wild man / Balls, tobacco, vodka fume, and stubble." Calculatedly naughty and cynical to the core—even the band name was a fuck-you—it was as far removed from the earnest, romantic Russian rock of the 1980s as the country itself had become.
Zimin's men took not just stylistic but also behavioral cues from Leningrad. They'd roam the halls of Condé Nast swigging whiskey from the bottle. The staff music writer played occasional percussion in the band itself. Leningrad, for their part, proclaimed themselves to be "gentlemen of the new millennium." The two sides finally consummated this relationship when Zimin declared Leningrad's vocalist Sergei Shnurov GQ's Man of the Year. At the party, the band smashed their instruments and pissed into a potted ficus. Upon witnessing this, the English overloads from Condé Nast International had Zimin swiftly removed. The entire staff walked out with him. Zimin went on to edit a cooking magazine, co-own a wildly uneven restaurant named Ragout where I would get food poisoning twice, and finally open a vodka bar in London, called Zima, which would become a smash success.
A third editor, Nikolai Uskov, was brought over to clean up the place. Under him, GQ became professional, properly glossy, breathlessly enamored with wealth, crypto-gay in its fashion pages, and closer in tone to Vanity Fair than to the American GQ. Uskov reigned over the magazine for eight years, running it competently enough for the Fur Fridge brass to look the other way as he sucked up to oligarch after oligarch in search of a better gig. In late 2011, he would strike gold and depart to take over Snob, a rudderless media project lavishly funded by billionaire Mikhail Prokhorov. Uskov's first Snob cover was a portrait of Prokhorov.
The event that would make me his successor had meanwhile already happened: I published my first novel, Ground Up. It was a slight satire about an obnoxious yuppie couple who destroy each other's lives when they open a coffee shop on the Lower East Side. Once again, as I had in school, I was writing in specific defiance of the idea that people should write about their own heritage. And, once again, the editor suggested I make the male protagonist a Russian immigrant. This time, I grudgingly complied. It was a three-page, one-day rewrite.
At that moment, an entire wave of immigrant writers were being loudly feted in the press for what I increasingly felt were very wrong reasons. In the ancient Saturday Night Live skit "Toonces the Driving Cat," a couple put a cat at the wheel of their car ("Look, he's driving! He's driving!"), which the animal then proceeds to crash off a cliff. The punch line: "Toonces: he can drive, just not very well." These first-gen novelists were now getting the same fawning treatment for the very act of writing in English. Gary Shteyngart, Lara Vapnyar, Anya Ulinich, Irina Reyn: Look, they're writing! They're writing! For Ground Up, I prohibited the publisher to mention in any press materials that English was my second language. To me, getting reviewers to not notice this fact was the highest honor I could achieve. I didn't want to be Toonces. I wanted Ground Up to be judged on its merits. And so it was, and was found perfectly average.
There was, however, one place in the world where a book conceived as a strident disavowal of Russianness could become a bestseller. You've guessed it. In the summer of 2010, I got a call from Uskov. GQ Russia was naming me its Writer of the Year.
__________________________________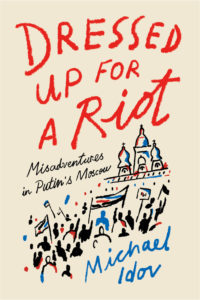 From Dressed Up for a Riot: Misadventures in Putin's Moscow. Used with permission of the publisher, Farrar, Straus and Giroux. Copyright © 2018 by Michael Idov.
---