When the Beatles Played Memphis,50 Years Ago Today
Record Burnings, Cherry Bombs, and KKK Pickets
The Beatles began their third US tour—14 shows in 17 days—in a state oscillating between resentment, deep frustration and sheer terror. For three years they had walked the high wire between godlike stardom and ordinary humanity, between public expectation and private fulfillment, between pop stars and pop artists. It had been an extraordinary act of talent and persistence, but now it was threatening to come undone…
Meanwhile, they had dates to play. None had been cancelled, and one positive result of the Chicago press conference was that Tommy Charles called off his additional threat to burn Beatles records on August 19th. The first two shows were in Chicago on the 12th, where they were backed up by the Ronettes, the Cyrkle (an Epstein-managed group who had a US #2 hit that summer with Paul Simon's "Red Rubber Ball"), Bobby Hebb, and the Remains, a tough young R&B group from Boston. The group played to around 25,000 fans, in a venue that smelt of the Chicago stockyards. The furor did not seem to have affected their popularity: as one reviewer wrote, "The reaction to the Beatles' appearance was tumultuous. If this is what happens when the Beatles were banned, what do you think would happen if they were abolished?" The next night, they played two shows to over 30,000 people in Detroit, where the fans "generally blew their minds."
Almost every concert on this tour was marked by rabid crowd scenes—stage invasions, objects thrown from the audience, fraught getaways—but always in the back of the Beatles' minds was their August 19th show in Memphis, the heart of the Bible Belt. This would be the flashpoint of the tour. Their PR man Tony Barrow remembered that when the touring party got to Memphis, "everything seemed to be controlled and calm, but underneath somehow, there was this nasty atmosphere."
The forces arrayed against the Beatles were highlighted by an ITN crew, sent to America to cover the controversy. Reporter Richard Lindley first talked to Tommy Charles, who thought that "because of their tremendous popularity throughout the world, especially with the younger set, [they] have been able to say what they wanted to without any regard for judgement, maturity or the meaning of it, and no one has challenged them to any degree."
Lindley discovered that the DJ was well supported in Birmingham. Conducting vox pops in a record shop, he found many teens expressing anti-Beatles sentiments: "I think they need to watch what they say;" "Every time I hear them sing, I can't help but think about what they're saying. I don't know… I guess it sort of hurt, it just hurt people's feelings;" "What have they done for us?;" "I just don't appreciate it." The reporter also talked to a Methodist pastor, Alan Montgomerie, who was charm itself until he recalled his phone call with Brian Epstein: "He said to me, 'Do you think it is becoming of anybody in Birmingham to criticize the Beatles? Because Birmingham is known all over Europe as the place where the negro is treated so badly.'" Up next was the KKK's Imperial Wizard Robert Shelton, who castigated the group for being communists and supporting civil rights.
The Beatles were interviewed backstage, four furious and seriously displeased musicians who could no longer be bothered to hide their anger and contempt. John Lennon always physically took on the changes that the Beatles went through: in the footage, he is no longer the moon-faced, slightly plump emperor of the "Paperback Writer" video, but nervous and thin, severe, his hair cut short by George Harrison the day before.
McCartney plays the diplomat. Harrison is particularly terse. Lennon switches between madcap humor, evasion, bravado and blunt honesty. At the interview's end, he fixes the camera with a look and a voice that drips sarcasm: "It doesn't matter about people not liking our records, or not liking the way we look, or what we say. You know, they're entitled to not like us. And we're entitled not to have anything to do with them if we don't want to, or not to regard them."
There were KKK pickets outside Memphis's Mid-South Coliseum, and a Christian rally. The first show passed without incident, but during the second some teenagers threw a cherry-bomb onstage during "If I Needed Someone." The group didn't stop, but played through the rest of the number in a quicker tempo than usual. They all looked at each other to see who had been shot. "It was that bad," Lennon later remembered.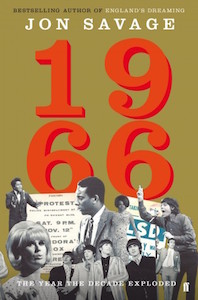 ---