When Muhammad Ali First Met the Black Prince of Harlem
Todd Snyder on Drew "Bundini" Brown, One of Boxing's
Great Hype Men
On March 12th, 1963, a 21-year-old heavyweight named Cassius Marcellus Clay sat on a small couch in his hotel room, on the eve of his headlining debut at Madison Square Garden, waiting for guests to arrive. As an amateur, Clay had won six Kentucky Golden Gloves titles, two National Golden Gloves titles, and the Light Heavyweight Gold Medal in the 1960 Summer Olympics in Rome, Italy, compiling a record of one hundred wins to only five losses. As a professional, he had compiled a record of 17 wins with no defeats.
His opponent, a tough New York City brawler named Doug Jones (21-3-1), was considered by many boxing experts to be something of a litmus test for the young contender who, in the months leading up to the fight, had been clamoring incessantly for a fight with the reigning heavyweight champion of the world, Charles "Sonny" Liston.
Despite all of Clay's accolades as an amateur, he was not without his detractors. Some speculated the youngster didn't pack enough dynamite in his fists to hurt top-tier heavyweights. Others claimed Clay's bad habit of holding his hands below his waist and his tendency to pull straight back from incoming combinations were technical flaws that would eventually lead to defeat as the quality of opposition increased.
Many were simply rooting for the boastful challenger to be humbled. Dubbed "The Louisville Lip" by supporters and detractors alike, Clay was rapidly becoming a controversial figure in the sport of boxing. Just one month earlier, on February 4th, 1963, the New York State Assembly had held a special hearing where a special subcommittee, headed by state assemblyman Hayward Plumadore, introduced a bill that would, in effect, outlaw the sport of boxing. The controversial young challenger, known for correctly predicting the rounds in which he would vanquish his opponents, figured heavily in the investigation.
"You have been giving some predictions about which round you will win in. Don't you think these predictions, and the fact that these last few fights have happened to end in the exact round that you say, have given a bad image of the sport of boxing to the general public?" assemblyman Plumadore had pressed the young Cassius Clay, dressed in a black suit and matching bow tie, eager to respond.
"It is on record that I predicted eight rounds on Archie Moore. He talked and talked so I cut it to four," Clay calmly replied. "I have eleven fights, eleven of them I predicted what would happen. Would you say all of these people are crooks? All of the promoters are crooks? I say I'm the greatest and if he falls in five and he falls in five, that just makes me that much greater," Clay added, as onlookers in the courtroom erupted in laughter. "Will it be a fix when Doug Jones falls in six?" Clay rhymed, his poetic flair unlike anything sport had ever seen.
"You think you can talk, Cassius?" Bob Nelson joked upon entering the hotel room. "You must hear this man."
Leading up to the Doug Jones bout, some members of the media were put off by Clay's cocky behavior. "Cassius, during the past few weeks you've been centering your interest around squabbles you've been having with Sonny Liston down here. You've got a fight with Doug Jones. He's a pretty good fighter. Don't you think it's time you start concentrating on him?" a reporter asked Clay.
"I'm not concentrating on Doug Jones, he's nothing but a bum. Liston is the man I want. I'm not thinking about Doug Jones. He will fall in six and I might cut it to three," the young challenger bragged. There was a knock at the door. Clay rose from the couch and answered it. Earlier in the week, when he arrived in New York City to promote his fight with Doug Jones, the controversial young challenger was given the opportunity to meet with one of his boxing idols, Sugar Ray Robinson.
"I saw [him] on television reciting poetry in Greenwich Village—that was no way to train for a fight," Robinson reflected, recounting his meeting with Clay. "I told [Cassius] he needed somebody to watch over him, somebody to keep him happy and relaxed. I had just the guy for him," Robinson stated.
"Man, who are you talking about?" Clay allegedly questioned.
"You need to go see the Black Prince. All you need is some spiritual motivation," Robinson replied.
Clay opened the door and was greeted by Bob Nelson, whom he affectionally called Bobby. "You think you can talk, Cassius?" Nelson joked upon entering the hotel room. "You must hear this man," he added, gesturing toward his accomplice, a tall, thin Black man dressed in a tight red shirt and blue jeans. Clay took in the stranger's conk hairstyle, the long cigar dangling from his mouth.
"This is Drew Bundini Brown. We call him Fast Black, the Black Prince of Harlem," Nelson stated, introducing Clay to the "spiritual motivator" Sugar Ray Robinson had told him about earlier in the week.
"Hey, man," Clay responded in his trademark southern drawl.
"You can't predict no rounds!" Bundini tersely responded, his eyebrows drawn in an accusatory fashion. "You fixin' em! You a phony!" he added.
"You out of your mind, man?" Clay responded, shocked by his visitor's tone of voice.
"You can't be predictin' all them rounds," Bundini argued, his cigar moving up and down with each new accusatory remark. "Tell me the truth. Y'all got together and fix them fights, don't you?" he implored. Clay did a double take, trying to figure if Nelson was somehow playing a prank on him.
"I'm no phony," Clay assured.
Bundini's time in the streets of Harlem had taught him to spot a con artist. Never in his tenure with Johnny Bratton or the great Sugar Ray Robinson had he heard of a fighter correctly predicting the round in which he would knock out his opponent. Bundini's strategy was to press the youngster, reading his facial expressions and body language when aggressively confronted. "You gotta be fixin' 'em, or else you couldn't tell Archie Moore when he was fallin'," Bundini argued, studying the young heavyweight's cleanshaven face, waiting to uncover even the slightest hint of trepidation.
Clay, never at a loss for words, continued his protest. This didn't stop Bundini. "You either a phony or Shorty's in your corner," Bundini finally conceded, placing a pillow from the couch on the floor, seating himself on the pillow with his legs crossed Indian style. "Tell me the truth," Bundini urged, puffing from the cigar.
"You know what the truth is?" Clay finally responded, seating himself next to Bundini. "The truth is, every time I go into the ring I'm scared to death," Clay admitted. To this, Bundini flashed a look of pure shock. He'd expected bravado from the cocky young heavyweight. Tears began to flow down Bundini's cheeks—by all indications he was quick to cry, never one to mask or hide his emotions.
Very few, if any, boxing experts felt that Clay could last more than a few rounds with the menacing Sonny Liston.
"I knew Shorty was with you. Shorty had to be with you," he cried, pulling Clay in for a firm hug and kiss on the jaw.
"All that poppin' off, all that predicting, all those people wanting to see me get whipped, I know I'm in trouble. If I lose, they'll be ready to run me out of the country," Clay admitted. "I'm scared to death. Now that's a fact that only you and me know."
"You and me and Shorty," Bundini replied.
The following night Clay's prediction to knock out Doug Jones in six rounds would not come true. Rather, Clay would be awarded a close but unanimous ten-round decision. Jones proved to be Clay's stiffest challenger to date. The victory would do little to quell the critics, who argued that Clay didn't have the stuff of champions.
"If you get that shot at Sonny Liston, you need me in your corner," Bundini told Clay before the fight.
"Why you want to be in my corner?" Clay asked.
"'Cause you got the power and I got the spirit," Bundini argued.
"All right. You be in my corner if you want to be," Clay answered.
The title shot would have to wait. The razor-thin decision over Doug Jones led Clay's team to take a more cautious approach, opting instead for a tune-up fight before challenging Liston. Three months later, Clay would travel to Wembley Stadium in London, England, to face the tough journeyman Henry Cooper. In the bout, Clay would, once again, flirt with disaster. A leaping left hook from Cooper would send Clay crumbling to the canvas at the close of the fourth round.
Although Clay would recover, winning the bout via technical knockout in the following round, the back-to-back difficult contests had exposed Clay's technical vulnerabilities, many critics argued. Very few, if any, boxing experts felt that Clay could last more than a few rounds with the menacing Liston.
"You a heavyweight Sugar Ray. You'll beat Sonny Liston, all right," Bundini said to Clay, phoning him after the Cooper fight. "Am I in your corner?" Bundini asked.
__________________________________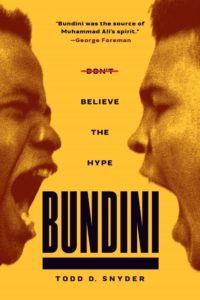 From Bundini: Don't Believe the Hype by Todd D. Snyder (Hamilcar Publications, August 2020).
---