When I Lived Across the Hall From Sid Vicious
Donna Florio Remembers Just Another Day on Manhattan's Bank Street
Some neighbors are better on your T-shirt. Sid Vicious, for one. We got our own Sex Pistol, the former lead singer for the punk band, at 63 Bank Street after the group broke up, sometime in late 1978 or early 1979.
After the Sex Pistols parted ways, Sid's girlfriend, Nancy, was stabbed to death in their room at the Chelsea Hotel on West 23rd Street in October of 1978. The police found Sid wandering aimlessly around the hotel, too high and dazed to make sense.
Sid and Nancy were heroin addicts by then. The other Sex Pistols and many of Sid's friends hated Nancy. They called her a sick, obnoxious bitch, and blamed her for getting Sid hooked on heroin and breaking up the band. Sid, they told reporters, ignored everyone's entreaties to dump Nancy. It looked, friends said later, as if they had each other by the heart and throat. No one could break her hold on him no matter how hard they tried. Nancy attempted to manage Sid's post-Pistols solo career, but between her acidic personality and Sid not showing up for the few gigs she landed, money was draining away by the time she died.
Sid was arrested and forced to kick heroin cold turkey in jail. A cop friend whispered that Sid tried to kill himself in lockup every chance he got. The police didn't want an embarrassing high-profile suicide on their hands. They made it easy for him to make bail, and Sid left jail, clean and newly single, pending trial.
*
My parents were still in living in apartment 2B at 63 Bank Street, but by 1978, since I'd inherited apartment 1A from my late grandmother, I was living down there, sharing the apartment with Andrea, a childhood friend from the Village. It was the glittering disco era. Andrea, who designed trendy clubs and restaurants, had connections that whisked us past the bouncers at Studio 54 and every other hot spot in town. When we got tired of dancing, we'd invite people home to party. Everyone was happy to jump into a cab and come to Bank Street, and we shamelessly bribed Ramiro in the basement apartment below us to ignore the noise.
Andrea knew how to dress. She took nerdy me shopping for sexy, glamorous outfits I would never have had the nerve to buy on my own. I loved the heady rush of power as we glided into clubs and men fought to buy us drinks. Discos like Hurrah's and Paradise Garage were full of movie stars, models, Andy Warhol divas, poseurs, socialites, and folks like me, a nobody with well-connected friends. I wore a black lace bustier with long black Audrey Hepburn gloves and danced next to stars like Margaux Hemingway, Bianca Jagger, and David Bowie.
One of Andrea's friends was head chef at the new Odeon restaurant, the destination in the late 1970s for socialites and celebrities slumming over nouvelle French cuisine in then-seedy Tribeca. We sipped wine at the bar and watched while Liza Minnelli, Grace Jones, and Jackie Onassis laughed and waved to their friends at other tables. One night I opened the door of the ladies' room as a blonde Vogue cover girl in a sequined dress threw up and slid down the wall, platform shoes twisting her long legs into a convoluted yogi pose. Cocaine and a silver mirror fell to the floor, along with a tiny beaded purse. A rolled-up snorter, probably a $100 bill, was dripping in her nose. I felt terrible for the staff that had to clean up her mess and hoped that her date, Mikhail Baryshnikov, a Bolshoi Ballet star who had defected from Russia, was a generous tipper.
"Miss Florio refused to deny being at the party where Sid took his fatal dose."
The gritty clubs where punk rock bands like Sid's Sex Pistols played were another story. At CBGB a plastered girl with a nasal bridge-and-tunnel accent dumped beer on Andrea's head. At the Mudd Club, a biker wannabe shoved me to the floor. He was aiming at the guy next to me but was too stoned to reach him. Random violence and snarling attitude was de rigueur for everyone, including the performers. Andrea and I always ended up dashing out and hailing a taxi. Discos and entertainers like Bette Midler, a young nightclub singer our gay friends had introduced us to, were more our style.
*
Sid's post-prison lady friend, Michele, had inherited apartment 1B across the hall from mine after her own grandmother's death. She had curly dark hair, brown eyes, and dramatic, full-lipped features. Michele was our age, and we once went clubbing together. She told us that she wanted to be an actress or a rock singer.
She beamed as she introduced me to Sid. I was underwhelmed. He was stork tall and emaciated, with pasty white skin and wearing studded pants and a ripped T-shirt. He mumbled greetings, then stared absently into space, blinking. Civil enough, I thought, but definitely not on the planet. I wondered where they'd met, but didn't bother to ask. New York native girls like us whirled through the night, through secret parties in lofts and deserted buildings, and underground gambling casinos. We met people everywhere.
One night, shortly after that, Sid followed Dad up the stoop and into the front hall. This was pre-Giuliani New York. Anyone who lived here then knows how dangerous the city had become. We peered under the stoop at the dark basement steps before going inside at night. I'd been mugged several times that year. Andrea had had a gun to her head. Our 1A apartment had been ransacked. They'd pried the window burglar bars apart.
Dad whirled to face Sid, squaring for a confrontation with a drug-addict mugger. "Excuse me, sir," Sid murmured to Dad's amazement. "I'm staying here. Sorry if I startled you." They shook hands and introduced themselves.
Dad was impressed by Sid's manners. "He's a decent guy, even if he looks like a clown," he said to Mom. Maybe it was good breeding. Sid's father was a guard at Buckingham Palace.
Andrea and I saw Sid in passing. Michele asked us never to lend him any money. "He's clean," she explained. "I don't want him to get back on heroin." We promised, but he never asked for anything. If we happened to meet, he'd say something politely unintelligible in his soft British garble, look over my head at the sky, and wander off, lost in his own world. Nothing at all like his rough onstage persona. Andrea and I did wonder, though, about the murder and his temper. At some point he cracked a beer bottle on the brother of the rocker Patti Smith in a club fight and did another stretch in jail. We hoped that Michele was safe.
*
We stopped wondering in February of 1979. Andrea had been ill all night with a bad flu and woke me up to go to the drugstore and get medicine. I woke up fogged and grumpy as usual. She shook me, then backed away, knowing my invariable morning mood. I was furious until I realized that she was sick. More asleep than awake, I pulled on boots and an ancient ski hat, threw a coat over my pajamas, and stumbled through the hallway onto the stoop, eyes closed behind my thick glasses.
They popped open when flashbulbs exploded in my face. Reporters surged forward, microphones pushing towards me, as I blinked, trying to make sense of what I was seeing. News trucks and police cars jammed the street in front of the building.
"What's your name?" the reporters demanded. "What do you know about Sid Vicious's death? Is it true that he overdosed here last night? Was there a party here last night? Do you know Sid?"
I was on the news all day, dirty old ski hat and all.
"Oh my Gawd . . . oh my Gawd . . . Ug, aah . . . my name is Donna Florio . . . dead? Well . . . I know he is . . . was . . . ummm . . ."
The reporters had truly sandbagged me into being a stuttering idiot, complete with my horrible Noo Yawk accent. They surged closer as I stood rooted, mouth open.
In the 1970s, Villagers my age danced along razor edges. Everyone took chances. But I was still young enough to believe that we were immortal. No one I knew, even as casually as I knew Sid, had died in our dance before.
The reporters kept hammering. "Were you at the party?"
"He's really dead? Ohhhh . . . What? Oh my Gawd!" "Miss Florio, did you know about the drugs here?" "Oooooohhhhhh . . . dead . . . my Gawd!"
"Were you in the room when Sid Vicious took drugs?"
Drugs. Parties. Next door. Oh my Gawd, indeed. I didn't hang out with Sid and Michele and had no idea what they did or where they did it, but I was having plenty of my own dubious fun right across the hall. It wasn't hard to get crazy at that age in this neighborhood.
As I blinked stupidly at hands with microphones pushing one another out of the way, neurons finally fired, and my street reflexes kicked in. The last thing I wanted was cops or the press in my apartment. These reporters didn't know or care how peripheral I was to Sid's story. They just wanted raw meat. They'd happily twist me into the punk drug queen next door to sex up their coverage into a lead. Besides, I was still in my snarling morning wake-up mood. There weren't enough reporters on Bank Street or the entire city to make me care about dead Sid Vicious or kidnapped Patty Hearst or anyone else just then.
I shoved down the steps, pushing microphones out of my face. "No more questions!"
The reporters put that on air all day as "Miss Florio refused to deny being at the party where Sid took his fatal dose."
Neither Andrea nor I wanted to face that crowd, but she needed to see her doctor and there is no back door out of 63. We draped ourselves in scarves and sunglasses. Although we'd heard cops going in and out of apartment 1B all morning, they—thankfully—hadn't bothered with us.
The reporters went wild as we came out. Andrea, beautiful and tiny and now pallid and stumbling, could have easily been a wrecked rock starlet. Given her Jackie O camouflage and buckling legs, the mob was sure they'd scored one of Sid's friends or maybe even Michele herself.
Reporters rang our doorbell until we disconnected it. They called until we unplugged the phone. A camera poked through the blinds of our front window.
A young reporter with orangey pancake makeup and a cheesy turquoise suit grinned avidly and blocked us, holding her microphone to Andrea's mouth.
"Miss, I'd just like to ask you a few questions about your friend Sid Vicious," she said brightly. We knew that if we cursed or made a scene it would only make her news bite a hit, so we kept our mouths shut and tried to head away. But she had us trapped.
"Just a few questions, Miss. Were you a very close friend? How are you feeling now?"
I believe that there is a punk rock god up there somewhere because he came to our rescue as only a punk god would. The tea and toast I'd mistakenly coaxed into Andrea before we left had made her queasy. Now she wasn't getting enough air. She gagged and suddenly vomited over the reporter and her microphone. We laughed about Orangina, cursing and wiping herself, for weeks.
We returned before Michele emerged to face the crowd. Before she left she appeared at her apartment door in full rock makeup and a tight striped shirt. I watched from across the hallway as a female retinue, including Sid's mother, surrounded her, patting her arms and urging her to be strong. The women were carrying on as if Michele was a suttee widow in India, set to be roasted on Sid's funeral pyre. She lifted her chin, squared her shoulders, and walked slowly down the hall towards the building's front door.
I was still punchy and in need of sleep. Now Michele's theatrical looks and demeanor made her look like Gloria Swanson as the demented 1920s actress Norma Desmond, rolling her eyes towards the cameras and what she thought were hordes of adoring fans in the final scene of the movie Sunset Boulevard. There was even a dead lover, although poor Sid was hardly heart-throb William Holden, Norma's murdered boy toy. I watched Michele sweep down the steps, tossing her hair as she was surrounded by shouting reporters.
Reporters rang our doorbell until we disconnected it. They called until we unplugged the phone. A camera poked through the blinds of our front window. We locked the window and draped the blinds with sheets. Just in case.
Andrea felt a little better and I took a nap. After some sleep, I woke up feeling human. I sipped coffee, watching the TV coverage and thinking about how sad and lost Sid had seemed whenever we passed him. I started to feel sorry for him.
*
Over the next few days, the coroner told reporters that Sid had shot up without being used to it anymore. Happens a lot after heroin addicts detox, he said. Michele's friends came and went, some tossing gossip our way like bits of gold. One whispered that Sid's mother had given him money for drugs. Or maybe he'd stolen it from her, I thought. Mommy Vicious, who'd been hanging around number 63 a lot, looked like a withered groupie from some backwater 1960s group: half-bagged and easy to fool. A cop told me that Michele had fallen asleep in the crook of Sid's arm and awoke in the same position to find him dead. Perhaps. We never asked, Michele never said, and to her credit she never sold her story.
Michele's grandmother, someone I'd known for years, had died in that same tiny bedroom. I'd heard the police and gone in. Her mouth was hanging open, which bothered me. I asked them if I could fix it before rigor mortis set in. Mrs. N. met her maker with my purple spangled scarf wrapped around her jaw but her mouth decently closed. I wondered if these two wildly different ghosts were circling each other in the air. If Tuffy, Mrs. N.'s slobbering, nasty Boston Terrier that bit everyone, is there too, I thought, Sid doesn't stand a chance.
Like Andrea and me, the other tenants hadn't cared about Sid's presence one way or another. But the B-line tenants sighed with relief. Sleep at last! Whether it was Sid's stalwart British manhood, great drugs, or an act, howls of joy from 1B had blasted up the walls for hours every night. Walter, the artist in 3B, stuck his head out the window, yelling, "Shut the fuck up already!" Irene rolled her pillow around her head. My parents in 2B laughed about it. "Again? That skinny wreck?" They'd go sleep in the living room.
Theories about Sid, and Nancy, and his final night here at 63 Bank Street, I discovered, still fill the internet.
For months Sid's mourners blocked our way up the stoop and littered the building, leaving flowers, beer, letters, and candles, and writing messages to him on the walls. I ran to stop Ramiro from beating two cowering leather-clad boys with his leaded baseball bat. They'd spray-painted the hall that he'd repainted twice since Sid's death. Ramiro was truly dangerous when he was that riled, and he'd be the one who'd get in trouble for hurting what were likely suburban kids from New Jersey. I grabbed the bat, yelling at them to run.
*
The mystery of Nancy's murder will probably never be solved. Sid may well have been innocent. He never stood trial and there were other plausible suspects. But it astounds me that people still dress up and pose for pictures on our steps. Gray-haired tourists play Sid's cover of "God Save the Queen" as they take selfies. Our mailman delivers letters to "Occupant" in apartment 1B from all over the world, saying that the writer will be visiting New York and could they please see the apartment. The young men who now live in 1B found me on YouTube, forever bleating, "Oh, my Gawd!" to a gaggle of reporters with microphones. It had never occurred to me to look.
Theories about Sid, and Nancy, and his final night here at 63 Bank Street, I discovered, still fill the internet. The most opinionated theorists sound like people who weren't even alive then. If they were, they sure don't know about young 1970s Manhattan life, let alone the size or acoustics of 63 Bank Street. Besides, it was almost fifty years ago.
But they have a right to their opinions and so do I. The ending of the 1986 movie Sid and Nancy, when his spirit simply rises to join hers, is the truth to me. He tried to kill himself in jail long and hard enough to alarm New York cops, not the easiest thing to do. When I close my eyes and see the vague, skinny boy who mumbled proper greetings while his eyes wandered the sky, it makes me think that Sid had already let go of his life by then. Maybe it happened when Nancy died. Maybe before.
In any case, I hope that he wafted to the hereafter and that they've both come to peace, whatever happened that night at the Chelsea Hotel. No Michele. No reporters. No Bank Street. I don't believe that Sid was ever really here.
__________________________________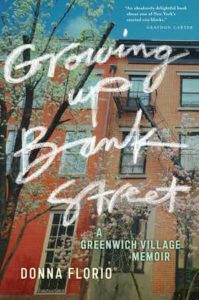 From Growing Up Bank Street: A Greenwich Village Memoir by Donna Florio. Used with the permission of NYU Press. Copyright © 2021 by Donna Florio.
---