When Do Unspoken Social Rules Become Fashion Laws?
Richard Thompson Ford on the Time a Top Hat Scandalized London
According to the January 16, 1797, edition of the Times of London, John Hetherington, haberdasher of the Strand, was arraigned on a charge of breach of the peace and inciting to riot and required to post bond in the amount of 500 pounds for the following offense:
It was in evidence that Mr. Hetherington . . . appeared on the public highway wearing upon his head what he called a silk hat (which was offered into evidence), a tall structure having a shining lustre, and calculated to frighten timid people. As a matter of fact, the officers of the Crown stated that several women fainted at the unusual sight, while children screamed, dogs yelped and a [young man] was thrown down by the crowd which had collected, and had his right arm broken. For these reasons the defendant was seized by the guards and taken before the Lord Mayor.
What rule, written or implied but apparently known to all (even dogs!), did Mr. Hetherington and his headwear violate? Tall, cylindrical hats were common well before the late 18th century: for instance, the Puritans of the mid-17th century wore a severe black felt hat that is now familiar to every American schoolchild as the headwear of the Mayflower pilgrims. And a scant thirty years after Mr. Hetherington's arrest, the top hat had become an avatar of the staid and self-satisfied plutocrat, marketed with names such as the D'Orsay, the Wellington, and the Regent. What now-obscure code allowed a top hat to be read as a provocation, "calculated to frighten" and deserving of legal sanction? Unfortunately, we can only speculate: the surviving record of the case begins and ends with this brief newspaper column.
It wasn't the first time a hat caused a riot and it wouldn't be the last. For instance, during the notorious Straw Hat Riot of 1922, marauding gangs in New York City violently enforced the rule that no man should wear a straw hat after September 15, knocking offending headwear off the heads of passersby, stomping on the hats and impaling them on pikes. The riots engulfed the city from the Bronx to the Battery: more than one thousand would-be fashion police gathered uptown on Amsterdam Avenue attacking straw-hatted bystanders, while downtown, fights between the vigilantes and citizens who attempted to defend their hats stopped traffic on the Manhattan Bridge.
One might think that such sartorial strictures and prescriptions are largely things of the past: the once-ubiquitous suit and tie, to say nothing of the dressy hat, are almost historical costume. But while dress codes may seem like a throwback, if anything they are growing more and more popular. For instance, in 1999 to 2000, 46.7 percent of U.S. public schools enforced a "strict dress code"—by 2013 to 2014, 58.5 percent did. Millions of people must conform to a dress code every day at work or school, and millions more confront dress codes after hours in restaurants, nightclubs, and theaters. Even the relaxed, bohemian domain of the American coffee shop is governed by dress codes: a 2014 dress code dictates that the Starbucks barista must eschew unnatural hair colors, nail polish, short skirts, and piercings other than earrings and subtle nose studs (no septum rings allowed). And dress codes aren't just for school-age kids and image-conscious private businesses: they are in force on the public streets, where clothing deemed provocative or threatening may be against the law. Those "sagging" pants favored by some rappers and their fans could be grounds for arrest in certain cities, and if police decide they mark you as a member of a gang, they could even turn a minor crime into a capital offense.
Some dress codes not only prescribe and prohibit specific garments but also obsessively dictate the minutia of attire. Consider the 2010 dress code of the Union Bank of Switzerland, a 44-page tome that directs employees to avoid chipped nail polish and scuffed shoes, make sure that jewelry matches the metallic color of eyeglasses, and that neckties just touch the tops of belt buckles. Exacting and detailed rules about what to wear are everywhere.
Our attire reflects our deepest commitments, aspirations, and sense of self.
Consider one small but telling example: today's masculine formal and semiformal attire is almost a uniform, but it's a uniform one must assemble through the mastery and application of rules. The canons of menswear dictate that a black-tie ensemble consists of a black or midnight-blue jacket with a peak lapel or shawl collar faced in satin or grosgrain, and pants with the outside seam covered by a silk or grosgrain stripe. If the jacket is double breasted, it must have a peak lapel. If it is single breasted, it can have a peak lapel or shawl collar, but never a notched lapel, which is characteristic of a more quotidian business suit. A cummerbund, worn so that its pleats face up (a nod to the era when men tucked theater tickets into it), must cover the waist, unless the jacket is double breasted, in which case a cummerbund must not be worn. Trousers must be supported by suspenders or "braces"—never a belt—and indeed, the trousers of a semiformal suit must not have belt loops. In 2010, the Wall Street Journal offered many of these rules, as well as a few others, in response to a reader's inquiry:
Your shirt should be of white marcella . . . with a bib front. . . .
French cuffs are a must. . . .
[as is] The bowtie . . . and learn to tie it. . . .
[P]ocket square, cuff links, watch (which should match your cuff links). . . .
And even after following such detailed guidelines, you can still get it wrong: according to the men's style blog The Art of Manliness, when attending a black-tie affair, "the implication that you would check the time is considered rude to the hosts." In other words, when worn with a black-tie ensemble, a watch—even one that matches one's cuff links—is inappropriate.
And yet the typical black-tie soiree is a come-as-you-are shindig compared to a day at the races in the Royal Enclosure at Ascot, where:
Ladies are kindly reminded that . . .
Dresses and skirts should be of modest length defined as falling just above the knee or longer.
Dresses and tops should have straps of one inch or greater.
Trouser suits are welcome. They should be of full length and of matching material and colour.
Hats should be worn; however a headpiece which has a solid base of 4 inches (10cm) or more in diameter is acceptable as an alternative to a hat. . . .
Strapless, off the shoulder, halter neck and spaghetti straps are not permitted.
Midriffs must be covered.
Fascinators are not permitted; neither are headpieces which do not have a solid base covering a sufficient area of the head (4 inches/10cm).
As for men, even an immaculately correct dinner suit ensemble, watch left safely behind at home, would be out of place at Ascot, where:
[I]t is a requirement to wear either black or grey morning dress which must include:
A waistcoat and tie (no cravats) A black or grey top hat
Black shoes
A gentleman may remove his top hat within a restaurant, a private box, a private club or that facility's terrace, balcony or garden. Hats may also be removed within any enclosed external seating area within the Royal Enclosure Garden.
The customisation of top hats (with, for example, coloured ribbons or bands) is not permitted in the Royal Enclosure.
Such nitpicking isn't limited to unusually fastidious businesses and old-fashioned festivities. In 2018, I asked Kate Lanphear, creative director of Marie Claire magazine and a self-described "punk-rock girl," about today's dress codes. She pointed out that even oppositional subcultures that pride themselves on breaking all of the rules still "follow a code. The patches you put on a denim jacket or the pins, the band T-shirt you're wearing is still a code to other people  to identify with . . . [they're saying] I'm part of this tribe [they're] following the code of the rule breakers." In other words, those rule breakers replace the old rules with new rules—often as uncompromising as those they just broke. Here, I am reminded of the Pinnacle Peak Steakhouse in Southern California, known for its large portions and rustic atmosphere, where employees wielding scissors cut off the neckties of unsuspecting businessmen: the work-a-day rule requiring neckties is replaced by an after-hours rule forbidding them.
Similarly, free-spirited college students who blanch at the idea of a dress code imposed by university administrators seem happy to conform to intricate unwritten rules about attire: campus social cliques are readily identified by their shared style of dress, and the fashions of just a few years ago are as completely absent as if they had been prohibited by law. Their professors, for their part, advertise their disdain for surface appearances with a deshabillement that has become a kind of academic credential: the naïve assistant professor who wears a Dolce & Gabbana dress to a faculty meeting may need years to recover an aura of scholarly gravitas. Even the Silicon Valley style of casual wear has become a kind of dress code: if a sweatshirt and flip-flops demonstrate a single-minded focus on innovation, a suit and tie betray an outmoded concern with appearances and status. Accordingly, one Northern California investor advised to "never invest in a tech CEO that wears a suit…." These unwritten dress codes can be as powerful as rules inscribed in law and enforced by police.
A different kind of dress code gives our clothing social meaning. It is said that it takes about three seconds to make a first impression. What you wear is one of the most important parts of that introductory image. Clothing can magnify and embellish natural differences and can make the abstract statuses of social hierarchy tangible. The European aristocrat and blue-blooded New England preppy are defined by the subtleties of dress as much as by wealth and family lineage. Gender difference is marked by clothing, hairstyles, and cosmetics. Racial and ethnic groups maintain the bonds of kinship and solidarity through distinctive grooming and attire. Even religious faith—often thought of as a matter of private belief—is given public significance by prescribed and forbidden dress and grooming. And we don't just dress to impress others: our attire reflects our deepest commitments, aspirations, and sense of self. People often refer to a favorite item of clothing as a "signature": what we choose to wear can be as personal as our name. Yet we often take these most conspicuous elements of social standing and personal distinction for granted.
__________________________________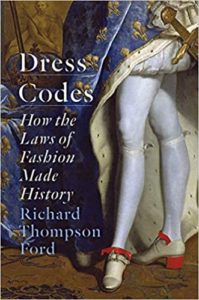 From Dress Codes by Richard Thompson Ford. Copyright © 2021 by Richard Thompson Ford. Reprinted by permission of Simon & Schuster. All rights reserved.
---