When Codependency Feels
Like a Disease
Nina Renata Aron on Being in Love With an Addict
A cool morning in early autumn, Oakland, California. K is poised to get out of the car and onto the BART train to head to a job I'm not certain he actually has anymore. He presses play on the music on his phone and pulls the hood of his black sweatshirt—the addict's veil—gruffly up over his headphones. In the way a different person (me) might straighten her skirt or reach for her purse, K readies himself for public view with a series of small, personal movements. They are designed to hide as much of himself as possible. In more desperate times, he has ridden the train looking for people to rob, seizing upon couples he could intimidate by threatening to hit the woman. He wouldn't hit a woman, he said when he first revealed this to me, but the tactic always worked. And the guy gets a moment to shine, he added. All he has to do is fork over the cash and he looks like a hero. But K's habit is not that out of control at the moment, and besides, he has me.
His waking hours are a careful calculus. To get from sunrise to sundown, he needs forty dollars—thirty for heroin and ten for crack. Maybe a couple bucks more from the change jar for one of those plastic containers of lemon or lime juice that junkies use to break down crack. Bodegas in bad neighborhoods sell them on the counter. I used to wonder what they were for. He doesn't actually shoot drugs in front of me; the actual moments when he's getting high are more like an open secret between us. He usually goes to the bathroom to do it, and I can often hear him humming innocuously from behind the door, sometimes whistling, sounding carefree and maybe a little excited, like he's Mr. Rogers buttoning his cardigan and donning his loafers, readying himself for a wholesome adventure.
He'll do the first shot, a combination of the two, to get the first high of the day, the only true high. After so many years of shooting dope, speedballs are the quickest way to feel something. He'll do a second shot of the heroin he's saved later, to come down a bit from that bell-ringing height. And he'll need another one at night, but will rarely have enough left. His evening shot will just be a rinse— the weak residue of heroin left over in the cotton. It would be best if he could save himself a wakeup shot for the following morning, but he never finds a way to. (Does anyone? The wakeup shot might be a junkie myth.) At night, he might have a drink or take some pills or smoke some weed, but none will quell the mushrooming dopesickness—or the fear of dopesickness, which he tells me is just as strong as the sickness itself—that will peel him out of sleep around 4:00 a.m. and linger, a light panic, throughout the morning.
Dirty as it sounds, there's something neat and straightforward about his routine. It depends upon other humans—through cooperation, manipulation, coercion, force—yet it also remains pristinely single-minded, self-directed, and selfish.
So many of our habits come to feel like rituals, but if you think about it, few are truly nonnegotiable. I like to have a cup of coffee with a splash of milk every morning, but if there isn't coffee or milk at home, I simply wait. The day might take on a different shape, a detour to stop at a café or a trip to the market. Maybe I'll go without coffee until later in the afternoon. This isn't like that. The necessity of getting drugs and the wolfish entitlement to be high arrive anew each morning with the rosy light of daybreak, and he sets about, diversionless, feeding that urge.
To get from sunrise to sundown, he needs forty dollars—thirty for heroin and ten for crack.
Addiction is biological, of course, but that isn't all. It's emotional and psychological. Often, the addict retrofits an entire philosophy of life in order to justify his behavior. For example, K might say he's always been a nihilist, but I think that was just a way to account for his penchant for drugs. There's also something almost religious in the devotion this type of addiction, this practice, requires. The focus of the addict is chilling in its intensity. It's not like my morning coffee. It's more like the monk at the sound of the meditation gong. A zombie at the whiff of blood. A pattern that won't be interrupted, challenged, or moved. Its lack of variation feels like the purest dedication, though it also appears almost robotic. It is not enviable, but it is stunning—awe-inspiring—in its way.
I gotta get to work, he says as we sit parked in front of the train station. Outside the window, commuters stream by with briefcases, students with earbuds and backpacks. All have a bounciness that seems foreign to the moment, to the air inside the car, to the culture of our relationship. I watch them pass with longing and judgment.
I know he's going to ask me for money, and that he'll save it until the end so that the shame of the question might be lost among the last of his shufflings. His eyes dart around the car's interior and then eventually up to my eyes, where they pause flatly. He rolls the window down just a couple of inches, then rolls it back up. Nervous energy. He so often appears poised to bolt. Can I borrow forty bucks, he says, with no question mark. My pulse picks up at the sound of that word, "borrow." Just the sound of it, the nerve of it, rankles me. (Pro tip: a drug addict is never, ever borrowing money.) My eyes close for a long moment and then open again, and the daylight pours back in.
My calculations are ceaseless, too. My bank account has $211 in it. Our phone bill is overdue, and I need to buy groceries on my lunch break. But I get paid tomorrow, and it isn't the paycheck that goes entirely to rent, it's the fifteenth's paycheck, the one for bills.
I'm owed a few hundred dollars for a copyediting job. And there's child support coming. But forty dollars a day is two hundred and eighty dollars a week. Eleven hundred and twenty dollars a month. Enough to open a savings account, rent a room, take a trip, run away. An extra grand a month would be a life-changing sum. Or maybe I just crave a literal life change. That's the itch coursing angrily through my blood, a fix I don't know how to get. The money he needs we don't technically have, or we have it but we shouldn't spend it, we can't go on spending it like this. I can't make it fast enough, and if he's making any, it isn't making its way home. Not a dollar, not ever.
On a different morning, I might ask if he is really going to work. With exhaustion and exasperation in my voice, I'd say, You can just tell me if you don't have that job anymore. I might even get angry, berate him for a few parting minutes for being aloof or opaque or conniving or a liar. Sitting in the car at the BART station seems to call forth the worst of my rage—why are these transitional spaces, these thresholds, the moments before separation, so ideal for quick, machine-gun bursts of fighting?
A pattern that won't be interrupted, challenged, or moved. It is not enviable, but it is stunning—awe-inspiring—in its way.
But not this morning. To comment is to risk lighting up the entire, intricate network of resentments that lay like a power grid beneath our relationship. Today the surface is fragile enough. I can tell he doesn't feel well.
Honesty is supposed to be the hallmark of a loving relationship, but I'm expert at swallowing my next thought just as it's about to make its way out of my mouth. I say nothing. I don't know if I even think anything. I open my black leather envelope wallet, a grown woman's wallet, the one my mother bought me for my birthday, saying, I'm a professional who needs a few nice things, and I pull out two twenties. I hold the money in my hand and look at K for a long minute, talking with my eyes, feeling the perverse power I hold as the gatekeeper, breadwinner, granter of wishes. I can make dopesickness disappear. It's money I withdrew from the ATM on San Pablo on the way home from work the night before, anticipating this very interaction, knowing my role. That I will give it to him is a foregone conclusion. I don't know why. I only know that every day I think I'll do something different and then I don't. I set out to do the opposite of this—to make my life the opposite of this—and then discover that this is a decision I seem to have already made.
*
The disease I have is loving him. They don't write articles about it or send camera crews to follow us. The disease I have is called codependency, or sometimes enabling, and it isn't really a disease, though it can feel like one. It's more like an ill-defined set of tendencies and behaviors, and depending on how badly it's flaring, it can manifest as a lot of different things—a disorder, a nuisance, an encumbrance, a curse, or sometimes merely a sensibility, a preference, a cast of mind. It can manifest as the gentle tinkling piano notes before Patsy Cline sings that first long, plaintive "craaaaazy." Crazy for thinking that my love could hold you. One of a hundred anthems that have come to sound vaguely psychotic as I've applied them to my own circumstances. So many songs are about men wriggling away from love. This one in particular would make a good codependent cross-stitch: Crazy for trying, and crazy for crying, and crazy for loving you. That would look nice above the mantel. Incidentally, the song "Crazy" was originally written by Willie Nelson for country singer Billy Walker, but Walker turned it down, reportedly calling it a "girl's song." According to Nelson's biographer, Cline "didn't much cotton to songs that made her sound so wounded." But the song broke into the Top Ten on the pop charts and became her signature.
Codependency is a girl's song. The sounds of the busying and tidying of the quietly controlling. The sniveling and whimpering of the long overlooked, the caterwaul of the brokenhearted. The word has a long and complex history, but it has never been taken particularly seriously. To the extent that it is understood at all, codependency is thought to be the province of crazy girlfriends, overbearing mothers, and pathetic wives. In popular culture, women's obsessive, controlling, or enabling behaviors are represented as assorted forms of weakness or madness. Sometimes pitiable, sometimes just sad.
__________________________________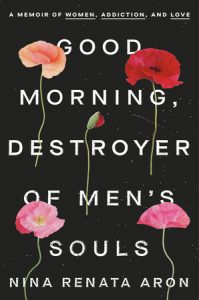 Excerpted from Good Morning, Destroyer of Men's Souls: A Memoir of Women, Addiction, and Love. Copyright © 2020 by Nina Renata Aron. Reprinted with permission of Crown, an imprint of the Random House Publishing Group, a division of Penguin Random House LLC.
---