When Baseball Fantasy Crashes Into Reality
Where Are They Now: The Oakland A's 2002 Draft Class
The 2017 Major League Baseball season is underway and every year around this time, before committing to the many, many hours ahead—the solitary evenings, the treks to Yankee Stadium whenever the Red Sox are in town, the box scores, scouting reports, hot takes, warm takes and dispatches from Pawtucket—I try to take stock and think about where the game is and what, exactly, it wants from me. Usually this involves reading a few books and keeping my eyes open for strange phenomena, like the cover of Fortune Magazine that hit newsstands last week, which informed me that Theo Epstein, the President of the Chicago Cubs, is "The World's Greatest Leader," a title he earned by narrowly beating out Alibaba's Jack Ma, of all people.
These are strange times we're living in. It seems to me that over the last 15 years, give or take, being a baseball fan has come to require a new kind of imagination. 2002 was the pivotal moment. That was when Billy Beane, the General Manager of the underdog Oakland Athletics, drafted Nick Swisher, Mark Teahen, and a host of unlikely prospects who failed the traditional baseball scout's eye test but excelled at then-esoteric pursuits like "controlling the strike zone" and "taking pitches"—skills that the A's and a few other savvy organizations were learning to value.
Even more important, 2002 was the year Michael Lewis showed up in Oakland. Lewis wanted to know whether Beane and the A's front office could pull it off, whether they could compete against the Yankees and Red Sox on a fraction of the budget, with a team devoid of loud free agent signings—an "Island of Misfit Toys."
The result for Oakland was another close-but-not-quite season. For Lewis, it was a book, his study in market inefficiency, iconoclasm, and the statistical revolution in baseball. Its title would come to be synonymous with a new era in sports: Moneyball.
It's hard to envision a book having a greater impact on a subculture. Moneyball was soon required reading in front offices, barrooms, classrooms, leadership retreats. Well over a million copies were sold. A movie went into production. Baseball, which was staggering out of the Steroids Era and groaning under the weight of endless games, found new cachet. At the same time, online fantasy sports were surging in popularity. Fans of all stripes were learning how to view the game through the lens of OPS (on-base plus slugging), BABIP (batting average on balls in play) and other advanced stats; how to construct a roster and master a market, just like Moneyball.
We were learning, that is, to imagine ourselves as GM's, rather than players.
I'm not sure I realized just how dramatic a change that was until I opened Tabitha Soren's new book, Fantasy Life, a photographic profile of the 2002 Oakland A's draft class, the very same players immortalized in Moneyball, thanks to their part in what Lewis dubbed "the first science experiment Billy Beane performed upon amateur players."
*
Soren's name and likeness will be familiar to a generation of readers reared on MTV, where she was once among the network's most prominent news figures—its lead political reporter and the face of a fondly remembered "Choose or Lose" campaign. By 2002, she was an art photographer living in the Bay Area and married to Michael Lewis. While Lewis went about profiling the A's front office, led by Billy Beane the swaggering visionary, Soren was engaged in an altogether different project, closer in spirit to Jim Boulton's Ball Four or Roger Kahn's Boys of Summer—canonical works that look past glory quests in order to find something more intimate, more personal.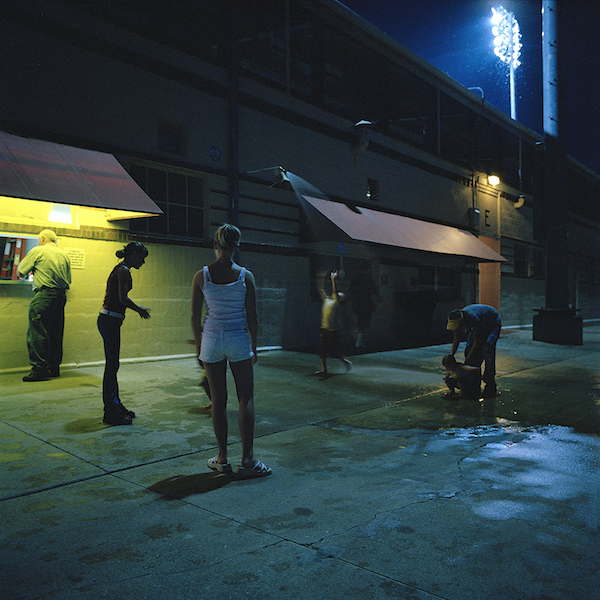 Soren's subjects were the lowest men (boys, really) in the Oakland hierarchy. The vast majority would never make it to "The Show," not even for the proverbial cup of coffee. Soren was there to photograph the start of their professional careers: a lazy afternoon in Modesto; batting practice in Midland, Texas; the empty seats at Banner Island Ballpark, in Stockton. Minor league baseball has a romance and mythology all its own, but it's nowhere to be found in Soren's images. Mostly there's just an overwhelming sense of silence. Class A ball in Nowhere, California is a lonely life. Teammates don't stay together long. There are language gaps and culture gaps and then there's also the ever-present knowledge that you're competing not against the 15 men in the opposing dugout, but the 14 others in your own, all of you angling for the chance of a prayer of a September call-up or hell, even a month in AA.
Within a few years, most of the Moneyball draftees had moved on. A handful would make it to the majors; the others were traded, caught in injury limbo, or washed out. The warm glow of potential faded, but Soren stuck around taking her photographs.
Many of the recent images in Fantasy Life depict subjects engaged in some vaguely athletic act: submerged in an aquamarine pool, face obscured; an impromptu rock climb; balancing a child on a shoulder that was once the property of the Oakland A's. They're an unsettling reminder that these are still young-ish men, no older than 35. They may have a blown-out elbow or a hitch in their step, but that native athleticism never really goes away. Soren's still portraits bring the message home. In one of the most striking series of images, we see a towheaded young fan in Clinton, Iowa, holding out a ball and a glove like an offering. A few pages later is a portrait of Brian Stavisky, the former Athletic, looking remarkably like a rounded-out thirtysomething version of that fan in Iowa. Stavitsky is shirtless, wearing a gold chain, washed out by the sun. His player card—info sheets, family snapshots and short testimonials from the players are scattered throughout the book—tells us he was the A's sixth-round pick in 2002. He played nine seasons of minor league ball but never broke through to the majors. His hair is thinned out but he still looks hopeful.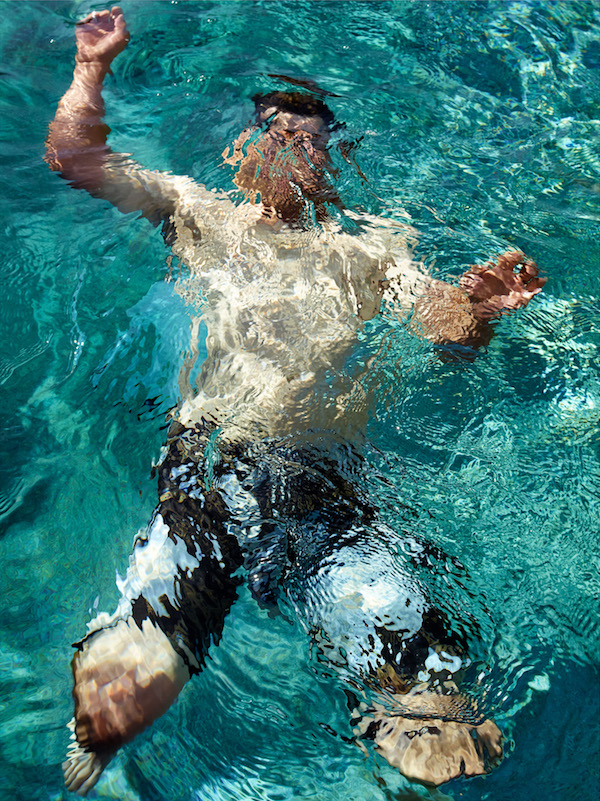 In addition to Soren's photographs and the players' ephemera, Fantasy Life also includes a short story by Dave Eggers, spliced into five vignettes. It makes for uncanny reading, charting the life of a prospect. Giovanni Fillipacci, known as "Gee," is "six-two and two-ten, with opposite-field power," a second baseman in the Kansas City Royals' farm system. His first day on the job, the equipment manager tells him, "Your name implies a man without guile." His teammates are transient, mostly mysterious to one another. One day he is in baseball, the next he's out. Gee isn't a real-life figure, but Eggers seems to be telling the story of all the young men who populate the pages of Fantasy Life, from Joe Blanton, who played twelve seasons in the majors, earning two World Series titles and a generation-spanning fortune, to Ben Fritz, the A's injury-plagued first pick in the 2002 draft, to Mark Kiger, the Moonlight Graham of the bunch, whose major league career consisted of a single appearance in a 2006 playoff game. Gee's career takes him from Idaho Falls to Dodger Stadium, then back to the minors; he drives a fork-lift part-time and lands a gig at a sporting goods store in Billings, Montana. Eventually, he lucks out with a chance to coach community college ball. It's a familiar arc, deeply lived. There are no clashes of ideas, no iconoclasts, just one day after another and a well-worn game.
When asked by a rising prospect at the community college whether he would do it over all again—a career in baseball—Gee can only answer, "I honestly have no idea."
*
Disappointment is engrained in baseball, more than any other sport. In a good year, a quality hitter might get on base a little better than one in three tries. Over the course of a season, even the very best teams will drop sixty games or more. For every prospect who earns a spot on the roster, there are many hundreds who come up short. As fans, we learn to accept this ebb and flow—mostly ebb—as part of the pastime. There's always the next game, the next series, the next season, and while those promise more of the same, we guard the heartache close because it's earned. In that sense, baseball is as good a preparation as any for life. It teaches us to appreciate the volume and variety of failure, even as we strive for something better.
Or anyway that's my own particular romance with the sport. I don't blame anyone who would prefer to watch the games from a barstool meditating on what Billy Beane—or better yet, Beane's progenitor, Theo Epstein—might do at the trade deadline. It's a happier pastime, probably. The GM comes at the sport from a different perspective: baseball is a problem to be solved, something perfectible.
Resisting Moneyball is pointless, not to mention obtuse. The statistical revolution—which was coming to sports in any event, though perhaps less artfully without Lewis—has made the game more rational, less beholden to splashy, conventional stars and gut check decisions from managers who refuse all calls for accountability.
Still, it's good to recall, from time to time, that we fans are in a privileged position. We can root for a team's success without having any responsibility to bring it about.
That means, for me anyway, taking the opportunity to consider the players as men who arrived at this point by enduring long, hot afternoons in Stockton with nobody in the stands and no hits in four at-bats and after the game that phone card only gets you twelve minutes on a line back home to Gainesville or Brownsville or Maracaibo.
Somewhere between the rigors of sabermetrics and Theo Epstein on the cover of Fortune Magazine, I suspect there's room yet for that kind of thinking, just as there's room on the baseball shelf for Moneyball and, a few spines over, Soren's Fantasy Life.
All photos by Tabitha Soren.
---