When Babe Ruth Called His Shot Against the Chicago Cubs
"Only a damn fool would have done a thing like that."
It was a legendary moment in a legendary career.
In the fifth inning of the third game of the 1932 World Series against the Chicago Cubs, the score was tied 4–4; the Yankees were up two games to none. The Chicago bench was riding Ruth hard, and the fans had joined in. Two had thrown lemons at him, and a whole bunch had laughed a little too hard when a fly ball skipped past him for two bases. Ruth tipped his hat after the miscue. But the fans had also been rude to his wife, Claire, and the insults might have been getting to him. At age 37, Ruth could still turn anger into pulverizing action. During the regular season, he had hit 41 home runs, batted in 133, and hit .341.
Another lemon rolled to his feet, as Ruth clutched his bat near the knob, his feet close together. He took strike one from pitcher Charlie Root, then waved his hand in the general direction of center field. He watched two balls go by. After a called strike two, he repeated the gesture. Root threw his fifth pitch, a curveball that didn't curve—and Babe clouted it well beyond the center field fence for his 15th (and last) World Series home run. He dropped the bat shown opposite, and as he trotted past first base, made rude gestures toward the Cubs bench and some kind of pushing motion as he approached third. The Cubs dugout had gone silent.
The next day, the legend began. While many accounts of the game noted the byplay between Root and Ruth, the most widely circulated write-up stated that the Babe had pointed to center "so as to call his shot." It didn't take long for the tale to become an accepted truth.
Root, of course, said it never happened. If the Babe had been doing any such thing, the pitcher said, the slugger would "have ended up on his ass." Eyewitness testimony was divided. The video evidence is ambiguous.
Ruth himself did not clarify matters. In his 1948 autobiography, he said he hit the ball "in exactly the spot I had pointed to." But in 1933, he was equally definitive: "Hell no," he told a reporter who asked if he had called the shot. "Only a damn fool would have done a thing like that." In other instances, the Babe was uncharacteristically coy, neither confirming nor denying his intent.
In a sense, it hardly matters. In a sport that treasures its myths, this one was too good to cross examine. Perhaps the best summation came from Tom Meany, an early biographer: "Whatever the intent of the gesture, the result was, as they say in Hollywood, slightly colossal." Not that Ruth needed the publicity. Widely regarded as the greatest baseball player ever, he fundamentally changed the game. Consider: in 1920, his first season with the Yankees, Ruth hit 54 home runs—or more than all but one team. And on May 25, 1935, the day he hit his 714th and last home run, he was hundreds in front of his nearest rivals, Lou Gehrig (378) and Rogers Hornsby (302).
Recognizing the power of power to put runs on the board and fill seats, management and players began to go for the home run in a way that had never happened before. No other player has had that transformative an influence. Ruth still ranks first in slugging percentage and on-base plus slugging percentage; he also has more home run titles (12) and RBI titles (6) than anyone else. Nor has any other player been as versatile. Ruth was a pitcher before he was a slugger, posting a league-best 1.75 earned run (ERA) in 1916. He compiled a career record of 94–46, with a 2.28 ERA. If he hadn't made the Hall of Fame as a slugger, he might well have got there as a pitcher. That can be said of no other player.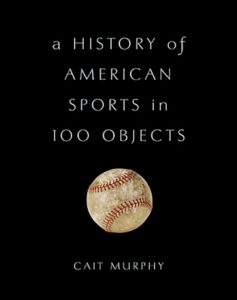 From A HISTORY OF AMERICAN SPORTS IN 100 OBJECTS. Used with permission of Basic Books. Copyright 2016 by Cait Murphy.
---