When Art Inspires Agency: On Fictional Characters Who Find Motivation in Beauty
Jill Bialosky Recommends E.M. Forster, E.L. Konigsburg, Lisa Hsiao Chen, and More
In my own forthcoming novel, The Deceptions, the Greek and Roman statues, and their representations, give my character agency and move the narrative forward. Here are five novels, all from different milieux, that use art— whether in a museum, a church, a city, a drawing room, or a catalog—to inspire a result in a meaningful and unexpected way.
*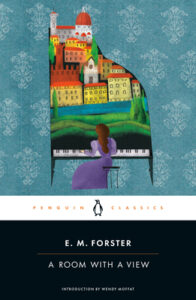 E.M. Forster, A Room with a View
Lucy Honeychurch is a young naïve woman locked in conventions and social mores who visits Italy with her cousin Charlotte. George Emerson is the person of interest for Lucy, though she doesn't quite know it until much later. George is of a different social class than Lucy and was brought up by his father to reject social norms, religion, and to follow his heart. Lucy on a stroll alone finds herself at the Basilica Di Santa Croce without her guidebook. "Then the pernicious charm of Italy worked on her, and, instead of acquiring information, she began to be happy." She runs into George Emerson and his father marveling at the Giotto frescoes. She says of Santa Croce, "though it is like a barn, has harvested many beautiful things inside its walls." Lucy is transformed by the art and beauty of the inner sanctum of the Santa Croce and finds the Giotto "wonderful."
A transformation is slowly happening, though she isn't quite yet aware of it. Mr. Emerson, George's father tells her, "let yourself go, you are inclined to get muddled, let yourself go." Blinded by the decorum of Victorian morals and expectations, it is her encounter with beauty in the church, the beauty of Florence, and the beauty of George Emerson, whom she views in the church as a heroic figure out of Michelangelo, that unlocks her and leaves her open to love. The title of the novel, Room with a View, signals the gift the Emerson's give to Lucy, changing rooms so she can have the view at their hotel. A room stands for confinement, perhaps for one's inner world too, and the view represents nature, air, freedom. What ultimately binds Lucy and George is their mutual love of beauty.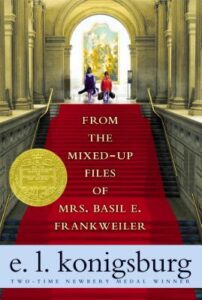 E.L. Konigsburg, From the Mixed-Up Files of Mrs. Basil E. Frankweiler 
As a child, I loved going to the Cleveland Museum of Art. I remember staring at Rodin's statue of The Thinker that stands on the lawn outside the museum with his hand on his chin, and marveling at the Renoir's and Van Gogh's. There was something about the austere and quiet of the museum and the objects that elicited their own authority that pleased and excited me… so that when I came across this enchanting novel about two children who run away to live in the metropolitan museum, I was in. It was also the idea of running away from home that captured me.
My brief stint as a runaway involved hiding behind our garage with my younger sister for the day, nibbling on saltine crackers and peanut butter, hardly as original an undertaking as Claudia and her brother, Jamie's. Claudia "decided that her leaving home would not be just running from somewhere but would be running to somewhere." The pair take baths in the pool, slip underneath the velvet rope to sleep in a decorated canopy bed, hoard coins from the bottom of the fountain. And there's a delicious twist: they become Art Historian's trying to solve the mystery of an angel statue. Jia Tolentino in the New Yorker called the novel "a masterpiece of graceful, efficient exposition." There is no heavy-handed message to the novel; it is the adventure, the mystery and the secret journey that leaves the two explorers changed.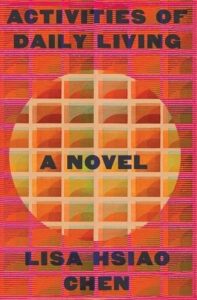 Lisa Hsiao Chen, Activities of Daily Living
What if the city is the museum? In Activities of Daily Living Lisa Hsiao Chen reinvents what a novel can do. Alice, 39, a Taiwanese immigrant, lives in New York City. She is a freelance video editor, but her real passion is trawling Tehching Hsieh, a Taiwan-born performance artist, who in real life created radical works that he called "projects," such as punching a time clock, every hour on the hour, and living in a cage for a year.
By following Tehching Hsieh and learning more about his work, Alice hopes to find her own project. "A new project was stirring, showing signs of life, her project about the Artist. She didn't yet know what form it would take, only that she would work with the same raw material that he had: time." While Alice is working on her project, she is also caretaking her stepfather who is slowly losing his abilities to perform "activities of daily living." What happens when art and reality intersect? Is living itself a performance or a project? What constitutes a work of art? These are some of the themes Chen investigates, in this thrilling and unorthodox project of a novel. (To be transparent, I am the editor.)
Leanne Shapton, Important Artifacts and Personal Property from the Collection of Lenore Doolan and Harold Morris, Including Books, Street Fashion, and Jewelry
What if objects in an auction catalog become the narrative of a novel? In Leanne Shapton's audacious Important Artifacts and Personal Property from the Collection of Lenore Doolan and Harold Morris, Including Books, Street Fashion, and Jewelry, 325 lots up for auction, along with their captions, tell the story of a derailed love affair between Lenore and Harold. I first discovered this mesmerizing object when a colleague came into my office at Norton to show me a copy that had been sent to him pre-publication. Not only was I dazzled by the photographs and their choreography, but I was entranced by how Shapton pulls off the dare.
The novel consists of series of curated photographs of the couple's personal objects, jewelry, art, and antique furniture, to the less treasured and more random, faded paperbacks, postcards, napkins, a scrabble set, to stretch the trajectory of their love story from their first meeting to the end. In this game, the reader is the detective, searching the objects for clues of how Harold, in his forties, wooed twenty-something Lenore. One artifact is a copy of Nancy Mitford's novel, The Pursuit of Love and Love in a Cold Climate with an inscription—"loaned to Lenore on the eve of my departure to London, Dec 11, 2002. To be claimed upon my return. Don't lose my place H." We learn of Hal's growing disenchantment through a note about being tired of baking (she writes a baking column). A cry for the elasticity of the novel, Important Artifacts and Personal Property ponders whether can we define ourselves by the objects we leave behind, and whether objects as a narrative device can give agency to a narrative. The novel includes an epigraph from Novalis: "We seek the absolute everywhere, and only ever find things."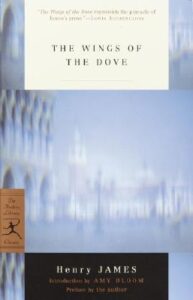 Henry James, The Wings of the Dove 
The Wings of the Dove is a hypnotic novel about a complex triangle of lovers. Kate Crow and Merton Denscher are the original pair. Denscher is a journalist and writer without the means to marry Kate in which their union would offer security. In comes Milly Theale a wealthy and "kind" American who has come to London with the hope of meeting up with Denscher whom she met before in New York. Kate and Milly become fast friends. Milly is taken into Lord Mark's circle of the social elite in London. At a party he introduces her to a painting he claims to look like her. "The Bronzino was, it appeared, deep within, and the long afternoon light lingered for them on patches of old colour and waylaid them, as they went, in nooks and opening vistas." The painting brings tears to Millie's eyes and brings her face to face with her mortality. While the woman in the painting strikes her as beautiful, she finds her to be "unaccompanied by joy. And she was dead, dead, dead. Milly recognized her exactly in words that had nothing to do with her. "I shall never be better than this," she says to Lord Mark.
It is the strange encounter with the painting that gives Milly agency to tell Kate of her fatal illness and to ask her for help in "living." Knowing Milly has no heirs, and is infatuated with Denscher, she approaches him with a scheme. "He faced it all, and certainly it was queer. But it wasn't the queerness that after another minute was uppermost. He was in a wondrous silken web, and it was amusing." Until, of course, it isn't. The three go to Venice, Kate leaves abruptly to leave the pair alone, and Milly, enthralled and in love with Denscher becomes nearly transcendent. After Milly dies, Kate and Denscher's union is haunted by Milly's memory: the wings of the dove. What makes this novel so deeply interesting, is that despite the betrayal, we come to feel for all these doomed lovers.
__________________________________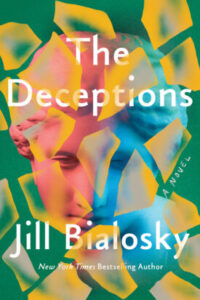 The Deceptions by Jill Bialosky is available from Counterpoint Press. 
---