When American Artists Tried to Start a Television Revolution
From Fluxus to Abbie Hoffman, Between Warhol and Castro...
In 1970, the African-American musician and poet Gil Scott-Heron released his famous song "The Revolution Will Not Be Televised"—his reminder that American network television was controlled by corporations dedicated to maximizing profit and, thus, maintaining the capitalist status quo. Furthermore, the one-way nature of broadcast television reduced its revolutionary potential, as viewers lacked any meaningful modes of feedback to counter its numbing and biased broadcasts. It is not surprising that thinkers from this period believed that revolutionaries should first seize television stations as a way to silence and transform the government's most effective weapon.
Regardless, as David Joselit has suggested, some artists and activists endeavored to use broadcast television as a kind of virtual street, attempting to negate the medium's commercial utility, not unlike Jacques Villeglé's playful recontextualization of urban advertisements in Paris. In 1968, the charismatic American protest leader Abbie Hoffman—who co-founded the Youth International Party (the Yippies)—professed a counterintuitive notion of what was needed for a revolution in America: some combination of Andy Warhol and Fidel Castro, because "Warhol understands modern media" and "Castro has the passion for social change." Highlighting the centrality of television to any understanding of American politics at the end of the 1960s, Hoffman produced "commercials for the revolution." If commercials interrupted the flow of a program to sell a product (often with great success), Hoffman wanted to interrupt "normal" broadcasting with telegenic images that exposed the absurdity of politics as usual.
These actions owed a creative debt to Fluxus, especially its occupation of everyday sites as stages for irrational acts. Hoffman's activities reached their apex at the 1968 Democratic Convention in Chicago, where networks broadcast his antics outside the hall for a few minutes each hour, almost like a commercial break. (One such activity entailed the Yippies attempting to run a pig named "Pigasus" as a presidential candidate, even demanding secret-service protection for the animal.) According to Joselit, Hoffman's absurd actions should be considered art historically: They were the "figure" that stood against, and inflected, the "ground" of the usual broadcast coverage. John Lennon and his wife, the Japanese Fluxus artist Yoko Ono, adopted a similar strategy for their Bed-In in March 1969 in Amsterdam. Using their fame to lure reporters to their honeymoon bedside for a week, they refused to talk about their relationship or other gossip but instead only discussed world peace. Lennon, echoing Hoffman's aims, called Bed-In a "commercial for peace." Other American activist groups, most notably the Black Panthers, with their interest in producing content for local cable television stations, also attempted to use the medium of television against itself.
If commercials interrupted the flow of a program to sell a product (often with great success), Hoffman wanted to interrupt "normal" broadcasting with telegenic images that exposed the absurdity of politics as usual.
Other artists tampered with television's one-way broadcast capabilities in more fundamental ways, by literally altering its signal through magnets or rewiring and thus exposing how the medium's pervasive and persuasive images are simply abstract waves organized in a certain way. Nam June Paik was also a pioneer in the field of video art. In Electronic Opera #1 from 1969, he used magnets to alter the scan lines of a television, transforming images of the recently elected President Nixon and Attorney General John Mitchell into a swirling vortex of lines. These were not mere formal exercises for gallery goers, since Paik was able to broadcast them on a public television station in Boston, albeit to a small audience. If Hoffman's professed aim was to disrupt images of political power on television, then Paik took to the mechanics of the medium to actually do so, making the public airwaves conform to notions of democratic participatory feedback. Similar to the Arte Povera artists working it Italy, Paik was a guerrilla artist, attacking power from the margins.
The communist authorities in Eastern and Central Europe, in some ways, mimicked Paik's innovations, but for opposite ends: to prevent politically damaging information from reaching the people. While secure borders and the Berlin Wall proved effective at preventing a mass exodus of dissidents from communist Eastern Europe, officials had a much more difficult time keeping out potentially subversive radio and television broadcast signals from the West—especially in parts of Czechoslovakia, East Germany, and Hungary. An illicit use of television in the East simply involved pointing an antenna west and receiving broad-casts from the other side of the Iron Curtain, however fuzzy and distorted the sound and images might be. When the reception worsened, it was often the result of intentional "jamming" by Communist officials—using electronic mechanisms to degrade the picture and soundtrack. But the "buzz" and distortions of jamming also served to pique the curiosity of those watching; the very act of obscuring a program's content marked the broadcast as subversive and worthy of deciphering.
An illicit use of television in the East simply involved pointing an antenna west and receiving broadcasts from the other side of the Iron Curtain…
Hoffman used television in a rebellious way, but American broadcast news followed suit with its negation of official narratives of military achievements in Vietnam. In January 1968, North Vietnamese forces launched the Tet Offensive—a surprise attack that was eventually repelled, but not before television cameras had captured images of panicked American soldiers and even communist troops inside the American embassy compound in Saigon. Despite assurances from the Pentagon that the United States and its South Vietnamese allies were "winning," claims that had been endlessly repeated on air, the images broadcast from the Tet campaign suggested the opposite. This inability to control the flow of information and images in both East and West went a long way to undercut ideological beliefs on both sides. So while there was no successful revolution in 1968 in the United States or Europe—televised or not—the medium certainly contributed to ideological fatigue in the decade that followed.
____________________________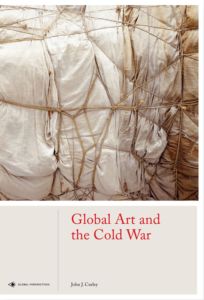 Excerpted from Global Art and the Cold War by John J. Curley. Copyright © 2019 by John J. Curley. Excerpted by permission of Laurence King Publishing Ltd. All rights reserved. No part of this excerpt may be reproduced or reprinted without permission in writing from the publisher.
---