When a Young Literary Star Refuses the Spotlight
Simon Leser on the Curious Case of Joseph Andras
Not since Julien Gracq in 1951 had an author turned down a Prix Goncourt, France's most prestigious literary prize, when the writer published under the pseudonym Joseph Andras refused it in May 2016. And while the award in question was "only" that reserved for debut novelists, the ire his decision provoked among the Parisian literary scene's most venerable circles did not betray its diminished importance. Speculative theories concerning his identity and "true" motivations graced the literary pages of just about every major newspaper. In a review, Pierre Assouline, honored member of the Académie Goncourt, labeled it the "Andras Affair," and described both the author's refusal and the more poetic parts of the book as pretentious (confirmation, if need be, that the use of "pretentious" in a review is usually more of a tell on the critic than on their subject).
Andras, for his part, explained in a letter to the judges that his decision was political: against the spirit of competition, which for him doesn't belong in the creative arts, and in keeping with a novel largely concerned with the struggle and ideals of "a militant for social and political equality." Subsequent interviews would also mention his desire to keep his anonymity, along with a certain disdain for Parisian littérateurs, whose world, likely to mistake writers for media personalities, is one he prefers to stay away from. But his main concerns were for the book itself: for a narrative he didn't want to see associated with, not to say recuperated by, the establishment (literary or otherwise).
The book in question is Tomorrow They Won't Dare to Murder Us, in which Andras fictionalizes the true story of Fernand Iveton, a European-Algerian factory worker and communist militant sentenced to death and guillotined in 1957. He had been caught planting a bomb at his workplace in the outskirts of Algiers, an attack planned with, and done on behalf of, the Front de libération nationale. Known as the only European ever "officially" murdered during the war (though it is worth noting that he considered himself Algerian), Iveton had made it a point of principle never to allow his actions to target innocent victims. His attack, in fact, was meant solely as an act of sabotage: had the explosive device not been discovered, poorly hidden in a disused closet, it would have exploded well after working hours. None of this was unknown to the authorities at the time, yet he was sentenced all the same, made an example of after days of torture, in a show trial that came to epitomize the corruption and hysteria of the French colonial system.
*
No overtly political author can do without the odd, uncomfortable dilemma of whether proclaiming one's politics must inevitably draw attention to oneself. Can one be successful without being integrated into the very ideological apparatus one is criticizing? Few such authors seem willing to reckon with these questions, preferring instead to pretend they don't exist. Something true even of "radical" writers—if the word is still appropriate, given its overuse on book jackets and publicity materials, amplified by the occasional misuse in critical pages, which have all but paved the way for its demise into cliché. (One finds that gentler terms like "resistance," "progressive," or the sadly neglected "reformist" are often more to the point, particularly for those authors who do not promote fundamental rejection, despite their publishers' best marketing efforts, and are keen to enjoy the institutional backing and recognition such efforts afford them.)
Not so for Joseph Andras: very little is known about him, other than the fact that he is 37, lives in Normandy, and has traveled extensively. Inquiries into his pseudonym aren't likely to offer much. The last name will be identifiable to Greek speakers; his first, as noted in the novel, points either to the Judean carpenter or the Little Father of Peoples—the choice is ours—which is just as well, since he has absolutely no intention of promoting himself, and in fact only ever grants the rare interview (and even then, only to left-wing or specifically literary publications). It's an uncommon stance, at a time when writers are expected to sell their image as much as their work and even translators are clamoring for recognition. And yet, one that can't fully escape marketing's perverse logic, which is quite capable of turning its rejection into the very image used to commodify the writer—a point more often demonstrated than made by the instinctive cynicism with which critics have broached, or are still broaching, Andras's decision to turn down the Goncourt.
This is the work of a writer unconstrained by expectations, or anything remotely resembling marketing imperatives.
He is, in any case, an author we have no choice but to get to know through the page; luckily for us, his writing doesn't lack in personality. Tomorrow They Won't Dare to Murder Us is what some might call stylistically adventurous: unexpected, perhaps, for a contemporary historical-political novel, or so at least in the American context, where John Keene cuts a lonely figure (less so in the France of Mathias Énard and Éric Vuillard). Andras writes mostly in a third person stream of consciousness, which allows the prose to alternate constantly between idiomatic and lyrical, spare and long-winded, matter of fact and ironic. The range of his French, in particular, demanded careful translation into English (our language is noticeably more distrustful of formal modes), as did his sense of rhythm, well aided as it was by the leniency French tends the show toward the relentless cadences of long, very long sentences. The result is a work of blunt poetry, as original in the occasional wordplay as it is unsparing in its portrayal of a personal and political tragedy.
Since 2016, Andras has published two other books: a 50-page poem in free verse about his hometown of Le Havre entitled S'il ne restait qu'un chien (a performance of which, by rapper D' de Kabal, was released alongside the book) and Kanaky, Andras's investigation, halfway between travel narrative and history, into the life of Alphonse Dianou, a militant for the independence of New Caledonia killed by the French military in 1988. He's also published a smattering of articles for l'Humanité and Regards, two historic communist publications, as well as a remarkable travel diary covering the two months he spent in Zapatista-controlled Mexico three years ago. This is, in other words, the work of a writer unconstrained by expectations, or anything remotely resembling marketing imperatives. No doubt one that American writers, "radical" or not, would do well to take an interest in, if not follow closely.
__________________________________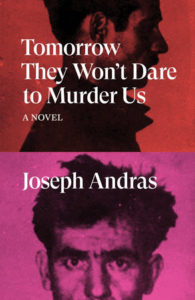 Tomorrow They Won't Dare to Murder Us by Joseph Andras, translated by Simon Leser, is available now via Verso Books.
---