What Writing a Book on India Showed Me About Colonial Myths
Reema Patel on Exploring South Asian Identity
In 2007, armed with a Bachelor of Arts degree and exactly zero relevant experience, I traveled to Bombay, India, for a year to work at a non-profit that specialized in programming for children and youth living on the street.
All kinds of ambitious young keeners were snapping up internships like these. Smart, adventurous kids with do-gooder streaks, flung to far off places to get their hands dirty in foreign dysfunction. Most of them, white, all of us sufficiently privileged enough to accept cash from our parents to supplement our meager stipends.
"We like to send interns back to countries they came from," the Canadian hiring manager explained when she offered me the job. I'd only ever been to India once before. Growing up in Toronto in the nineties, my exposure to the motherland was filtered through my parents' friends and the conservative Hindu temple community we were once a part of. The India in my head was a vague place where simple living triumphed over modernity and individualism, and everybody worshipped Gandhi. It was a fictional land warped by ahistoric retellings, steeped in other people's nostalgia.  
I didn't question the hiring manager's reason for giving me the job over someone else. For the first time in my life I was being taken seriously enough to be flown halfway around the world. This internship would let me defer my law school acceptance by a whole year. Who cared if they thought of me as a diversity hire?
And so I landed in the thick of the Bombay monsoons somehow convinced that I, a delusional 22-year-old, was needed in the country of my ancestors to help solve deeply embedded, systemic problems steeped in thousands of years of structural violence and hundreds of years of colonialism.
Milking the relative strength of the Canadian dollar, I had a grand time during my internship. After some initial growing pains—like finding a landlord who would rent an apartment to a single woman—I fell hard for Bombay. My love was so strong I even chose to stop calling the city by its new name, Mumbai, in solidarity with locals who resisted Hindu nationalist attempts to rename its every street, building and artifice. I amassed an eclectic group of friends, locals and foreigners alike: artists, film industry types, journalists, McKinsey junior associates, and non-profit workers like me.
Before I left, I understood my brownness juxtaposition solely to whiteness, and nothing more.
I ate buttery pav bhaji at hawker stalls and carefully arranged mezze platters at chic cafes, browsed designer boutiques then haggled for knockoffs in the market. In the buzzy suburb of Bandra, where sleek nightclubs with names like Zenzi or Poison were tucked between colonial bungalows and high-rise towers, I rented an apartment a short walk away from the home of international superstar Shah Rukh Khan.
On days out, my expat friends and I would confidently march into five-star hotels, breezing through metal detectors, past security guards, just to use the bathroom in the air-conditioned lobby, not fully registering the hesitation of my Indian NGO colleagues to do the same.
It wasn't until years later, when I was working on a novel manuscript which later became Such Big Dreams, that I really started to unpack the whole experience.
*
After that first internship, I felt such a pull to Bombay that I returned the next summer to work at a human rights law organization.
Barely two months into this second internship, a major fire tore through a slum in Bombay named Behrampada. According to reports, almost three hundred huts were destroyed in the fire. Three people died, 29 people were injured, and 2,500 people were left homeless. Officials did not determine the cause of the fire, but residents and housing rights advocates alleged foul play, pointing the finger at private developers who wanted a piece of this prime real estate. Some media reports suggested that the blaze spread by accident, after a cooking fire caused multiple adjacent cooking cylinders to explode. I even read a story suggesting the residents set the fire themselves, to stave off an impending government demolition drive.
After I came back home, I thought about Behrampada and the slum fire often, but halfway across the world, I had nobody to dissect them with.
There were the immediate questions: What really caused the fire? Was it set deliberately? If it was, who would do something so sadistic?
And then there were the heavier ones: What was life like for people living in a space that was constantly at risk of being expropriated for commercial gain? What myths contribute to our ideas about who is entitled to occupy land, and who isn't?
Halfway across the world from Bombay, I couldn't find answers to any of these questions. That's when I signed up for a creative writing class at the University of Toronto on wintery Saturday mornings.
I returned to the land my grandparents left in the first half of the twentieth century with more status that they could have ever hoped for their grandchildren.
Initially, I started with my main character Rakhi, building her a life in Behrampada. I sat for hours at the café beneath the Toronto Reference Library, Canada's largest public reference library, researching demolition drives, public interest litigation and slum rehabilitation schemes, filling my brain with information about this story world I was creating. Answers gave way to more questions to more answers, and so on.
While I never found out who started the Behrampada fire in real life, I spent years chewing on these questions, ultimately turning the answers into what eventually became Such Big Dreams.
*
It wasn't, however, until I had a full manuscript that the questions I was asking of the novel were, inevitably, turned on myself.
It was the character Alex, the naïve half-Indian foreign intern, who led me to this point. Why was Alex in India? What did he want out of his internship? How did he see himself in relation to the people around him? In trying to understand him, I had to confront myths about my own identity.
There's a trope in South Asian diaspora fiction known as "the return of the native," in which a foreign-born generation connects with their heritage in the ancestral homeland. As I wrote, I found this theme had played out in real life for me.
Before I left, I understood my brownness juxtaposition solely to whiteness, and nothing more. Flattening our identity markers, centering ourselves as marginalized, and reaping those benefits was a survival technique imparted on me by my own diaspora community in Toronto. Not only that, it was reinforced again by the Canadian hiring manager who sent me to Bombay in the first place.
A closer look proved this premise untrue. There was so much history and identity that I carried with me: higher caste, recently accumulated familial wealth, Canadian citizenship, membership to the dominant religious group, medium brown skin color. It informed my day-to-day living in India, whether I paid attention or not.
That I was working and living in the non-profit sector in Bombay, when I barely spoke Hindi (or any other Indian language), or gallivanting across the city and gaining access to spaces that so many people were barred from (like the toilets at the Taj Hotel). That I returned to the land my grandparents left in the first half of the twentieth century with more status that they could have ever hoped for their grandchildren.
In writing Such Big Dreams, asking questions about slum demolition, an experience wholly external to me, became the probing of a catch-all experience of Indianness. By digging deeper into history to recognize the privilege of my ancestors I started to scrape away at where I belong in this messy patchwork of identity, a complexity that I will continue to unravel for the rest of my life.
__________________________________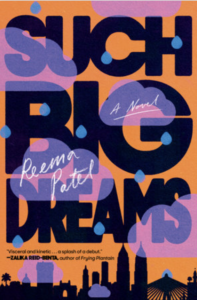 Such Big Dreams by Reema Patel is available via Ballantine Books.
---