What We Loved This Week
The Lit Hub Staff on Maggie Nelson, Vanderpump Rules, and More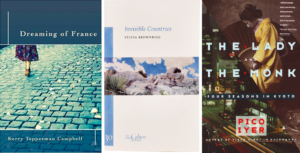 Tomorrow I'm heading up to the Bay Area Book Festival where I'm on a panel on travel writing. I'm up to date on one panelists book, but it's been a while since I've read Kerry Campbell and Sylvia Brownrigg, so I'll be traveling with their latest books, Dreaming of France, and Invisible Countries, respectively. Both are books of prose poems—which done well can be sort of like the literary version of an elegant picnic. Not quite as formal as poetry but not quite as workaday as prose. A lot of my travel revolves around events like this. Most of the time I love it, not so much the travel, but picking up and reading books that are in a sense, picked by someone else—it rarely happens for me at this point. It's how I came across Heather O'Neill and Elaine Castillo, who I'll also be on a panel with in Berkeley….I'm also interviewing Pico Iyer on stage so I've been rereading through some of his work, and have had a hard time leaving The Lady and the Monk, his beautiful book about four seasons in Kyoto, the warmest chilly place I've ever been.
–John Freeman, Executive Editor

This week, I finally started in on Bill Hader's new show Barry, and found it delightfully disturbing. I did, in fact, laugh out loud, more than once. Later, I accidentally re-read Bluets when I was supposed to be reading other things. Later still, I went to the Brooklyn Botanical Garden to look at the cherry blossoms. Some were in bloom; some were not in bloom. Every year, the cherry blossoms make it seem as though we live somewhere a little bit more dignified than New York City. Also this week, I took Twitter off my phone. I have been looking at the birds.
–Emily Temple, Senior Editor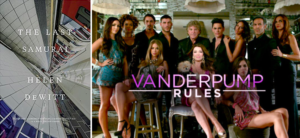 What did I love this week? The honest answer is the same as last week: Helen DeWitt's The Last Samurai (it's a long book, okay?). I finished it on Tuesday night and now feel bereft, unsure what reading experience could follow such an ambitious, singular novel and not feel like a letdown. The other honest answer is my sin, my soul, Vanderpump Rules—the Real Housewives of Beverly Hills spinoff documenting the terrible behavior of a group of "employees" of Lisa Vanderpump's SUR, whose continued professional affiliation with the Sexy Unique Restaurant is becoming difficult to swallow six years into their reality television fame. On Monday night's episode, the formerly loathed outsider Lala Kent cemented her return to grace among the core cast with a 13-minute showcase of songs written with fellow Pump Rules star and aspiring DJ/white rapper, James Kennedy, which she ably performed in a leotard and black cape. Truly an inspiring tale of reconciliation for our divisive times…
–Jess Bergman, Features Editor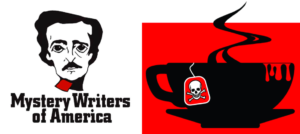 This week's been a whirlwind and it's far from over. Tonight, I'll be attending the Edgar Awards for the first time, and I cannot wait to see the mystery community decked out and ready to celebrate the incredible quality and diverse range of crime writing today. Then tomorrow, I'm off to Bethesda, Maryland (otherwise known as a suburb of Washington, D.C.) for the Malice Domestic conference, a national convention for writers and fans of the traditional mystery. There will be tea. And possibly crumpets. But probably no murders.
–Molly Odintz, Crime Reads Associate Editor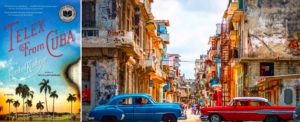 After finishing Rachel Kushner's excellent new novel The Mars Room, I got her debut novel Telex from Cuba which may be even more ambitious – it reasons with the political through an epic story of 50s Cuba (much in same way that The Mars Rooms approaches the political through the claustrophobic confinement of LA and a prison cell). And twice this week I've had really vivid, colorful dreams about Cuba that are only vaguely threatening (impending rain, running out of gas) so there's that.
–Emily Firetog, Managing Editor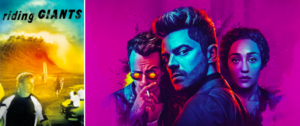 I spent last weekend in Montauk, where I was reunited with my one true love: the Atlantic Ocean. I also ate some briny oysters, caught up with some old friends, and listened to some damn fine writers at the #YeahYouWrite reading series. Tearing though William Finnegan's excellent Barbarian Days this past week has reminded me of how much I miss surfing, so upon my return from the seaside, I spent a good hour watching Youtube clips from Riding Giants and the World Surf League. I've also been watching the AMC series Preacher, mostly because it stars my countrywomen Ruth Negga and has a mouthy Irish vampire named Cassidy in it. It has a gruesome but charming quality.
–Dan Sheehan, Book Marks Editor
All my non-professional attention this week was focused on the glorious return of Marcus Smart to the Celtics and the even more glorious Game 7 win by the Bruins over the Maple Leafs. Books are great and all but Boston sports, that's the real stuff of life.
–Dwyer Murphy, CrimeReads Senior Editor
---