What We Loved This Week
The Lit Hub Staff on Babylon Berlin, The Incendiaries, GLOW, and more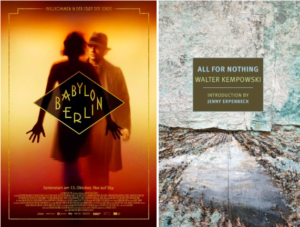 For some inexplicable reason, the theme of this week became: Germany. I recently started watching Babylon Berlin, a politicalish crime drama set in the German capital in 1929, which I've been enjoying despite its frequently inexplicable plotting and occasional detours into Baz Luhrmannesque fantasia. I also finally picked up the NYRB translation of Walter Kempowski's last novel, All for Nothing, which I've been meaning to read since we published Jenny Erpenbeck's introduction to this edition back in February. Erpenbeck writes that in All for Nothing, which is set in an East Prussian manor house in the waning days of World War II, "Walter Kempowski asks one final time: Can an individual make a difference? Or is mankind doomed to fail again and again, generation after generation, because of forgetfulness and repressed memories, chance and arbitrariness?" These are heady, heavy questions, but I've been surprised by the lightness of Kempowski's prose. The novel seems to possess the shimmering quality of a dream, or a memory, wherein certain striking images are repeated over and over again in different permutations. If it's helped me figure out whether one individual can make a difference in the rushing currents of history, well—I'll have to get back to you on that one.
–Jess Bergman, Features Editor
Article continues after advertisement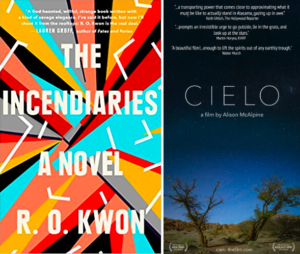 It's been a great week for loving Things in my world: I've got a book, a movie, and gelato this time. This week the book is R.O. Kwon's The Incendiaries. I'm late to the party on this one, but I can confirm that the hype is worth it. Its treatment of love, people's ties to each other, and faith and its complications (loss of faith, longing for faith, etc), stuck me as both deft and cinematic (in a good way), and the last chapter or so messed me up, which is exactly what I like a book to do.
In non-book-related things, a close friend with excellent taste managed to get me out of my neighborhood and took me to a screening of Alison McAlpine's gorgeous, ponderous documentary/visual poem Cielo. The film, which is about the night sky in the Atacama Desert (where the lack of humidity and pollution means you can pretty much see right up into the galaxy) brings science, myth, and spirituality together in a way that's vaguely Terence Malick-esque but also distinct. If you're not into that sort of thing, it's not for you, but if you are, then it definitely is.
Said friend with excellent taste also brought me to a gelato place called Grom after the movie, where I got a large, delicious cone of tiramisu gelato. I ended up dripping a lot of gelato onto my boots and all over my hands, but that's the kind of trouble I get into frequently (and you probably don't), so Grom is a 10/10 and I absolutely recommend it.
–Miriam Kumaradoss, Editorial Fellow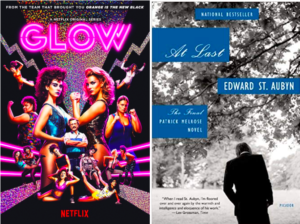 I went upstate this weekend, where I had planned to participate in some Top Notch Culture, i.e. the Sterling Renaissance Festival, but the weather had other ideas. Instead, I watched a little Premier League, introduced my father to GLOW (you're welcome, Dad), and hung out with some three week old kittens (long story, but suffice it to say: squee), all while finishing up the final Patrick Melrose novel, At Last, which I've been putting off for years now, mostly to delay the inevitable fact of the series being well and truly over. Ah well, all good things, etc.
–Emily Temple, Senior Editor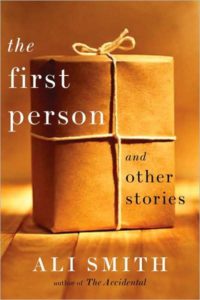 Okay, so I haven't read Ali Smith's new seasonal series yet, but I've been getting hyped for it by re-reading The First Person and Other Stories. The stories are so wonderfully weird and the weirdness is so specific. In one story, in a supermarket, there is a customer service lady named Marilyn Monroe. I love that. Ali Smith doesn't explain it. It almost doesn't seem like an important detail, but it is. The speaker tries to call attention to it, but gets brushed off. We trust her, though, because she says the thing we're thinking. We trust her, so we trust her when she tells us next that the baby found in the supermarket talks and tells sexist and racist jokes. Ali Smith is funny and expected that way. Just let it happen.
–Katie Yee, Book Marks Assistant Editor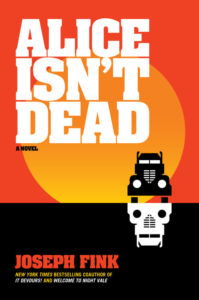 This week, I've been engaged in the living nightmare of unspeakable, oozing flesh, ancient beings, hidden other worlds, and creeping things that is Joseph Fink's new weird fiction masterpiece, Alice Isn't Dead, in which a woman searching for her long-presumed-dead wife discovers conspiracies and secrets both ancient and nefarious, and also learns to drive a big rig truck. If you want this description to make sense, you can catch up on Fink's podcast oeuvre while waiting for the book's release—it comes out, appropriately enough, on October 30th.
–Molly Odintz, CrimeReads Associate Editor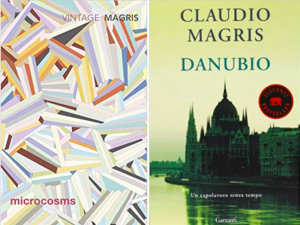 When I moved to New York City in the mid '90s there was an internet cafe near Times Square which was open at all hours. My best friend and I would stroll by late at night and peer in at people beavering away on these rented machines, like it were some kind of pinball arcade of the future. That place has long since closed, along with the newsstand where you could buy newspapers from 250 American cities, but its spirit has zombied back to life in Manhattan. The other day I walked into one of my local cafes, and almost as one fifteen people looked up from their laptops, and then blankly as one their heads went back down. Like they'd been set to a motion center. Somehow this has become the norm in New York City cafes—a radically distracted disengagement with the world around you. The perpetual plugged in elsewhere. It's been on my mind a lot lately because it's a vision entirely antithetical to the book I'm reading: Claudio Magris' Microcosms—his 1999 Strega Prize winning map of the borderlands of Istria and Italy where he grew up. It's not a novel or a series of stories or a travelogue; somehow it's all of them, and it unfolds through a series of interlocking narrative sweeps, beginning with the Caffe San Marco, where he exists and simply is, sharing space and history and difference with a disparate group of neighbors whom he brings to life in one of the best pieces on cafe life I've ever read. From there the book fans out to the forests of Monte Nevoso and the valleys of Tyro and a half-dozen places beyond. If you wish Sebald had written another book, this and Magris' Danubio—his drowned novel about the interlocking histories of central Europe as seen through its great river—are for you. Microcosms is a gentler, more discursive piece of literature than that book, but in our current times its wise cosmopolitan demonstration of the possibilities and richness of shared space feels as as sane and restorative as music.
–John Freeman, Executive Editor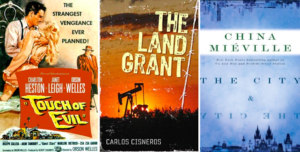 This week I found myself up late watching Orson Welles's Touch of Evil, where the shadows run slant-wise, the border shifts, Charlton Heston plays a Mexican cop, and nothing is as it seems. When I was done there, I went back to Molly Odintz's reading list on CrimeReads, Borderlands Noir, my favorite of all reading lists on that gem of a site, and tracked down a copy of Carlos Cisneros's The Land Grant and waited on Dan Sheehan to give me his damn copy of China Miéville's The City and the City already. So, all in all, it was a week of border crossings.
–Dwyer Murphy, CrimeReads Senior Editor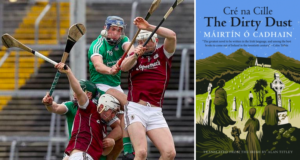 Maybe it's my frustration with the relentless, suffocating humidity of New York City in August, or maybe it's the fact that the All-Ireland Gaelic Football and Hurling Championships are drawing to a close across the pond, but I was in heavy Irish mode this past week. Aside from watching Limerick beat Galway (a disappointing result for someone whose mother's people hail from the latter county, but then again, Limerick hadn't won it all since 1973 and it's always good to see a team end a long famine) in said hurling final, I've been reading the recently translated classic of Irish language literature, Cré na Cille. Máirtín Ó Cadhain's 1949 novel—written almost entirely as a conversation between a group of dead neighbors, with various axes to grind, in a Connemara graveyard—has been a cult favorite among native speakers for decades, and now, finally, after several failed attempts, has been translated into béarla.
–Dan Sheehan, Book Marks Editor
---