Can We Ever Escape History? On Walter Kempowski's Life's Work
An Antidote to the Traumatic Experiences of a Wartime Childhood
Translated by Susan Bernofsky.
January 1945. The Red Army is advancing toward East Prussia. By the end of this icy winter, nearly 750,000 refugees will attempt to escape from the front, fleeing west along the Baltic coast via two narrow strips of land—the Curonian Spit and the Vistula Spit. Along the way, 300,000 of these people will perish. They will freeze or starve to death, be strafed by aircraft as they straggle along the roads, or break through the ice of the frozen Vistula Lagoon with their horses and carts, or else the ships ferrying them to safety will be torpedoed by Soviet submarines. The story of this evacuation is one of the most dramatic chapters in the history of the German civilian population in the final months of World War Two.
One of the last ships to shuttle between Rostock and the East Prussian coast with a cargo of desperate refugees is the Friedrich, a vessel belonging to the shipowner Karl Georg Kempowski, whose son, Walter Kempowski, is 15 years old when he witnesses the exhausted East Prussian refugees disembarking in Rostock and "dragging themselves" through the town. Soon afterward he will learn that his father, who's been conscripted as a Wehrmacht officer, has fallen in battle on the Vistula Spit during the final days of the war.
Kempowski himself, born in 1929 and raised in the coastal city of Rostock, which was almost entirely destroyed by British bombs in 1942, barely escapes the last major European offensive of the war, the Battle of Berlin, as a Luftwaffe courier. In 1948, he and his older brother are found guilty of collaborating with American intelligence and are sentenced by the Soviet occupying forces to 25 years in prison, eight of which he serves. His mother, charged with having knowledge of the crime, spends six years behind bars. At an age when other young people are pursuing their studies, prison is Kempowski's school. In prison he learns to listen. By the time of his release, the German Democratic Republic has already been in existence for seven years. He is immediately deported to the West, where he studies education and begins to teach. And to write. From his first book to his last, he remains a singular figure in the German literary landscape, equipped with a penetrating gaze that allows him to see through political manipulation of every sort.
Kempowski used autobiographical material in his work from the very beginning of his literary career, believing his own experience might be a source of historical understanding. He developed an unsentimental, strikingly precise style that leaves it up to the reader to assess and evaluate what is presented. While writing and publishing novel after novel, Kempowski sought further sources, placing classified ads in major newspapers, looking for personal diary entries, letters, and photographs. In the end, he amassed an archive of over 8,000 documents and hundreds of thousands of photographs, enough materials to necessitate an addition to his house.
"From his first book to his last, he remains a singular figure in the German literary landscape, equipped with a penetrating gaze that allows him to see through political manipulation of every sort."
The abundance and intensity of the historical material he collected allowed him to embark on a large-scale project: the Echolot or "echo sounder." This "collective diary" of certain weeks and days during World War II was published in ten volumes brought out between 1993 and 2005, a monumental collage of testimonials by private persons as well as writers, politicians, and artists. In a foreword, he writes, "To obliterate the experience of entire generations would be an act of wastefulness that we cannot afford." Just as mariners use echo sounding to uncover shoals, Kempowski sounds out history with the help of many different voices: a history assembled out of numerous individual observations.
A letter from a starving, lice-ridden Russian soldier to his fiancée is juxtaposed with instructions issued by Himmler for tending the medicinal herb garden at the Dachau concentration camp; the description of a boozy family celebration is followed by an entry in a file about a Jewish woman's suicide; and a note by Hitler's personal physician about his daily injection stands side by side with an observation by anti-fascist Sophie Scholl on God's goodness. "The Echo Sounder," Kempowski writes, belongs to "all those who patiently listen to the voices that fill the stratosphere. Listening can make it possible for us finally to come to terms with one another. If you're looking for a formula to describe the retrograde course of human progress, the Echolot will let you delve deep enough to find one."
It is against the backdrop of this life's work that his novel All for Nothing must be read.
The setting is an East Prussian manor financed by the wages of the officer who owns it, currently absent. It holds a cast of characters straight out of Chekhov: the lady of the house (a pensive Berlin beauty), her 12-year-old son Peter, the boy's tutor, an elderly aunt who runs the household, two Ukrainian maidservants, one Polish groom. Plus a Nazi in the new settlement across the road. The first refugees being driven west by the advancing front are just arriving from the Baltic and stop over for a few nights. As if in slow motion, Kempowski invites us to watch as the Old World begins to tip off balance. The Baltic refugees rejoice over the bread and sausage they are still served here, they lament their lost homeland, they continue on their journey. The Polish groom starts getting the carriage ready and packs a bit of luggage for his employers. But the lady of the house is still gazing out the window, her son peers through his microscope, the tutor elucidates the concept of "perfection" in Goethe. How long does it take to realize a world is ending? To realize that the ending of this world is your end too?
To write his novel, Kempowski dug deep into his trove of private diaries and biographical sketches from this era and region; indeed, there are few works that portray the exodus of the East Prussian Germans with such intensity and accuracy. And yet All for Nothing is in no way a work of nationalistic nostalgia in its representation of the expulsion; nor is it about fear of the Russians, and it's certainly not a battlefield painting. Kempowski's art lies in his ability to impartially observe the despair, grief, hopes, and egoism of each of his protagonists, making us feel the weight of these end times beyond all political affiliation.
Originally the book was to be called Twins and was to revolve around a brother and sister who flee together at the end of the war, but then Kempowski changed his mind. In 2004, he makes a notation in his work journal regarding the figure of Peter: "Now I see him trotting westward all alone [. . .]." In the final version of the novel, the sister is already dead when the action begins, but her absence resonates darkly throughout the book. The shadows that obscure her origins and her brother's repressed grief at her loss might remind a German reader of the trauma of bomb warfare, an experience whose memory is the subject of generalized repression, a painful reminder of the defeat of German megalomania.
When he selected the title All for Nothing, Kempowski shifted the book's focus from individual fate to the fundamental question of why.
Back in the early 1990s, Walter Kempowski's readers were confronted with the words "all for nothing" prominently employed in a different context, in his novel Mark und Bein (Marrow and Bone). A young man from Hamburg on a business trip to modern-day Poland locates the spot where his father fell in battle. "All for nothing! ALL FOR NOTHING! And by this he meant not just his mother's death, not just the death of his father [. . .] but all the torments suffered by living beings, the flesh hung on the stake, the calf he saw bound and gagged, the shed in Marienburg prepared for torture, the line of exhausted refugees dragging themselves along beneath a condemning sky. It's all for nothing! he thought again and again. And: Who is to blame?"
All for nothing: With these three words as the title of his last book, Kempowski was returning not only to the motif of vanitas—the question of what it all means, and what possible actions remain for human beings—but also to the very landscape fraught with his father's death, to East Prussia. Have things come full circle? Or is the author just setting out once more to make mute Fate speak and deaf mankind listen?
"From where? Where to?" These questions recur as a leitmotif throughout the book. Posed sometimes as a hiker might ask, striding quickly past, at other times solemnly, or with an undercurrent of irony, the questions are in every instance essential. Kempowski—approaching 80 by the time he wrote the novel—is forced to confront his own mortality and therefore also the question of what will endure when he is gone: what of him, of his work, and of his thought will survive and endure? When an interviewer asked him in 2006 how he chose the title, he replied: "Sometimes I think of the phrase as a motto, a guiding principle for my years of work . . . " These are bitter words to sum up the career of a man whose popular success earned him the mistrust of German literary critics, a writer whose unerring clear-sightedness was often mistaken for humor, belying its complexity.
To be sure, the profundity of thought he displays in this book takes him far beyond these personal considerations. One last time, he summons his sharpness of vision to question man's ability to act freely while chance and guilt have him in a stranglehold. He proposes his life's work as an antidote to the traumatic experiences of a wartime childhood, all that he was obliged to learn as a youth: that when bombs start falling, one building will be struck while another is spared, one 15-year-old boy will fall in battle while another survives, and one prisoner will know what he's in jail for while another may have been mistakenly arrested during the chaotic months following the end of the war.
With All for Nothing, Walter Kempowski asks one final time: Can an individual make a difference? Or is mankind doomed to fail again and again, generation after generation, because of forgetfulness and repressed memories, chance and arbitrariness? Is there any movement at all—or are we eternally frozen in what is known as "history" but in fact is taking place in our cities, our lives, our flesh?
"How long does it take to realize a world is ending? To realize that the ending of this world is your end too?"
By turning to look back at the last moments of the old era of peacetime, just before catastrophe strikes, Kempowski is searching for signs that the run-of-the-mill indifference, workaday envy, and quotidian silences we know so well already contain within them the monstrousness that overturns every known rule and standard once it ripens into war, rendering refugees homeless as they seek to make sense of it all. Are we at least to blame for what befalls us or is reason, even guilt, obliterated with the last of the old world? A sense of foreboding accompanies each psychological detail, whether in the peculiar coldness and disconnectedness these people display before setting out, or the lady of the manor's decision to shelter a Jewish refugee beneath her roof for one night. Or the subliminally homoerotic relationship between the tutor and his pupil, or the family's repression of their daughter's early death.
In a masterfully drawn-out roundelay of tales of flight, of observations that go unspoken but nonetheless serve as commentary, of aphorisms and sayings, of songs, stanzas, and quotations from poets, Kempowski sets his sights on what lies at the bottom of things—a foundation that is necessarily different for each of his characters—and deploys all the capabilities of literature before finally sending the individuals, in whose souls all of this has played itself out, into the indifference of one last, icy wartime winter.
In this way, Kempowski challenges the limits of realistic fiction. He drives his plot into the arms of war, that great destroyer of stories. Faced with the physical destruction of human beings— which is also, of course, a destruction of memories, relationships, and hopes—he doesn't just question the purpose of telling stories, but also asks who (if anyone) will be left to pass on what was once a living inheritance, who will go on spinning these stories through their own lives into the present and then the future. Is Kempowski himself just sorting through what is being annihilated? Or might he even be writing in order to fuel the fires of destruction? It remains an irony of this métier that telling stories of loss preserves that which has been lost.
Young Peter, the only one to be catapulted from the old world into the new, clutching the microscope with which he has just carefully examined the blood flowing from the body of his aunt who's been killed—this very boy was to have appeared once more in an unfinished, unpublished text by Kempowski with the working title "A Little Love for Trumpets." In this text, set in the Berlin of 2007, we would have met the boy again as a restorer. And what does a restorer do? Recreate what used to be, a task that requires the utmost care: recreating the beautiful with the same care you devote to recreating the mistakes of former times. For understanding can succeed—if at all—only with a view to the whole.
"'Peter,' obviously, is me—a second, a multiple self-portrait. Without that, I couldn't have written the book." Walter Kempowski, who was at work on a new book when death interrupted him in 2007, thus takes leave of his readers with this novel in which the survival of young Peter, his alter ego, looks not like reality but like a desire that's been transformed into literature.
"Was everything all right now?" is the last sentence of the book—one Kempowski hesitated for some time, the story goes, before writing down.
__________________________________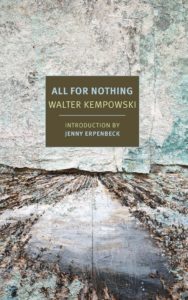 From the introduction to All for Nothing by Walter Kempowski. Used with permission of NYRB. Copyright © 2018 by Jenny Erpenbeck. Translation copyright © 2018 by Susan Bernofsky.
---