What We Loved This Week
The Lit Hub Staff on Valeria Luiselli, the World Cup, Sharp Objects, and more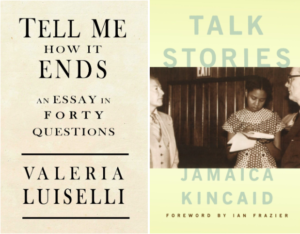 This summer I'm teaching an undergraduate nonfiction class in Paris for NYU, so I've been brushing up on my syllabus, including Valeria Luiselli's Tell Me How It Ends, ever more prescient by the hour, and Jamaica Kincaid's Talk Stories, which are 270 pages of joy. She crams more inventiveness and energy into Talk of the Town pieces than any writer in New Yorker history. To me nonfiction is about witnessing the world and these two writers are clinics in how you can make new forms doing it. Later in the summer I'm heading to Sarajevo, where I'll be interviewing Dutch historian Geert Mak on stage, so I've been reading a little book he wrote on the history of the village. It is in book form what Vermeer's "The Little Street" was to village life. Calm and beautiful and so finely grained that the second you glimpse what he's up to you know it's an elegy.
–John Freeman, Executive Editor
Article continues after advertisement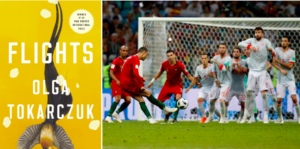 Like millions of people around the world, this week I have been moderately consumed by the World Cup—arguing over how much it is acceptable to hate Ronaldo, replaying Messi's underwhelming PK, imagining Kevin De Bruyne solving crimes around the world with his little dog, etc. Here in the office, we did a random World Cup draw which obliges me to root for Poland (the team I picked out of the party hat that seems most likely to succeed, I know, yikes), and so in addition to all the football I am following my own advice and reading Olga Tokarczuk's Flights, which is turning out to be quite the silver lining. The first page is thrilling, and it only gets better from there.
–Emily Temple, Senior Editor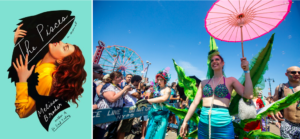 Who says mermaids aren't real? They can be, at least for a few hours at the Coney Island Mermaid Parade. Last weekend I enjoyed the time-honored Brooklyn tradition (it's going on 36 years!), spending the day on the boardwalk, collecting bead necklaces, somehow getting covered in glitter, and enjoying the elaborate costumes (some of which were adorned by dogs!). The parade is best paired with a Coney Island Mermaid Pilsner, Nathan's fries, and Melissa Broder's The Pisces.
–Katie Yee, Book Marks Assistant Editor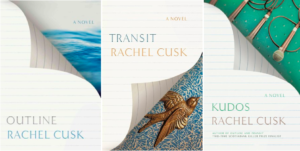 This week I attended a crowded Rachel Cusk event on a night so hot that despite the persistent whirr of the AC someone fainted during the audience Q&A portion. Afterwards, I walked outside into a rainstorm heavy enough to soak me through completely by the time I got home. All of this seemed to make a certain kind of sense when I began reading Transit on the subway ride into work the next morning, the second novel in Cusk's Outline trilogy. At one point, her narrator Faye attends a literary conference outside London that sees her dashing through a downpour towards the tented stage with her fellow panelists when their Chair neglects to notice a covered walkway: "It was further than it looked and the rain unleashed itself with a sudden burst of intensity while we ran . . . When we reached the other side all of us were breathless and dripping." Relatable! Suddenly my drenching the night previous seemed not to matter so much.
–Jess Bergman, Features Editor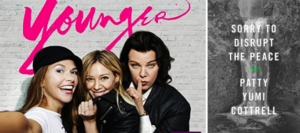 I can't stop watching Younger! I'd like to say it was Jia Tolentino's recent review that turned me onto the show, but I started a few weeks earlier, in search of something to mindlessly watch after work. But I've started to spiral. I've watched three seasons in the past week . . . I do enjoy the blending in of real world publishing characters and institutions, but I'm also a sucker for the frivolous romances, the dramatic offing of characters, and Debi Mazar's character, Maggie. Perhaps in a subconscious effort to balance things out, I just finished Patty Yumi Cottrell's dark comedy, Sorry to Disrupt the Peace.
–Alicia Kroell, Editorial Fellow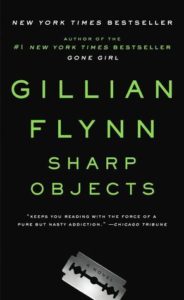 This week, I've been enjoying reading Gillian Flynn's Sharp Objects as I get ready for the tv adaptation, and prepare for some (minor) body modification of my own—I'm finally getting a tattoo I've had planned for over a decade this Saturday, a woodblock-style rendition of the Unicorn in Captivity tapestry. Flynn's novel is visceral, and not for the faint-hearted; given how much I loved Gone Girl when I finally read it, I'm surprised to find myself enjoying Sharp Objects even more. It reminds me of Mo Hayder's ultra-disturbing The Devil of Nanking in its extreme power to unsettle and in its upending of women's roles and traditional crime narratives.
–Molly Odintz, CrimeReads Associate Editor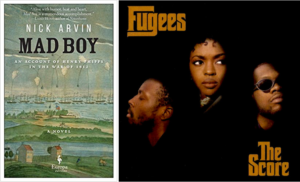 The week began as, in a perfect world, all weeks would: with 12 hours of glorious World Cup binge-watching. It's hard to beat the simple pleasure of day-drinking while ascribing almost cosmic significance to games you ordinarily wouldn't lift your head to watch. Football aside, I read Nick Arvin's hugely entertaining new historical novel, Mad Boy—a poignant and frequently hilarious tale of a scrappy Baltimore ten year-old who set out a quest, amid the chaos of the 1812 War, to realize his dying mother's last wish: to be buried at sea, surrounded by her family—and listened to a lot of Pearl Jam and Fugees on repeat while stuck on a broken-down train from DC-New York at 2 in the morning.
–Dan Sheehan, Book Marks Editor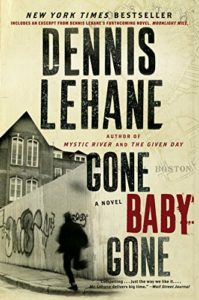 This coming weekend old friends from Boston are coming to New York for some World Cup debauchery, so this past week, to head off any possible accusations that I've "forgotten my roots" or that I "think I'm fancy," I went back to read a bit of Dennis Lehane's Gone Baby Gone, which always helps stir up the old accent I spent so much time losing and also drives me to google "how do you get a PI license," at which time I wonder, "a license—what do you think, you're fancy?" and then, and only then, I know that the transformation is complete, and I am sufficiently Boston for the coming weekend to begin.
–Dwyer Murphy, CrimeReads Senior Editor
My favorite form of escapism is to binge-watch dark British procedurals with strong female leads, so this terrible week had me jumping from Marcella to Collateral to Tennison in feverish desperation. They're all very good, but also qualify as "TV that's not so good you can't do something else while it's on." The world, of course, remains a trashfire.
–Jonny Diamond, Lit Hub Editor in Chief
---