What We Loved This Week
The Lit Hub Staff on Mary Gaitskill, Fahrenheit 451, Vertigo, and more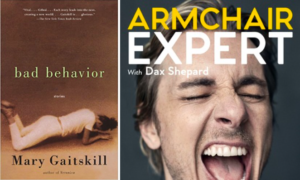 I spent some time this week carefully re-reading Mary Gaitskill's Bad Behavior, a book that is (somehow!) turning 30 this weekend. If you're so inclined, you will be able to read my in-depth thoughts about it on Monday, on a little site I like to call Literary Hub, so I won't go any further into what a glorious hot knife of a book it is here. In other personal cultural consumption news, this week I continued to nurse my newfound obsession with Dax Shepard's podcast, The Armchair Expert. Yes, I started listening to it because, like all decent people, I am obsessed with Kristen Bell, but then I just . . . kind of got addicted. There is some pretty good life wisdom, courtesy Monica Padman, at the end of the Marc Maron episode. Just saying. Check it out.
–Emily Temple, Senior Editor
Last weekend I saw the incredible Adrian Piper exhibit at MOMA, which reminded me of an anthology I splurged on in my grad school days, Ugly Duckling Presse's 0 – 9: The Complete Magazine, 1967-1969 edited by Bernedette Mayer. With contributions from Piper and other pioneers of experimental poetry and conceptional art, it's been the perfect book to dip into to unwind from the craziness of BEA.
–Emily Firetog, Managing Editor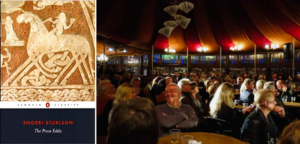 I'm in Lillehammer this weekend for the Norwegian Festival of Literature, and one of my tasks for this trip was to write and deliver a talk on the history of the country's literature, which—by some accounts—goes back to around 900 AD, with a poem by Bragi Boddasson, one of the famous skalds when Sweden ruled the land. The poem survives because it is recorded in the Prose Edda, the Icelandic book from which all that we known of Norse mythology flows. It was written (and collected) by Snori Sturluson, the Icelandic politician, orator and writer. When he was murdered, he was also the richest man in Iceland in the 13th century. What a beautiful, miraculous book full of dwarves and kings and legends—Thor, etc—you can't get even close to it by simply watching a Hemsworth. It so beguiling that Borges learned Icelandic to translate it and made it his last major project. I'm on stage here with some marvelous writers, the enormously clever Jenny Erpenbeck, who just gets better and better with each book, a Norwegian novelist whose debut is coming this fall, Lars Petter Sveen, who has a quite frightening novel set in the time of King Herold, Children of God, Kjersti Annesdatter Skomsvold, whose two books (translated by Dalkey) are about as embodied as books can get, just devastating looks at mortality and the way the body lets us down, not to mention Domenico Starnone and Mieko Kawakami, who to me—both of them—just hung the moon. The last two write the kinds of books that have imbibed critical thinking and are the stronger for it, never lose a step to doubt. Still the book of all these I will reread first is the Prose Edda. To think it has lasted 900 years and still shines like a polished sword.
–John Freeman, Executive Editor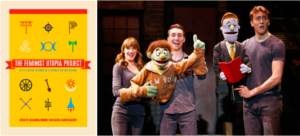 On Sunday, I saw Avenue Q for the third (maybe fourth?) time. (The first time I was so young that I was with my mom and aunt, and I blushed a bright red at every mildly inappropriate innuendo.) There is no greater joy for me than introducing a loved one to this dirty-muppet-masterpiece. And I have to say: it's held up over the years. The Internet is still for porn, and everyone's still a little bit racist. They even threw a Donald Trump joke into the last number. Still, I'm haunted by the play's opening question: What do you do with a B.A. in English? For now, I'm reading The Feminist Utopia Project, making multiple trips to IKEA in preparation for a move to my own Avenue Q, and scraping together enough spare change for my fourth (maybe fifth?) viewing. Perhaps I'll have figured it out by then.
–Katie Yee, Book Marks Assistant Editor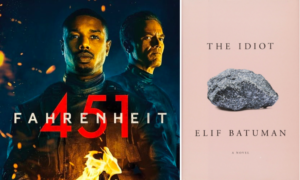 This past weekend I watched HBO's Fahrenheit 451, which I thought was pretty in design but shallow in execution. However, I did pick up a book as soon as the credits started rolling, which I guess you could count as a win for the film. I'm just about to finish Elif Batuman's The Idiot, which is in its own way a slow burn. It took me a while to get into the novel—or rather, the lives of lost, rich, Harvard students—but the absurdity of it all only becomes more apparent and hilarious as the story progresses.
–Alicia Kroell, Editorial Fellow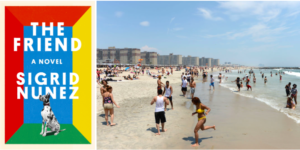 Over the holiday weekend, I had the opportunity to do the thing I love perhaps more than anything else: spend an afternoon at the Rockaways, my inaugural trip of the season. While Manhattan and even my neighborhood in Central Brooklyn felt like a pressurized sweatbox, it was positively balmy at the beach, where I finally finished reading Sigrid Nunez's The Friend after no fewer than three fellow Lit Hub staffers recommended it (as well as Vivian Gornick, whose lovely Bookforum review of the novel was of course not personally addressed to me, but, you know, a girl can dream). I found Nunez's novel surprising, transfixing, and somehow not ill-suited to being read with my feet in the sand despite its subject matter (suicide, grief, and true empathy or the impossibility of it—whether with animals or fellow humans).
–Jess Bergman, Features Editor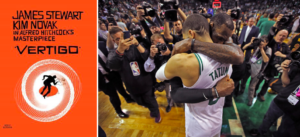 An incredible five week Celtics playoff run came to an end late Sunday night, but from that darkness, a hint of dawn when I discovered, just as LeBron was taking the podium after a herculean game 7 effort, that Hitchcok's Vertigo was suddenly available to stream, so I flipped back and forth between them for a while and felt a little better, or maybe it was worse, or maybe I was just realizing what a small, insignificant man I really am, forever falling into the past or worse still, oblivion. Anyway I survived the night and look forward to watching Cavs-Warriors in the Finals…Wait, it's Cavs-Warriors again? What year is this? Where am I? What color wig is she wearing?
–Dwyer Murphy, Crime Reads Senior Editor

I spent Memorial Day weekend in upstate New York, fishing off a dock and slow-sipping whiskey around a fire with friends—which was every bit as relaxing as it sounds. I also spent a frankly ludicrous amount of time listening to podcast dissections of Saturday's error-, injury-, and controversy-ridden Champions League Final, from which Real Madrid's unstoppable cabal of super villains once again emerged victorious. Book-wise, a new story in this week's New Yorker by the always-brilliant Karen Russell has sent me leafing back through her two marvelous collections: St. Lucy's Home for Girls Raised by Wolves and Vampires in the Lemon Grove.
–Dan Sheehan, Book Marks Editor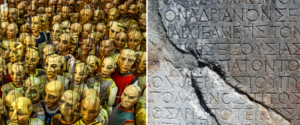 I spent most of the week with my parents in South Carolina, so my cultural consumption has been a bit unconventional; I saw a marionette company featuring 300 rat puppets, some graveyards, a troupe of Australians flinging each other across a dirt-covered stage, and alligators mating. I also became addicted to attempting to teach myself Greek on Duolingo—although I have spent several hours translating such enlightening sentences as "the child does not drink wine," I would probably still be unable to compose the most basic original sentence. Regardless, I feel like a genius.
–Blair Beusman, Associate Editor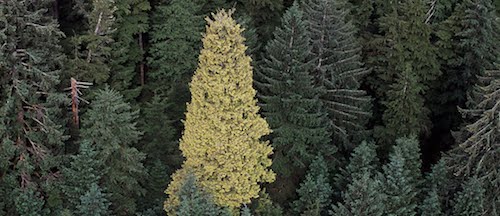 I spent most of the holiday weekend alone in the woods in Quebec. I loved it and would like to do more. When I wasn't staring quietly at the forest canopy, I read sections of The Golden Spruce, by John Vaillant, a strange, gripping account of the life and death of a huge and mythic tree in the Queen Charlotte Islands off the coast of British Columbia, revered by the Haida, doomed by its grandeur.
–Jonny Diamond, Editor in Chief
---