What We Loved This Week
The Lit Hub Staff on BoJack Horseman, Ali Wong, Penelope Lively, and more

This was the week I became obsessed with BoJack Horseman, which I have previously been hesitant to approach, because I usually find cartoons for adults to be sort of hit or miss. Consider this my apology to everyone who has been trying to convince me to watch it for years. I also saw Tom Stoppard's Travesties at the American Airlines Theater in midtown, which features James Joyce, Tristan Tzara, and—of course—Vladimir Lenin as characters, and while I can't say I fully grokked it, it was certainly unlike any play I'd ever seen before.
–Emily Temple, Senior Editor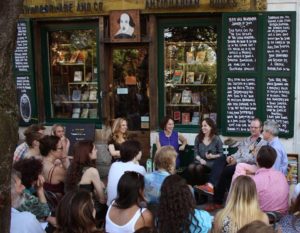 I just came to the end of my semester teaching at NYU so I've been up to my elbows in thesis manuscripts. My students have been so diversely good this semester, have made such progress, this final read has been more like going back to a house being built and seeing all these wonderful new roof beams raised. Trees planted. Walk-ways sketched out in stone. The plans turning from a conception into a place I can see. Reading them, I felt nothing but happiness at what can happen in the wee small hours with patience and determination and a bit of talent. As a teacher it's what I live for—those moments the first turn gets made. Potential distilling into narrative. To the student, I'm sure that break-through feels a million miles away from what they want—publication. But for those of us who teach, once we see that first important turn is made, it's never a surprise when four, five, six years later that former student is sending an email that begins with, So my book is coming out.
–John Freeman, Executive Editor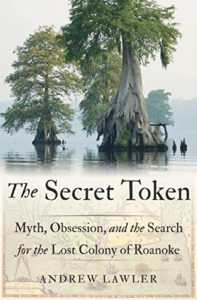 I've been on a true crime kick this week, immersing myself in my favorite childhood mystery: the lost colony of Roanoke. I spent many hours (or, you know, minutes) contemplating the the mystery of the word Croatoan as a child, but have only intermittently thought of the lost colonists since. As a rabid fan of American Horror Story, I adored Ryan Murphy's take on the denizens of Roanoke, and I enjoyed the Roanoke chapter in Dixie Be Damned: 300 Years of Insurrection in the American South, which posits that the colonists of Roanoke formed a swampy socialist utopia with the Lumbee tribe of North Carolina. Yet not since childhood have I dived into the Roanoke mystery as thoroughly as I have over the past week, as I've been reading The Secret Token: Myth, Obsession, and the Search for the Lost Colony of Roanoke, by Andrew Lawler. Does Lawler solve the mystery? You'll have to read the book (and I'll have to finish reading the book) to find that out.
–Molly Odintz, Crime Reads Associate Editor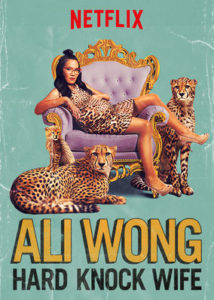 When Baby Cobra came to Netflix two years ago, I heralded Ali Wong as a hero. Go ahead and try to name another Asian-American female comedian. She was the first I'd heard of! She leaned into and knocked down racial stereotypes in a way I had never thought about it. I got red-rimmed glasses to match hers and watched the no-punches-pulled stand-up special with friends, parents, and—as Ali correctly calls me out for—white men I was interested in, in an attempt to use her comedy as a starting point for conversations about the difficulties of interracial relationships. This week, Ali Wong's second comedy segment, Hard Knock Wife, came to Netflix and I've been soaking up every unapologetic, motherhood-hating minute of it. Graphic descriptions of emergency C-sections, afterbirth, the pain of breastfeeding, and other things I dare not mention here—what's not to love? When I wasn't laughing with Ali Wong about how offensively thin office toilet paper is, I was laughing with Nora Ephron about her neck.
–Katie Yee, Book Marks Assistant Editor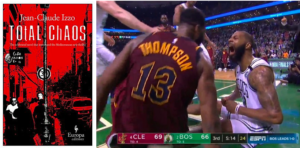 This week nerves were high in the Murphy household as the Celtics took on LeBron, so between quarters I needed an old favorite that would offer some comfort and transport me somewhere that was not the slightly stale home office where I watch all Celtics games sitting on the same cushion of the same couch at the same angle as the last time the Cs won. The old favorite, in this case, was Jean-Claude Izzo's Total Chaos, the first in the Marseille Trilogy (soon to be re-issued by Europa). It did me some good, I think, reading about ol' Fabio Montale skulking around the port's bars and cafes, drinking his fill of wine and whiskey and eating everything drenched in oil and garlic and occasionally solving a crime or else just lambasting the Front National, bankers, bourgeoisie, Parisians, tourists, et al.
–Dwyer Murphy, Crime Reads Senior Editor 
I was briefly in Las Vegas and Los Angeles this week. I threw away about $100 dollars in the former—$50 at an empty roulette table (not worth it), and $50 more at the Ceasars Palace breakfast buffet (totally worth it). In the latter I visited Book Soup (the marvelous independent bookstore in West Hollywood), caught up with old friends, and was made godfather to an excellent three-year-old named Wes. I also bought a giant series tie-in airport bookstore copy of the five Patrick Melrose novels, but I was too tired to read it on the redeye so I just rewatched Black Panther on the tv of the man sitting in front of me, and fell asleep.
–Dan Sheehan, Book Marks Editor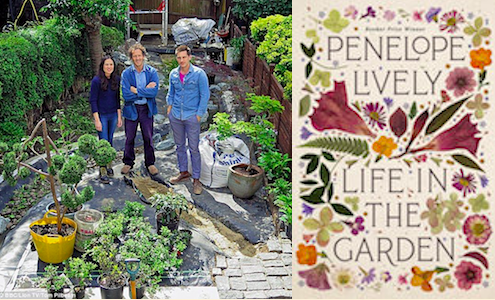 Last weekend when my mother-in-law was in town, I mentioned the article I read in The New Yorker "Gardening Show As Cozily Addictive As The Great British Bake Off." An avid Irish gardener, she was already well familiar with Monty Don (she's more a "Gardener's World" fan, which is really hardcore, at least in the gardening world) but we got into a few episodes admiring the efforts to beautify small plots in suburban housing estates (an effort close to her heart). It felt natural, then, for me to pick up Penelope Lively's Life in the Garden, out next month from Viking. In addition to Lively's own rather sweet experience with horticultural, she explores the history of gardening, illuminated with passages from nonfiction, fiction, and poetry. There's a particularly wonderful section about Virginia's Woolf's garden and the role of gardens in Woolf's novels that you can read next month on this very site.
–Emily Firetog, Managing Editor
---