Yes, you read that right. I'm about to give you the perfect book recommendation based on the way you prepare eggs. Why? Maybe it's because Easter just happened so I have a lot of pastel-dyed, hard-boiled beauties in my fridge right now. Or maybe it's because I recently rewatched Runaway Bride, and no one knows how Julia Roberts really, truly likes her eggs prepared. Either way, this list is serious business. I mean it. It's no yolk.
*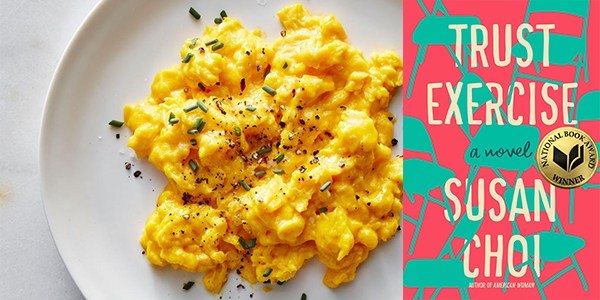 Scrambled → Susan Choi's Trust Exercise
If you want a book that will scramble your brain the way you scrambled those eggs, buckle up! This one's a doozy. Picture a suburban, competitive performing arts high school in the 1980s. Add an unpredictable and charismatic drama teacher. Now imagine two students falling madly in love. And then… well, this is where the rapid whisking of the ingredients comes in. I don't want to give anything away, so let's just say there's a brilliant break in the narrative that will make you question everything.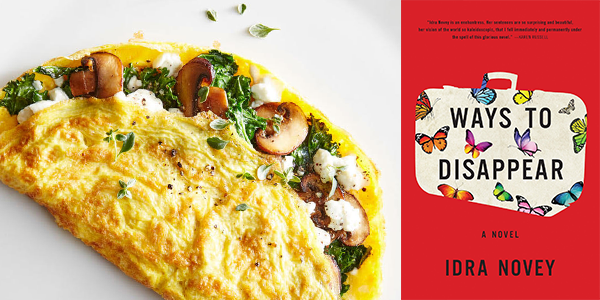 Omelet → Idra Novey's Ways to Disappear
There's a lot to unpack about an omelet. I mean, we could do a whole other recommended reading list based on what ingredients you put into your omelet. (Should I?) But the basic idea seems to be that you like your eggs like you like your stories—with a few (sometimes nourishing, sometimes hardy) surprises thrown in. Ways to Disappear tells the story of a Brazilian novelist who disappears—and the young translator who falls down a rabbit hole trying to chase her. Idra Novey came to read at my college several years ago, and she gave us a bit of advice that I will now share with you: if you ever have seeds for stories that you can't seem to make grow, throw them into your novel. Ways to Disappear features a few small nested fictions and each one hits like that sought-after burst of tomato or bacon.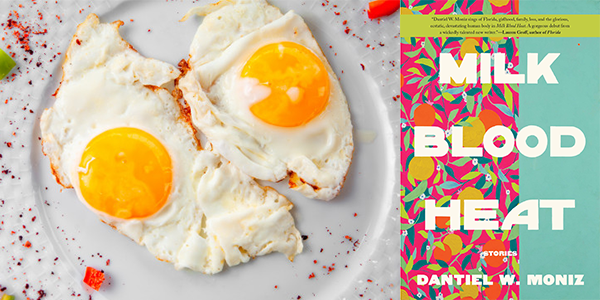 Fried → Dantiel W. Moniz's Milk Blood Heat
When it's really hot, they say you can fry an egg on the sidewalk. Not only does Dantiel W. Moniz's incredible collection take place in Florida, but her stories (and her sentences) sizzle. Here you will find a tragedy between two best friends, a woman who is haunted by her unborn baby, and a fiercely independent teenager who is cast out by her religious community. More than anything, you'll find that there is a palpable heat radiating from the heart of each character.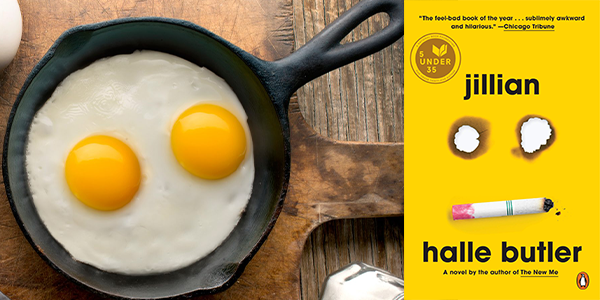 Sunny-side up → Halle Butler's Jillian
Do I even need to explain this pairing? Look at them! Halle Butler's hilarious novel is a balancing act between two coworkers who hate each other. Megan is cynical about everything and full of resentment towards everyone, while Jillian is relentlessly optimistic for no good reason. At first, they seem like polar opposites but, really, they're two sides of the same self-delusional coin. Sunny-side up fans, I'm sorry, but you are my Jillian. It feels like you're forcing optimism before I've even had my morning coffee! Cut it out.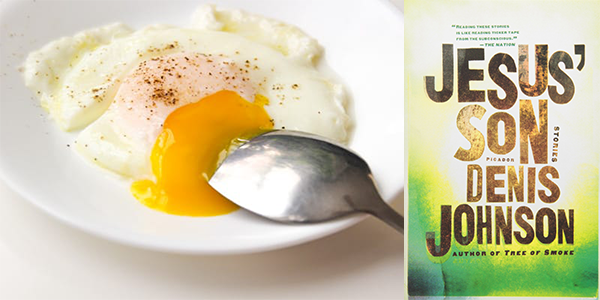 Over easy → Denis Johnson's Jesus' Son
Denis Johnson's iconic story collection features aimless addicts and lost souls. In these pages, you will find wandering hitchhikers, drug dealers, guys that hang out at dive bars, and exactly one belly dancer. You will find people who have struggled, people falling out love, and people trying to do better. Once you crack their hard shells (sorry), you will find the ooey gooey heart of the thing.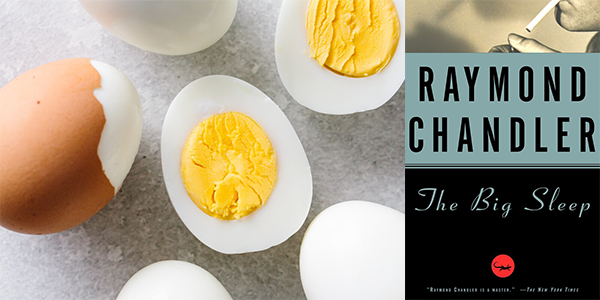 Hard-boiled → Raymond Chandler's The Big Sleep
You knew it was coming. Hard-boiled egg fans, meet a hard-boiled detective. Really, meet the classic hard-boiled detective: Philip Marlowe, private eye. Someone is blackmailing one of the restless daughters of a dying millionaire. This is where Philip Marlowe comes in. Little does he know that the blackmail will be the least of his worries. Join him on a wild ride of kidnapping and murder, too! (Would also recommend the 1946 film starring a dashing Humphrey Bogart and a bewitching Lauren Bacall. Maybe bring out the hard-boiled eggs. They're a decent, utensil-free movie snack.)
Deviled → Viet Thanh Nguyen's The Committed
Take the deviled eggs! They're sort of like a hard-boiled eggs with even more of a kick—in the same way that The Committed is sort of like a hard-boiled detective story with the smashed-up heart of a refugee at its center. Also, you never just prepare one deviled egg, so you'll be glad to know that The Committed is a a sequel to The Sympathizer. Trust me: you'll keep reaching for more.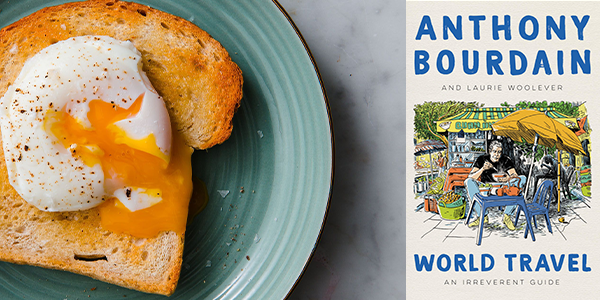 Poached → Anthony Bourdain's World Travel
So, you like your eggs poached, eh? This obviously means you are an impressive cook and will savor Anthony Bourdain's book. Not unlike the whirlpool of boiling water required to make these poached delights, World Travel is a whirlwind travel guide to the late chef's favorite places. Also, if you have mastered the poached egg, you are clearly a patient person so you won't mind waiting until this book hits shelves later in the month. You know it's worth the wait.