We are in that sweet spot of December in which you're (hopefully) full of the holiday spirit but without the stress of having to spend every waking moment with your family. It's the perfect few weeks in which to indulge in holiday flick after holiday flick. But when the popcorn bowl is empty and the eggnog is sitting uncomfortably in your stomach, what are you going to read? There simply aren't as many quality Christmas books as there are Christmas movies, but I have boiled down the essence of what makes these films great, and I have compiled some reading recommendations accordingly. (Note: These are not holiday-specific books by any means, but rather, evergreen titles to enjoy.) That's right, folks: I'm making a list. I'm checking it twice! I'm Book Santa. Let's go.
*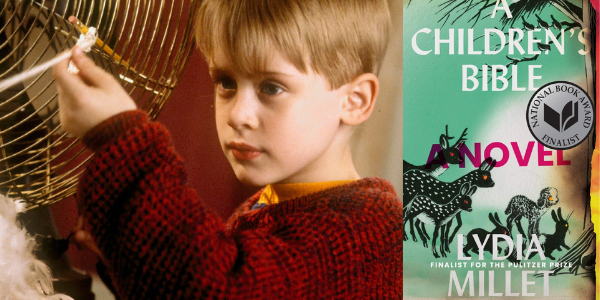 Home Alone → Lydia Millet's A Children's Bible
I'm a big fan of the precocious child/idiot parent genre. If you most enjoy Kevin McCallister being smarter than all the adults around him (both the well-meaning parents and the delightfully stupid conmen), perhaps you will also find much to love in Lydia Millet's latest novel, an incredible story about a group of children left to their own devices in the face of a climate disaster. There's even a sinister game they play in which they pretend their parents do not belong to them—not unlike young Kevin's wish that he has no family.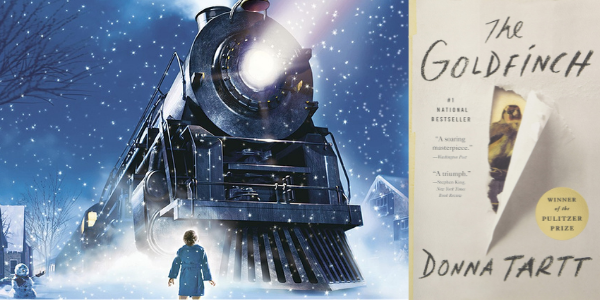 The Polar Express → Donna Tartt's The Goldfinch
If you're looking for a book that, from the very first page, makes you feel like you're at the start of a wild, awe-inspiring journey, look no further than Donna Tartt's The Goldfinch. Much like The Polar Express, it follows a boy teetering on the cusp of his teenage years: not quite old enough to be a droll adult but still with his wits and willingness to believe in something. Both stories are winding, Dickensian almost, with the odd array of characters that float in and out of the narrative by true happenstance. Theo Decker chases art—the true beauty in life—the way the hero boy in The Polar Express chases his Christmas dreams.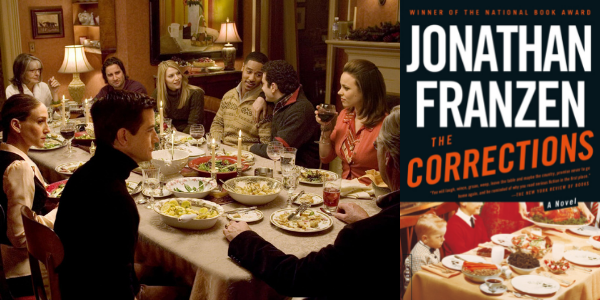 The Family Stone → Jonathan Franzen's The Corrections
What do you get when you bring a big family together around the holidays? Aging parents who just want the best for their children! Sibling rivalries! Secrets! Messy boots! If the family consists of Diane Keaton, Rachel McAdams, Luke Wilson, Dermot Mulroney, and Craig T. Nelson, you get the hit holiday classic The Family Stone. If it's got Franzen's signature touch, well, clearly it's The Corrections. Read on for all the family drama you're trying to avoid right now.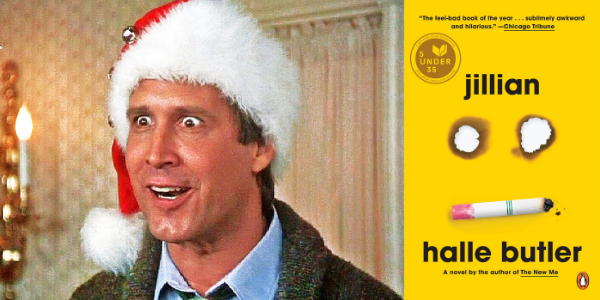 National Lampoon's Christmas Vacation → Halle Butler's Jillian
Oh, Clark Griswold. He just wants to have a nice Christmas with his family! He's prepared to keep a big smile plastered to his face, even with his in-laws at each others' throats! It's so nice that they could all come together, after all! It's! So! Nice! He's counting on a generous Christmas bonus from his company, so large it will cover the cost of a pool! (I guess it was a different time?) If his creepy and unrelenting optimism speak to you, I think you're going to get a real kick out of the title character in Jillian. She's got a similarly deranged This Is Fine vibe! Enjoy!!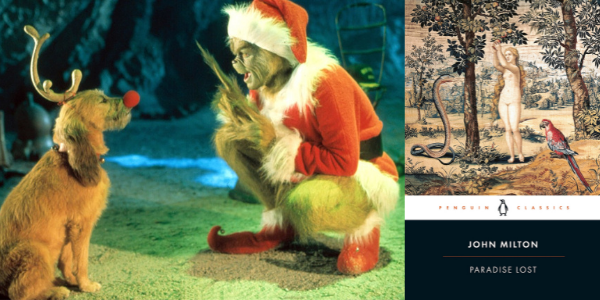 How the Grinch Stole Christmas → John Milton's Paradise Lost
Who doesn't love a good anti-hero? Much like the Grinch, Satan just wants to rule over his own domain. He has a master plan for the world, and he's not afraid to put it into action. Just as the Grinch wants to rid the world of Christmas, Satan wants to corrupt humankind. And both must give in to their fate eventually. For one, that means carving roast with Cindy Lou Who. For another, that means turning into a voiceless snake. Ah, well.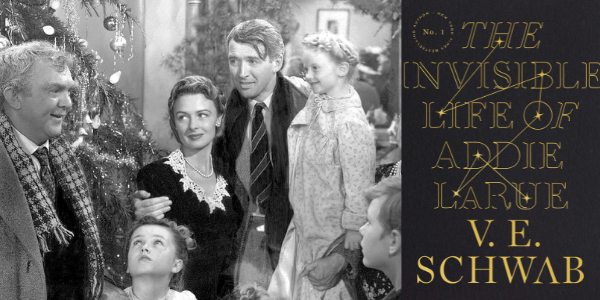 It's a Wonderful Life → V. E. Schwab's The Invisible Life of Addie LaRue
It's a Wonderful Life is the perfect Christmas reminder that you never know how your existence has touched the lives of others. The Invisible Life of Addie LaRue follows a woman who has made a strange deal: she will live forever, but she will never be remembered. As the years go on, Addie has realized that she can still shape the world, through art and the people who create it. Much like the holiday classic, it's a fascinating, surreal exploration of the power of the ripple effect.
Gremlins → Kevin Wilson's Nothing to See Here
Let's be honest: there is nothing in the world quite like the cinematic genius that is Gremlins. It's just so wonderfully weird! A man wanders into a toy shop looking for something to give his son on Christmas and leaves with an adorable gremlin and a specific set of rules he obviously cannot commit to, inadvertently allowing the spawning of a bunch of evil creatures that wreak havoc on the town. Inspired! Kevin Wilson's novel is similarly off-the-walls. I've got four words for you: children who spontaneously combust. Throughout the novel, their caregiver must learn the rules of their mysterious ailment, and along the way, she develops a moving bond with them. Both are dark and funny in equal measure and best enjoyed with a midnight snack.