What the Stoics Understood About Death (And Can Teach Us)
David Fideler on What Awareness of Mortality Does to a Life
"Wherever I turn, I see signs of my old age," Seneca wrote to Lucilius. Seneca had just arrived at his villa outside of Rome, where he was having a conversation with his property manager about the high cost of maintaining the disintegrating old building. But Seneca then explained, "My estate manager told me it was not his fault: he was doing everything possible, but the country home was old. And this villa was built under my supervision! What will my future look like if stonework of my own age is already crumbling?"
At that time, Seneca was in his late sixties, and he was starting to feel the aches and pains of old age. But he also found old age to be pleasurable. However, the older you get, the more challenging things become. Extreme old age, he said, is like a lasting illness you never recover from; and when the body really declines, it's like a ship that starts springing leaks, one after another.
Where I currently live, in Sarajevo, I see extremely old people, who are quite close to death, on an almost daily basis. It seems that some of my neighbors—​thin, frail, and bent over, often walking with a cane at a snail's pace over the old stone streets—​could drop over and expire at any moment. That said, seeing extremely elderly people out and about is an inspiring and heartfelt experience for me. First of all, it's lovely to see people who have lived for so long, often against challenging odds, and it's impossible to see them without feeling a great sense of tenderness for them. Second, they are a timely reminder of my own mortality. It's also very different from what I remember seeing in the United States.
Unlike many other countries, the United States has accomplished a world-​class disappearing act when it comes to keeping older adults (and any other reminders of death) out of sight and out of mind. With its shiny glass and steel buildings, shopping malls, and spread-​out suburbs, the American landscape has been sterilized and artificially "cleaned up" in such a way that extremely old people are rarely seen on public display. But here in a historic European city with ancient stone buildings that go back centuries, and well-​established neighborhoods with cobblestone streets, extremely old people, hobbling along, are a happy part of daily life. They remind me that life is not without extreme struggle. And when people die, which can happen at any age, the local religious communities post death notices, with photos of the deceased, in local neighborhoods all over town. It's another nice custom that reminds us of being mortal.
A Stoic wants to live well—​and living well means dying well, too. A Stoic lives well through having a good character, and death is the final test of it. While every death will be a bit different, the Roman Stoics believed that a good death would be characterized by mental tranquility, a lack of complaining, and gratitude for the life we've been given. In other words, as the final act of living, a good death is characterized by acceptance and gratitude. Also, having a real philosophy of life, and having worked on developing a sound character, allows a person to die without any feelings of regret.
The Stoic philosopher Epictetus told his students that when you kiss your child goodnight, you should remind yourself that your child could die tomorrow.
Seneca frequently thought and wrote about death. Some of this must have been due to his poor health. Because he suffered from tuberculosis and asthma from a young age, he must have sensed the certainty and nearness of his own death throughout his entire life. In Letter 54 he describes, in graphic detail, a recent asthma attack that nearly killed him. But much earlier, probably in his twenties, he was so sick, and so near death, that he thought about ending his own life, to finally stop the suffering. He didn't follow through on that, fortunately, out of love for his father. As he writes,
I often felt the urge to end my life, but the old age of my dear father held me back. For while I thought that I could die bravely, I knew he could not bear the loss bravely. And so I commanded myself to live. Sometimes it's an act of courage just to keep living.
For a Stoic (and for other ancient philosophers, too), memento mori—​contemplating our inevitable death—​was an essential philosophical exercise, and one that comes with unexpected benefits. As an anticipation of future adversity, memento mori allows us to prepare for death, and helps remove our fears of death. It also encourages us to take our current lives more seriously, because we realize they're limited. As I've discovered in a practical sense, reflecting on my own death—​and the inevitable death of those dear to me—​has had a totally unexpected and powerful benefit: feeling a more profound sense of gratitude for the time we still have together.
*
The Latin phrase memento mori literally means "remember that you have to die." Over the centuries, scholars often would keep a symbolic memento mori image in their study, like a skull, as a reminder of their own mortality.
In the world of philosophy, the model of someone dying well, without an ounce of fear, was Socrates. Imprisoned on trumped-​up charges for corrupting the youth of Athens, Socrates was detained for thirty days before facing his death sentence of drinking hemlock poison. At the time of his death in 399 BC, Socrates was around seventy years old. If he had wished, he could have very easily escaped prison, with his friends' help, and then set up life elsewhere in Greece. But it would have gone against everything he believed in. Also, escaping would have permanently damaged his reputation. Since one of Socrates's main goals was to improve society, that implied he should follow society's laws, even if he had been treated unjustly.
This allowed Socrates thirty final days to meet with his friends and his students to continue their philosophical discussions. He had challenged the morality of those who called for his death with a very memorable line: "If you kill me," he said, "you will not harm me so much as yourselves."  This thought was much appreciated by the later Stoics, since, in their view, nothing can harm the character of a wise person. During his last meeting with his students, right before his death, Socrates discussed and questioned the possibility of an afterlife. He also said, memorably, that "philosophy is a preparation for death," which was probably the real beginning of the memento mori tradition (at least for philosophers). When his final conversation was complete, Socrates drank the hemlock, and he peacefully passed away, surrounded by his students.
According to Seneca, the philosopher Epicurus said, "Rehearse for death," which is a practice Seneca himself greatly encouraged. For Seneca and the other Roman Stoics, death was "the master fear," and once someone learns how to overcome it, little else remains fearful either.
If you don't remember that your time is limited and finite, you are much more likely to take things for granted.
The Stoic philosopher Epictetus told his students that when you kiss your child goodnight, you should remind yourself that your child could die tomorrow. While it is literally true that your child could die tomorrow, many modern readers recoil at the idea of even contemplating such a thought. However, that might be a measure of their reluctance to accept the inevitability of death, or a way of repressing the fact that death can arrive unexpectedly, at any moment. As someone who personally uses this practice, I can tell you that it's perfectly harmless, once you get past any initial discomfort. The huge benefit it brings is the greater sense of gratitude you experience with your loved ones. When you perform this practice, you consciously realize that someday, which nobody can predict, will be your last time together—​so you experience much greater gratitude for the time you spend together now. As Seneca wisely recommended, let us greedily enjoy our friends and our loved ones now, while we still have them.
*
What is it like emotionally to contemplate your own death or the death of a close family member? I've been experimenting with this for some time now and can report only positive results. That's because, when I think of the mortality of a loved one and the fact that all of our time together is by definition limited, it improves the quality of my life. It makes me feel a much deeper sense of appreciation for all the time we are together. If you don't remember that your time is limited and finite, you are much more likely to take things for granted.
I most often remember death when I'm with my son, Benjamin, seven and a half as I write. That's a delightful age because he's very playful and now capable of having fun conversations. We're also starting to talk about philosophical things.
Of course, it's impossible for most children of his age to grasp the gravity or finality of death, because most of them have never had any firsthand experience of losing a loved one. Children live in a kind of psychological Golden Age, in which all their needs seem magically provided for. Since they live in a protected sphere, most haven't yet been exposed to the more challenging aspects of life.
Because of that, I've been trying to teach Benjamin a little bit about death and the fact that daddy, mommy, and he will someday die. This effort is a bit of basic Stoic training for a kid, and I'm curious if it might be possible to increase his appreciation for the limited time we have together, even at such a young age? At the very least, I hope it will greatly reduce the level of shock he experiences when someone close to him does die, because he'll be expecting it.
The other day, we were driving home after feasting on some fast food, and Benjamin spoke to me about God for the first time in his life. With a boyish sense of delight, he explained to me, "God has some amazing powers, like being able to see and hear everything. But his greatest superpower is that he's invisible!"
I chuckled at his use of the word "superpower," which made God sound like a superhero, just like Spider-​Man! But laughter aside, he had opened up the doorway to speak about some profound issues, so I brought up the topic of death.
"Benjamin," I asked, "do you know that, someday, mommy, daddy, and you are going to die?"
"Yes," he replied.
"I'm almost sixty," I explained, "so I could live another twenty years."
"I don't think you'll live quite that long," he said. "But maybe something like that." (Thank you, Benjamin! We'll just have to see how things go.)
Then I asked, "Did you know that you could die at any time?"
He said, "I don't think I'll die anytime soon."
"But," I replied, "you could. This is not something in our control. You are young, so you could live for a very long time. But since we're driving in a car, we could be in a car crash five minutes from now, and we could both be killed instantly. So even if you're very, very young, you can die at any time. If you stay healthy, the chances that you'll live a long life go up. But in the end, when we die is not under our control."
Benjamin nodded and seemed to understand. And fortunately, we arrived home safely a few minutes later.
__________________________________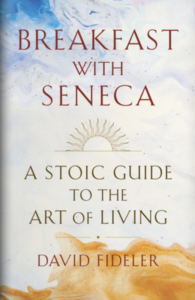 From Breakfast with Seneca: A Stoic Guide to the Art of Living by David Fideler, published by W. W. Norton.
---