What the Lit Hub Staff is Reading, Watching, and Listening to This Holiday Season
From Muppets to Middlemarch, RuPaul to David Attenborough, we've got the season covered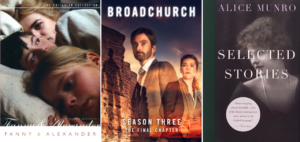 I have an annual tradition of watching the three-hour version of Ingmar Bergman's "Christmas" classic, Fanny and Alexander, and falling asleep during the creepy parts toward the end. I will also be watching a lot of Broadchurch, binge (re)watching all of Myrna Loy and William Powell's ensemble work, and reading Alice Munro (which feels like communing with the dead for me, in a personal way).
And do hockey games at my brother's house in Montreal count as culture? Some of it will be in French.
–Jonny Diamond, Editor-in-Chief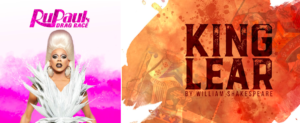 I plan to spend my holidays with the only thing that makes me believe that humanity, civilization, and light may still exist in these darkest of times: RuPaul's Drag Race. I have been holding off on watching Season 9 for this very purpose, but my period of abstinence is about to come to an end. Probably I will also re-read King Lear. I'll be seeing my parents, after all.
–Emily Temple, Senior Editor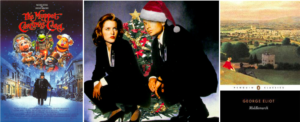 On Christmas Eve, I'll watch The Muppet Christmas Carol with my mom, which has been tradition literally as long as I've been alive (the movie turned 25 this year, like me). My other viewing tradition is "The Ghosts Who Stole Christmas," a 6th season episode of The X-Files starring Ed Asner and Lily Tomlin as a pair of amorous poltergeists who return once a year for a yuletide haunting of the house they died in in 1917. Book-wise, I'll be continuing my first-ever read of Middlemarch, which I hope will be atmospherically suited to my first-ever trip to the UK (it better be, anyway, considering the percentage of my suitcase it'll be occupying). As I'm nearing the final lap on that, I'll also be bringing along Fleur Jaeggy's I Am the Brother of XX, because I like to follow a maximalist reading project with a minimalist one—and again, you know, the suitcase.
–Jess Bergman, Features Editor

Following her public mental breakdown, my twin sister has found that anime programming for children is quite soothing, so we will be drinking motherwort tincture and watching Naruto. Per Jess's suggestion, I look forward to watching Blue Planet II and weeping about coral reefs (truly a year-round activity). I'm also hoping to take the opportunity of being trapped in the suburbs for a week to read The Collected Essays of Elizabeth Hardwick.
–Blair Beusman, Associate Editor

It's a cliché, I know, but this holiday season I plan to curl up on the couch with a glass of mulled wine and re-watch everyone's favorite Christmas film: David Fincher's Zodiac. When I'm done with that, I intend to catch up on a few episodes of ESPN's sometimes meh but more often enthralling 30 for 30 documentaries. On the book front, I'm finally going to get around to reading Zadie Smith's White Teeth, and am pretty excited about the upcoming English translation of Ahmed Saadawi's dark satire, Frankenstein in Baghdad, which won the International Prize for Arabic Fiction back in 2014 and sounds wild.
–Dan Sheehan, Book Marks Editor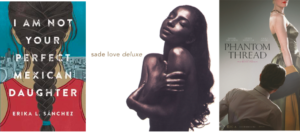 This holiday season I will be taking scalding hot lavender salt baths, listening to Sade's entire catalog, and trying not to drop Erika L. Sanchez' I Am Not Your Perfect Mexican Daughter in the tub. I also plan to spend Christmas day doing what any Non-Santa-Believer does: eating endless Asian cuisine and seeing movies in theaters. First up on the list is the new (and last!?!?!) Daniel Day Lewis film, Phantom Thread, because, lesbian though I may be, he is my one kink. Merry Xmas to all.
–Angel Nafis, Editorial Fellow

For the holidays I have a very particular pop culture diet that's been honed over several years and is carefully tailored to suit latitude, climate, sobriety levels, and the language of the Mass I've just attended or will soon attend, God willing (and sports dependent). With my family in Massachusetts, I'll consume West Wing Christmas episodes, NBA basketball, and some kind of spy novel, probably Graham Greene or else Philip Kerr's Greeks Bearing Gifts. Then the holiday shifts to my wife's family in Miami, where there's a steady intake of hallaca, pernil, Premier League football, and PI novels, this year something from Alex Segura's Miami-based Pete Fernandez series.
–Dwyer Murphy, Crime Reads Editor

In the last week of the year, I'll be catching up on Search Party, and planning next year's outfits to match the characters. Since I'm staying in town, I've also been toying with the idea of finally watching all of Shoah, or perhaps Berlin Alexanderplatz, then going to Coney Island and staring moodily out to sea. Then I'll head over to Brighton Beach to hunt for the ultimate holiday food—Herring in A Fur Coat—the perfect dish to accompany my planned holiday reading, The House of Government: A Saga of the Russian Revolution, by Yuri Slezkine. What better way to celebrate my new life in the big city?
–Molly Odintz, Crime Reads Editor

I'm looking forward to perusing the shelf of Penguin Classics I've never managed to ship back from my mother-in-law's house in Dublin. In particular, I'm hoping at last to finish my decade-old copy of In Cold Blood, which I've been thinking about since I read The Journalist and the Murderer and watched all of Mindhunter over one psychologically intense weekend at the end of November. There will be early-morning marathons of classic Sesame Street with the toddler. There will be half-hearted defenses of the new U2 record. Plus a steady diet of British cookery shows identical in their numbing niceness.
–Emily Firetog, Managing Editor
---