What the Hell Did We Think Was Going to Happen with 'No-Go' Zones?
How the West Has Drawn a New Global Map Based on Fear
Beyond the bar glittered the dark Atlantic. Beer bottles clinked in the African night breeze as expats danced to the booming tunes of a European DJ under a canopy. In the crowd of artists and hangers-on, French culture buffs and curators in expensive shawls mingled with lanky Senegalese painters and smart-shirted Western aid workers, the stalwarts on Dakar's international scene.
It was May 2014 and the art biennale had come to the Senegalese capital, bringing a well-needed party to the very edge of West Africa. For out there, beyond the chatter and champagne, lurked a different reality: the vast hinterland of the Sahel and the Sahara, where in the past few years the onetime music festivals had packed up and their swirling desert blues had ceased to reverberate.
Paco Torres stood, wild-haired with beer in hand, in our awkward aid worker clique at the bar. He had the same round reporter's spectacles as the last time we had met in Spain four years earlier, but his beard was shaggier, his pants baggier and stained, his voice raucous and his eyes glinting. As a stringer for two or three Spanish newspapers, he had just come back from a trip through rural Guinea, full of stories of the Ebola-quarantined villages he had sneaked into, trekking past gun-wielding police to the devastation within. "I shag a lot nowadays!" Paco told me with a laugh, his face lighting up like a child's. It was the "adventurer aura" that did it, he explained while recounting an earlier venture up the Niger River to conflict-racked northern Mali, skirting roadblocks and recalcitrant soldiers.
Now Paco was mulling a trip into northern Nigeria, an area where Boko Haram had just kidnapped more than 200 schoolgirls—and where, as one Dakar-based aid chief told me, "If your complexion is anything less than a Nigerian's, you won't really be going." All trips were at Paco's own expense and risk. "Now is the first time ever that I can afford insurance," he said, though on second thought he was not sure whether it covered his risk-filled escapades. His pay from Spanish dailies remained miserly, but at least he was now their voice from West Africa, covering disease and disaster, terror and conflict—the four horsemen of the Apocalypse—plus Senegalese wrestling shows and much else thrown in for good measure.
"I'm not a war correspondent," Paco insisted as he downed his beer. "I'm really a journalist of peace." As the DJ played away into the Dakar breeze at the biennale party, he lingered at the far edge of the canopy, his mind yet again scheming for the next trip. Unlike most of the Dakar "expats" around us—and much like one of the early colonial explorers in whose footsteps he was treading—he longed to roam the hinterland and the far-flung no go zones of our new, fearful era.
*
Look at the world today. Switch on Google Maps on your smartphone and search for Timbuktu, that one-time epitome of remoteness, and you will get car directions—three days and fourteen hours from my Oxford home via the N-6, on a route that "has tolls," "includes a ferry," and "crosses through multiple countries," as the app helpfully informs me. You can browse geo-positioned images from northern Nigeria and the Libyan desert, or get customers' restaurant recommendations for Quetta in the Pakistan-Afghanistan borderlands, a town I once crossed on my way to India (apparently, for a tandoori treat, don't go here: "Usmania at Pishin stop SUCKS. Their service is bad, prices unreasonable and food tastes horrible"). In fact, don't go to any of these places—not if you are a white Westerner, at any rate. These sites are all off limits; they are reblanked parts of the map at a time of disorderly globalization.
Hic sunt dracones. Those medieval maps may not have spelled out "Here be dragons," as we tend to think, yet they were often adorned with fantastical creatures and exotic beasts, serving as flourishes or as indicators of the limits of our knowledge. Now the beasts are back. Switch on the news and it soon becomes clear that deadly threats are lurking in far-fetched corners of our map, areas where the inhabitants of the rich Western world no longer dare venture.
Syria and Iraq's embattled border zones, Somalia and Pakistan's tribal regions, Afghanistan's rugged terrain, and the deserted northern reaches of the sub-Saharan Sahel all harbor a litany of contemporary fears. Terror and drug running, disease and disaster, conflict and displacement: these dangers lurk on the margins of our maps, vague yet distant, seemingly at a remove until they blip by on the newscasts, temporarily bringing news of distant atrocities and random tragedies.
The first reaction for those of us sitting in well-furnished living rooms in richer nations may well be to switch the television off whenever we hear of misery in distant lands.
The signs are big and bleak. No Go. Stay away. And we do. Indeed, the first reaction for those of us sitting in well-furnished living rooms in richer nations may well be to switch the television off whenever we hear of misery in distant lands. Why should we even care? After all, Afghanistan and northern Mali are nowhere most well-off Westerners would drop by on holiday—not now, at any rate; it is easy to forget that Timbuktu was recently served by direct budget flights from Paris, while Afghanistan was once firmly on the hippie trail. In any case, our economies do not hinge on what happens in these places. They remain comfortably out of reach: remote and rarely any of our business.
This is not least the fate of the region around which No Go pivots—the Sahel. For those who have even heard of it in the West, this arid southern shore of the Sahara conjures up clichéd images of chronic crisis and lawless abandon. War-torn deserts, jihadist killings, men wrapped in shawls brandishing AK-47s; trucks heaving with contraband, cocaine, and clandestine migrants; locust plagues, cracked dry soils, and starving children; Gao, Agadez, Timbuktu. Remote and shot through with dangers, the region seems the antithesis of the capital hubs of the rich world—a zone of insecurity stuck on the global margins.
This is a fallacy. In fact, remote zones of insecurity are becoming central to our new world disorder, in which they serve as a convenient stage for geopolitical battles; for struggles over illicit cross-border flows; and for media-fueled propaganda wars, as seen from the Afghan-Pakistan borderlands to the Sahara Desert. Yet rather than acknowledging this, Western states, and international organizations funded and supported by them, have come to organize military, border, and aid interventions in insecure zones in a dangerously myopic fashion. Through diverse forms of remote control and containment—from drones to militia middlemen, from border reinforcement to repurposed and outsourced aid—risk-obsessed powers are in effect collaborating in the remapping of the world into zones of safety and danger, with the media lending a helping hand. This is a failure of imagination, opportunity, and responsibility whose consequences are already coming back to haunt the West, as chaos visits the fortified borders of Europe and terror attacks proliferate across the patchwork map of globalization.
The dangers are in some ways real enough. Terror attacks worldwide have been rising swiftly since 9/11, and in 2015, suicide bombs tore into more countries than ever before. While the trend remains disputed, it is clear that armed groups now see those who were once deemed neutral to conflict—reporters, aid workers, peacekeepers, civilian visitors—as fair game. But these dangers are not necessarily new: peacekeeping, for one, was deadlier in earlier decades by some accounts, and terror attacks (however we define them) are a rather persistent historical threat too. However, one aspect of this insecurity does stand out today: its distribution.
Most of the victims of today's insurgent attacks are civilians, aid workers, and soldiers from poor, non-Western nations. Only a small percentage of worldwide fatalities from terrorism since 2000 has taken place in the West, while in the peak year of 2014 five countries—Afghanistan, Iraq, Nigeria, Pakistan, and Syria—together suffered almost four-fifths of such deaths. This is before we count those killed by explosive weapons, which in 2017 reached a high of more than 14,000 civilians according to one tally, with air strikes—not homemade bombs—the reason behind the sharp increase, especially in Syria. As for professionals intervening in crisis zones, more than nine out of ten aid workers killed are now national staff, and it is African peacekeepers—rather than well-equipped external forces—who increasingly man the bloodied front lines on the continent. In Somalia alone, some estimates list about 3,000 dead African Union peacekeepers in a non-UN operation funded by the United States, the European Union, and the United Nations to the tune of billions of dollars.
As the money trails behind force deployments, air strikes, and aid operations indicate, it's not that powerful states have stopped caring about what happens in far-off places—rather, their focus is shifting. In military campaigns, instead of the mass peacekeeping deployments and military surges of yesteryear's Bosnia or Afghanistan, Western governments are supporting proxies and dropping bombs, as in Syria or Libya; deploying drones, as in Pakistan or Yemen; training local soldiers to do the hard graft, as in Somalia or the Sahel; or deploying select special forces as spearheads to quell transnational dangers. Security is also being outsourced to a booming private military industry with multi-billion-dollar revenues—a trend matched by the surging market for remote-controlled weapons and surveillance systems.
As for aid interventions, donors have in recent years leant heavily on NGOs and the UN to enter, stay, and "deliver" in distant danger zones, rather than exit them, yet these operations too are increasingly managed at one remove, through local partners and staff. In the media, a similar trend is afoot as news organizations are cutting their losses, leaving freelancers such as Paco to engage in the derring-do. Meanwhile the rich world's borders are increasingly resembling the moats of a fortress, in an ill-conceived stab at keeping the people from the wrong side of our global divides far away, in the buffer zones of the "global borderlands."
The relationship by remote control forged between powerful interveners and crisis-hit areas of the planet is a tragic case of failed connectivity. As new technologies are supposed to be bridging geographical divides, as global risks expand, and as the climate is heating up, peoples and governments need to be more connected, not less. Yet instead of deepening cooperation among the world's rich and poor, we are being torn apart. We are seeing the emergence of a global geography of fear: a parsing up of the world map in which the dirty work in distant crisis zones is left to middlemen and advanced technology while borders are reinforced and contact points severed. And this distancing should concern us deeply, whether we live in Texas or Timbuktu.
Those of us in the rich, comfortable world may turn our back on global crises, yet these crises will not turn their back on us—in fact, these crises were never separable from us to begin with. Danger is not geographic but systemic, and it is fundamentally entangled with our fears and the response these fears engender. To move beyond the political geography of fear, we may need a different kind of road map: not the facile map of Google connectivity or the bordered-up map of security analysts and strategists, but a cartography of hope and possibility, crisscrossed by renewed connections.
__________________________________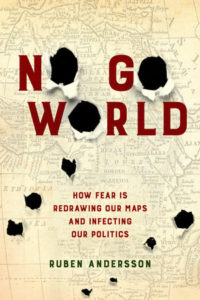 From No Go World: How Fear Is Redrawing Our Maps and Infecting Our Politics. Used with the permission of University of California Press. Copyright © 2019 by Ruben Andersson.
---