What Only Musicians and Translators Know
Jessica Sequeira on Transforming Emotion into Music and Words
Vladimir Horowitz wears a purple suit and bow tie. Before playing, he cracks jokes with the interviewer. His wry humor displays no sign of nerves. "It's very modern. Very percussive. It's very crazy. It's very difficult to take it. This is a very thrilling piece. It's very difficult. Yes, I have to take the jacket off, yes. It's very special, it's completely special music. It's more percussive piano. This is a little frightening music. Be prepared. Be prepared for big sound. If I don't collapse, it's alright."
The verbal dance, repetitive, staccato, serves as preparation for the imminent work of his fingers. The first moments are austere. Absolute silence reigns. Then come a few floating notes, the quiet between them opening a space for contemplation. The hands embark on a dance of pluck and return, startling into air, before settling. Punctuations. Scriabinian logic.
With the addition of velocity, of heat, there is an increase of vibrational energy, the kind needed to bring about the End. More heat. More light. More more more. Frantic moths dart over black keys, almost in the flame yet not quite, life seduced by death yet struggling against it. Fatality exists in a terse, strange relationship to beauty. Vers la Flamme.
The left hand is so active it becomes a blur. But throughout, Horowitz's face remains stoic. As if he didn't experience the unsettling emotions he evokes with sound. Professional. He's practiced this many times before. Five and a half minutes of unbearable intensity go by. A world is born, dies, is reborn.
No sooner has the last chord died out then Horowitz stands up, and immediately starts to joke again with the interviewer. The transition is abrupt. You wouldn't get this on a recorded album, or in an official concert, where you'd proceed to the next piece. The informal setting and abrupt shift make Horowitz seem to be a kind of stage actor. As if he'd put on, and removed, a mask.
Is the emotion mere farce? No. Something more complex is at work. Horowitz likely did feel something deep and sophisticated his first round playing the composition. Tenderness, anger, pain, joy. And when practicing, he likely added further emotions of his own, that intimately bound him to the piece. But at a certain point, this intimacy of emotion was transfigured, into the distance of art.
Musical interpretation and literary translation have much in common, yet strangely, they do not seem to be spoken about together very often.
Such a move occurs for both the composer, and his or her interpreters, who do not simply mimic the feelings of a source, or indirectly channel past strong feelings by a kind of Stanislavski method, but transform emotion into reason, to create another layer of emotion.
Scriabin's many interpreters differ in not just their feelings—and to be honest, I suspect deeply felt love and grief and rage and hope are kindred across times and places, in their stupid, life-altering persistence—but also their particular ways of transforming inarticulate emotions into method. Sentiment becomes technics.
The musical interpreter achieves their style through hours of practice, while their colleague in a closely related field—the literary translator—achieves it through editing and rewriting. The resulting performance or manuscript is then gifted back into the world.
The brief stimulus of a feeling comes passively, easily, the product of chance. But true connection with a beloved, in this case the work of music or literature, requires understanding as much as sensation, mind as much as heart. Conversations in the duration of time.
To transform feeling into art via intellect, one could write about a work as a critic, or recreate and reinvent it as an interpreter or translator. There is passion, too, in this weaving from emotion to reason, and back to emotion. The story of a passion is the story of its continued resistance to failure, its faith despite what might go wrong, its reinvention of desire as form.
To enjoy a book (for instance) is an infatuation, and could remain that way. Or one could come back to it, reread it, write about it, translate it.
*
Musical interpretation and literary translation have much in common, yet strangely, they do not seem to be spoken about together very often. In both, performance brings one form into another, creating something related but new.
The titles of discs of musical interpretation like "The Art of . . ." or "Horowitz the Poet" suggest a common lyricism. And there is the superficial, but not unimportant, aspect of the body itself: the fingers that move over a keyboard, or ache after hours of activity. If for some unfathomable reason piano interpreters and literary translators found themselves at daggers drawn over other issues, they might at least swap orthopedic tips.
Of course, there are differences between practices. Musical interpretation moves the written symbols of a score to the auditory, while literary translation moves words into other words. Music, both with and without lyrics, interests me in this non-verbal aspect.
But beyond the content of what the lyrics are saying, it's also true that the song itself is a story. It narrates an emotional trajectory through speed, volume, accents on notes, tone, use of pedal, lingering or jumpiness of fingers on keys. All of these choices require technical skill to execute and determine what the listener experiences as ardor.
In this respect, Scriabin is a special case, explicitly interested in the symbolism of tonal colors, which he imagined while composing and playing.
To translate and interpret does not mean shutting away the past into a casket of reason, yet neither does it necessarily mean translating or interpreting with emotion, just as writing that provokes passion is not necessarily written in the throes of feeling. A certain detachment is needed to practice a song or edit a text. And interpretation and translation underscore this element, since the step of transforming emotion into music and words is replaced by a mediated contact. We begin with something readymade.
The question is how to take the cerebral element and turn it back into emotion for a new audience. If done well, the time invested in technical virtuosity is repaid with emotion later in the process. Initially for oneself, usually the first listener or reader. Then possibly, for a larger public. (In this too translation is like interpretation, since when reading back words one hears melodies and dissonances.)
Through communication, the first chance moment of sensation and sentiment transforms into something indefinable. Something else.
*
Interpretation is the backbone of the traditions of classical and folkloric music. The same song can be re-versioned in many different ways, whether it be "Guajira Guantanamera," or "Such a Parcel of Rogues in a Nation," or "Boots of Spanish Leather." And the versions are in conversation. Again, there is an element of passion in this, a discovery of new potentialities through devotion. That is, through translation or interpretation, the intertextual and the intermusical.
Both interpretation and translation require emotional responses, but also technical work to transfigure these emotions.
In literature, poetry maybe comes closest to this practice, since the same work can be translated multiple times into the same language. To retranslate a novel is not as easy, since with copyrights and time constraints, they often get a single translation, if any at all. With a novel, the time and depth of commitment bring other recompenses. But it, too, has a tradition of multiple interpretation, even if it's usually across languages, say with a Spanish novel brought into English, French and Turkish, rather than into the same language.
Another subbranch of the interpretative tradition, in music and literature, is self-interpretation and self-translation. One's "own" work is irremediably shot through with the ideas of others. Imitation, often conscious, is involved. Feeling is turned mental, then into a finished piece, which produces emotion. And one discovers new possible versions of oneself, when closely entering into the language of others.
It is often strange to hear a writer read their work out loud, because it seems to exist in a realm apart from them. In a sense, it is being returned to the chaos of influences from which it was born. In music, too, I am fascinated to hear a pianist play their work. Listening to Scriabin play his own compositions, Alexander Pasternak, the brother of Boris, wrote that "I felt and understood that his fingers produced sound not by falling on the keys, not by striking them (. . .) but on the contrary, by pulling away from them, and with a light movement, flying above them. He sat leaning forward, with head thrown back."
Translation and interpretation take indebtedness to its limit and acknowledge it. A musician's self-interpretation can produce reactions of estrangement or astonishment. Sometimes one even prefers the interpretations of others.
*
Scriabin has numerous excellent interpreters, all of whom bring their own approaches to the work, and their own opinions about how to play him. Sviatoslav Richter, Vladimir Ashkenazy, Alexander Melnikov, Dmitri Alexeev, Vladimir Sofronitsky, Nuccio Trotta, Alessandro Riccardi, Halida Dinova, Glenn Gould, Vasily Safonov, Vitalij Margulis, Tatjana Franova . . . the list is long. Safonov, for instance, believed that a piano should be made to sound as little like itself as possible. Whatever their emotional responses to Scriabin's compositions, it is the theories of these interpreters, and their embodied practices, that produced such different piano recordings of the same score.
In The Absolute there are also interpreters of Scriabin, including his half-brother Sebastian Deliuskin, and his lover and disciple Tatiana Schloezer. Schloezer, Guebel writes, "rarely used the pedal, which in his own performances Scriabin emphasized heavily to forefront the aspects that most interested him (echoing and inchoate sound, Eastern fantasies and hypnotic, mist-filled atmospheres). With this omission, Schloezer emphasized what, following the impulses of his romantic character, Alexander had hoped to disguise in his compositions: the evident presence of a powerful contrapuntal structure, learned under Taneyev, who had studied it in J. S. Bach."
If Scriabin, with all his theosophical exercises, had any success at all with his training under Madame Blavatsky (as so wryly chronicled by Guebel), perhaps he is still around somewhere, timeless, listening to his contemporary and future interpreters. "Oy Melnikov, you'll put them to sleep playing that way! Oy Sofronitsky, wouldn't kill you to slow down the glissandos!"
Scriabin's symphonic compositions are majestic, but I prefer those for solo piano, more to the dimension of evenings listening with a little wine. Quieter moments, too, can return in history and give texture to the present, and these pieces are no easier to play.
Of the interpreters, I best like Horowitz, and it's from his album's liner notes that Guebel got the quote which gave him the idea for his novel. Who is Scriabin? Who are his ancestors? Horowitz brings a warmth and lyricism to his interpretations, through his way of pausing, his way of leaning into the keyboard, his way of pacing transitions.
With certain pianists, something tremendous moves through the composition beyond the individual notes, making you shiver in recognition. Yet this does not result from an overflow of emotion, but is the product of reason, study, application. This is the interpreter's offering to the world, their initial emotion transformed into hard work, to produce renewal.
One finds creative ways to encounter the composition again, to return once more to the music, the beloved. The emotions remain, but through fresh technical approaches, tactics and strategies, the connection deepens and the conversation goes on, with new folds and subtleties. Every performance of Alexander Scriabin's work reenacts and commemorates his desired apocalypse, and its failure, but the knowledge of this repetition also creates a space for freedom. Recollection and anticipation enrich the sound heard in the present moment.
Now that Guebel's novel, which involves questions of how to interpret piano works, family history over multiple generations, and the universe itself, has found literary translators into English (me for Seven Stories) and French (Gersende Camenen for Gallimard), it is an ideal occasion to think about the connections between musical interpretation and literary translation.
Both interpretation and translation require emotional responses, but also technical work to transfigure these emotions. Restless, disquieting work. Yet from creation to destruction and back to creation, hovering between peril and possibility, we are drawn to the flame.
__________________________________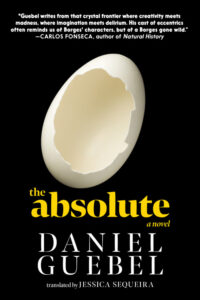 The Absolute: A Novel by Daniel Guebel, translated by Jessica Sequeira, is available via Seven Stories Press.
---