What Is China Reading Right Now?
Megan Walsh on the "Little Emperors" of Contemporary Chinese Literature
Until recently, the hardships facing the first generation to be born after China's economic reforms in the late seventies have been given short shrift. Compared with their parents and grandparents, they've had it easy. These young people are not hungry, they are not tilling the fields, they have access to good education and medical care, and, thanks to the one-child policy, they do not have to share resources or attention with siblings. Having come of age at a time of unprecedented prosperity and opportunity, many have been spoiled and are referred to as "little emperors," doted upon by their parents, kitted out in designer labels, and free to think only about themselves.
No more so than the teen idol authors of the "post-80s" era (those born after 1980) who became the most potent symbols of their generation's moral failings. They were seen as self-serving rebels without any cause. Ditching the old socialist systems of literary production, these young upstarts wrote insouciant fiction in the first person, successfully commodifying their youth, side-stepping government-backed publishing channels, and proving that you didn't need to ace the gaokao, China's incredibly stressful two-day college exam, to hit the big time.
The way had already been paved by post-seventies female authors such as Wei Hui who seemed to represent the worst of capitalist vices. Her 1999 semi-autobiographical "glam-lit" novel Shanghai Baby detailed passionate sex scenes with her married Western lover, in contrast to cuddles with her impotent Chinese boyfriend, and she and others became known as "body-writers." Shanghai Baby was banned, burned in the streets, and became a bestseller: unwelcome proof that in China's new market economy, sex and controversy were great for business.
No two authors, however, have courted more criticism than Guo Jingming and Han Han, known as the "Janus face" of the more widely pilloried post-80s generation. They are to this day considered contemporary China's most galling success stories. Guo and Han were catapulted to fame as teenagers by their winning entries in the market-orientated New Concept Prize. Guo's unironic tales of Shanghai's vapid, wealthy youngsters, the so-called baifumei and gaofushuai—"white, rich beautiful girls" and "tall rich handsome boys"—foregrounded luxury and frivolity and earned him a reputation for writing shallow, commercial nonsense.
The title of his fashionista trilogy, Tiny Times, became a byword for the era in which the grand, revolutionary themes of the past had been usurped by small, superficial concerns. In recent years, his novels such as Cry Me a Sad River have lost their fluffiness, dealing with subjects like bullying and suicide, a shift in tone that mirrors his own maligned status as a writer.
As a result, the post-70s and 80 writers who wrote brazenly about getting laid, going to university, and shopping seemed tone-deaf, gratuitous, and entitled. They took it all for granted.
Han Han remains the unrivaled, unreconstructed king of controversy, however, whose light teen novels and combative blog won him millions of followers on Weibo, China's Twitter. In his twenties Han had an unprecedented level of individual influence, making it difficult for even the government to keep him under control. A handsome, cocky, clever high school dropout, his fearless and unflappable response to critics, sometimes on TV, made him a thrilling and dogged defender of his apparently apathetic, apolitical, historically nihilistic, self-centered generation:
Those people in the past, they simply found themselves cared about by politics whether they liked it or not, and the roles they played were just that of small fry, hapless victims swept around in the political currents of the day. Being a victim is no decent topic of conversation, any more than being raped has a place in a proper range of sexual experiences. The era when one can care about politics has yet to arrive.
Thanks to his flagrant disregard for his elders and their politics, in a society once again increasingly shaped by Confucian values and social responsibility, Han Han was guaranteed to be a problematic role model. But his vocal repudiation of China's rigid education system—often a byword for the government itself—and all those parents who overstate its importance as a path to success, emboldened his young audience to question the pressures heaped upon them.
The fact that now, nearly in his forties, Han Han has abandoned fiction and intellectual fisticuffs to spend his time racing expensive cars or writing screenplays about racing expensive cars is, for some, gratifying proof that this firebrand turned brand influencer was always nothing but a charlatan. "They are not as rebellious or independent as we had thought," declared novelist Yan Lianke, having hoped that Han Han's fighting spirit might have matured into meaningful engagement. Even Han Han's peers agree. "This is a failed generation," concluded the young literary scholar Yang Qingxiang with a degree of personal humility, in a now famous 2013 essay called "What Should the Post-80s Do?" He described his generation as suspended and ahistorical, a group without an identity and, as a literary critic, argues that they "have produced no significant works of literature." In summary, "Post-80s" is no longer merely a descriptive term but a pejorative label.
This generation did succeed, however, in drawing attention to a noticeable void in Chinese culture. Literature about being young in freshly built cities had not yet been written. Before homegrown authors came around, young urban readers filled the gap with offerings from Japan, including the magical, melancholic adventures of Murakami, the escapist mysteries of Keigo Higashino, and with anime, comics, and games (ACG). Author Zhou Jianing (another winner of the New Concept Prize) believes that Murakami owes his popularity to having "somehow maintained the status of a young person. This is exactly what Chinese literature is missing." But this came with its own burden.
So much of the fiction written by the generation before them, the zhiqing—Mao's "sent-down youth"—lamented their lost adolescence, when they were deprived of schooling, romance, and sex. These formative years had been sacrificed for the socialist ideals that were shattered under Mao and forsaken by his successor, Deng Xiaoping. As a result, the post-seventies and -eighties writers who wrote brazenly about getting laid, going to university, and shopping seemed tone-deaf, gratuitous, and entitled. They took it all for granted.
A public 2018 showdown between the poet Guo Lusheng, a figurehead of the sent-down-youth generation, and a relatively unknown young writer named Yu Xiuhua drew attention to this generational fault line. Guo, who endured political persecution during the Cultural Revolution and whose 1968 poetry collection had once lamented the collective's humiliating annihilation of the individual under Mao, condemned Yu's individualism: "How can a poet not spend a moment considering the fate of humanity, or thinking about the future of her nation?" he asked, directing his criticism specifically at Yu's apparently flippant desire for coffee, chats, and sex in her poem "I Crossed Half of China to Sleep with You."
But her defiant counterattack online was characteristic of a new voice in a competitive, socially stratified society. "My fault," she said, "lies in being on the bottom rung of society and yet still insisting on holding my head up high." Yu's lust for life represented a way for young people, especially those on "the bottom rung," to change their fate. It's a front-footed individualism that continues to offend the taste of some of the older generations.
The post-80s writers have become a cautionary tale of what not to write about—themselves.
Several younger writers of the "post-90s" era, on the other hand, seem to have actively taken up the mantle of writers who came before them. The paternalism of the literary world, the inbuilt respect for elders in all Confucian societies, now compounded by an aging society, in which a third of the population will be over the age of sixty by 2050, might explain why many are not writing about being young in the city, but instead about old people who have failed to adapt to it.
Elderly outsiders populate post-90s writer Wang Zhanhei's two short story collections, Air Cannon and Neighborhood Adventures: a firecracker dealer who's adrift during Chinese New Year, now that anti-pollution laws have put him out of business; a grandmother who's rejected by her money-grubbing son and turns to communing with people's rubbish. They are powerful, if occasionally sentimental, vignettes that in 2018 won Wang Zhanhei the inaugural Blancpain-Imaginist Award, established to celebrate specifically noncommercial fiction by writers under forty-five. The judging panel, which included Yan Lianke, praised the post-90s writer's use of realism to depict the lives of ordinary urban people, which perhaps doubles as a backhanded criticism of the generation that preceded her. The post-80s writers have become a cautionary tale of what not to write about—themselves.
For those who do write about their own experiences, their work often internalizes—or parodies—the ways in which focusing on (and even writing about) oneself is considered the root cause of failure. Young, melancholic poets lament not just poetry as a poor career choice, but their corresponding inability to be a somebody—a tricky ambition in which status is often gauged by the intentionally vague concept of suzhi, or "quality." Informed by society's complex value judgments, writers such as Fu Yuehui and Zhou Jianing deploy self-consciously cruel and inscrutable narrators to critique themselves and others jockeying for small, social advantages.
And at a time when diligence and hard work are part of the government's national project, indolence is the most rebellious act of all. From Lu Nei's Salingeresque fuck-ups to the funny, feckless dossers in stories by Da Tou Ma and Wu Qing, many authors born in the last three decades have embraced a lack of drive with a mixture of humility, inevitability, and comedic pride—an irreverence that has recently transformed itself into a growing counter-cultural movement widely known as "lying flat" or tangping—consciously opting out of the rat race.
Having come of age at the same time as China's contemporary cities, most people born in the seventies and eighties belong to the first one-child, urban, globalized generation in China. With the iron rice bowl long gone, theirs is a time of stark differences in opportunities for those with rural or urban residence cards (hukou), between rich and poor, between old and young, while the shift from the collective to the individual has shattered the notion of communal experience. They are a frontier generation whose apparent mistakes and failures should be seen as the forgivable result of growing up in uncharted territory.
___________________________________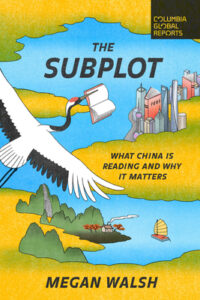 Excerpted from The Subplot: What China is Reading and Why It Matters by Megan Walsh. Copyright © 2022. Available from Columbia Global Reports. 
---