What Happens When Sherlock Holmes Retires?
When the World's Greatest Detective Decides to Keep Bees
There're a lot of ready images we associate with Sherlock Holmes: the hat, the pipe, the cocaine problem. But what about bees? In the 1926 story "The Adventure of the Lion's Mane" (one of only three of the 56 canonical stories not narrated by Dr. Watson) we discover that Sherlock Holmes has left London and retired to the English countryside where he's taken up beekeeping. It seems his adventures have come to an end—not among Persian slippers stuffed with tobacco or syringes of his infamous "seven percent solution," but instead surrounded by the bucolic countryside, retired and content.
Or perhaps all is not as it seems. Have we simply seen but not observed? Maybe Holmes's retirement is the beginning of a different type of adventure. With tonight's release of the new Sherlock Holmes movie, Mr. Holmes, now is perhaps a good time to investigate the great detective's life after Baker Street.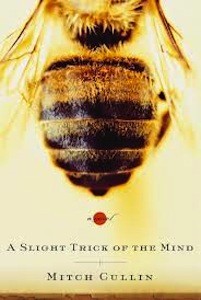 A Slight Trick of the Mind, Mitch Cullin (2005)
The screenplay for Mr. Holmes is based primarily on the novel A Slight Trick of the Mind, a Sherlock Holmes pastiche written by Mitch Cullin. The book takes place in a post-WWII England, with Holmes himself pushing 93, walking with two canes, trying his best not to be rude to his housekeeper (which is impossible for him). This novel does contain a mystery or two, but, as Laura Miller says at Salon, it's more "literary" than "detective fiction," exploring what it would actually be like if you were a kind of superhero known for the powers of your mind, only to have advanced age rob you of those powers. Ian McKellen is playing this version of Holmes in the new film, though it seems from the previews he's a bit more spry, walking with only one cane, rather than two…
The Final Solution, Michael Chabon (2005)
Similar to A Slight Trick of the Mind in its setting, Michael Chabon's short and sweet Holmes pastiche doesn't actually name the famous detective outright. Instead, the novel revolves around a stolen parrot (which is in fact a cipher that can be used to break Nazi codes), and has Sherlock Holmes depicted as a frail, old bee-lover who makes a poignant journey back to post-Blitz London to take in the battered ruins of his city's former glory. The Final Solution was published in 2005, around the same time as A Slight Trick of the Mind, so we have here an unusual case of dueling old Sherlocks! Kind of like when two asteroid movies come out during the same summer, right?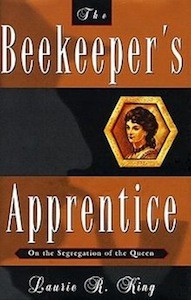 The Beekeeper's Apprentice, Laurie R. King (1994)
Set in 1915, The Beekeeper's Apprentice launched the fictional career of a brand-new detective named Mary Russell. As a teenager living in Sussex, Mary bumps into a thorougly middle-aged Sherlock Holmes not quite a decade into his bee-heavy retirement. (If we match this up with the Doyle canon, this novel talks place a few years after "The Lion's Mane.") Like Obi-Wan Kenobi showing Luke the ropes, Sherlock trains Mary in all of his methods, specifically "the science of deduction." This book sets up the entire Mary Russell series which has (wait for it) thirteen novels, one novella, and a non-fiction companion.
As Mary grows up, a romance blooms with Sherlock Holmes and she ends up marrying him. While the new film Mr. Holmes almost certainly can't feature Mary Russell (she's from a totally different book series) it is easy to imagine a Lost In Translation-style love story featuring an older Sherlock Holmes. If the Mary Russell series is ever adapted for the screen the casting of this uniquely Holmesian heroine might require actual detective work to find the perfect actress.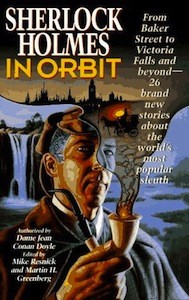 "A Study in Sussex," in Sherlock Holmes in Orbit, Leah A. Zeldes (1995)
Holmes crosses over to science fiction both in the original Conan Doyle canon ("The Adventure of the Creeping Man" is a classic example) but also in pastiche fiction, too. Everyone from Neil Gaiman to Harlan Ellison has written a Sherlock Holmes sci-fi story of some kind. Back in 1995, Mike Resnick and Martin Greenberg edited an anthology of original short fiction called Sherlock Holmes in Orbit, in which you'll find a Holmes dealing with ghosts, a computer-version of Moriarty, and in "A Study in Sussex" a story about what really happens to Holmes when he retires: it's sometime in the 1920s and Watson is visiting his retired friend in the country. Initially, Watson is alarmed because it looks as though Holmes has been hitting up the cocaine injections again. Ah-ha! But those aren't track-marks dear Watson! Instead, Holmes has been letting the bees sting him, which has apparently cured him of rheumatic fever. "A Study in Sussex" features perhaps the greatest ending to any short story ever, as Holmes conjoins his conscience with that of a swarm of bees and in essence becomes a super-hero version of himself, in bee form. To be clear, it's not that Sherlock Holmes turns into a bee in this story. It's that he turns into several bees.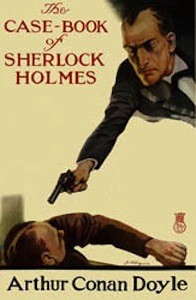 "The Adventure of the Lion's Mane," in The Case-Book of Sherlock Holmes, Sir Arthur Conan Doyle (1927)
This is the one where all this beekeeping/retired Sherlock stuff begins! As mentioned, "The Adventure of The Lion's Mane" is unique not only because it features a retired Sherlock Holmes, but because the story is "written" by Sherlock himself. Because Watson publishes accounts of his adventures, Holmes often claims (in the stories themselves written by Watson) that the stories you're reading aren't entirely accurate. (This joke was played with a bit in the latest released footage for Sherlock.) So, in "The Adventure of the Lion's Mane," Sherlock Holmes himself is telling us the tale, and he presents a version of himself that is kinder and warmer, not exactly the cold, calculating man we know from the majority of the stories. This Holmes is a man falling in love bees… Why? It could be their orderly nature, or it could just be a love of honey… Maybe we'll never know (unless someone writes the definitive Sherlock Holmes beekeeping book).
Tonight's release of Mr. Holmes may not see the great detective spending as much time with bees as he does in the adventures above, but it will feature a version of the character unfamiliar to most Sherlock fans: an older Holmes, at once crankier and humbler. Because in the end, the greatest mystery Sherlock Holmes is faced with is how do we cope with getting old? Spoiler alert: it might be the one mystery even he can't solve.
---