What Does Silence Mean in the Age of Digital Noise?
On Zeus, Twitter, and Mixed Sensory Metaphors
Because Shakespeare, it seems, knew everything, he knew that civilization is constituted primarily through sound. Hamlet's famous last words—"The rest is silence"—are less punning than ironic, since both his parting, eloquent gasps and his death play out amidst a growing bassline beat. "What warlike noise is this?" Hamlet asks as the poison takes hold. The drums and commotion signal the arrival of the Norwegian crown prince Fortinbras, who bursts into the quiet of the massacred Danish court. From the beginning of Hamlet, we're taught to think of sovereignty as a manipulation of sound waves. The ghost of Hamlet's kingly father stalks the misty parapet complaining that his murder is an insult and injury to "the whole ear of Denmark," which has been poisoned to the truth. It's understandable that poisoned ears are on the ghost's mind, given that his brother killed him in his sleep by pouring mercury into his own. The tragedy ends with Hamlet's corpse being carried away on a tide of noise and Fortinbras announcing that "The soldiers' music and the rites of war / Speak loudly for him." The play's last line is a stage direction, "a peal of ordnance is shot off," which is another concluding pun because "ordnance" is both an umbrella term for artillery and "ordinance" is an authoritative order or command. These shots signal Norway's assumption of the kingdom, the ear of Denmark now listening to a resounding transferral of authority.
One of Hamlet's messages, then, is that social organization isn't a quiet affair. Think of the Greek agora, parliamentary Ayes and Nays, the tyrant's rousing balcony speech, the rebel's rallying cry, the pledges of allegiance, the royal anthems and the anarchists' songs. At worst you have edicts, at best you have debate. Democracy is designed to honor a plenitude of voices. As civilizations grow more complex they tend to become noisier, and indeed one of science fiction's preoccupations has been to prophesy the advanced stages of this garrulousness. When Star Trek: The Next Generation introduced the Borg to its roster of foes in the late 1980s, these hybrids of machine and flesh embodied all manner of fin de siècle anxieties over the endgame of technological progress. Their faces are half covered in black plating, from which thick wires extend and coil, some of which, in that oddly entrancing nightmare of subcutaneous circuitry, push through the flesh of the cheek or jaw. But the Borg were also unsettling for insinuating that, in a technologized future, silence would be relegated to the archaic past. Their bionic consciousness is processed through a unifying network called the Collective, into which they are permanently hooked. Theirs is a hive sensibility of the most unappealing kind. In one episode, the Enterprise crew rescues a lone survivor from a Borg shuttle that has crashed on a desert planet. This boy-Borg, as pathetic as a helpless teenage Nazi, remains psychologically deserted among the self-satisfied liberalism of 24th-century humanity and their similarly evolved posse of friendly aliens. He is homesick for the incessant aural companionship of the Collective, from which he has been stranded. "Here it is quiet," he glumly tells his captors. "There are no other voices . . . on a Borg ship we live with the thoughts of the others in our minds. Thousands of others with us always."
In our civilization's advancing years, technological progress is, by all appearances, making life noisier. We can best discern how loud our lives feel in the moments when we try to discipline both real and virtual decibels. Remembrance Day is one of the few mainstream occasions to treat silence, in the old ascetic style, as a moral proposition. In the run-up to the 2012 tribute to the war dead, the Royal British Legion campaigned to extend the customary two-minute silence into cyberspace. This campaign alone attests to a collective recognition that online life is booming. Yet the irony of such a silencing venture was that, in order to reach a critical mass of online observers, the organizers first had to shout over the daily hubbub of Twitter and Facebook. This plea for quiet began as a harnessing and coordination of online noise. The British Legion became UK pioneers in the use of an American application called Thunderclap, which gathers subscribers to a single message—"Cancer, we're coming to get you," "We need #JobsNotCuts"—and then simultaneously releases this message en masse onto the social-media pages of all those who have signed up. The British Legion's mantra, "I'll be remembering the fallen at 11 o'clock #2MinuteSilence #LestWeForget," thundered across Twitter timelines on the morning of Remembrance Day. Owing to the six-degrees-of-separation of social networking, over 10 million users were alerted by 20,000 people hitting their forks against their glasses at the same time.
Having survived both the roar of the Thunderclap and the ensuing silence, poppy-adorned Twitter solemnly raised its head and allowed the flow of un-solemn thoughts to resume in its vast, collective mind. Soon, aspersions were cast on those in breach of the two-minute reverence. The presenter Jeremy Clarkson, who has built a career on his indignation, was quick to voice disapproval when an automated tweet advertising his own program Top Gear broke the Twitter pause. Joining a train of outraged tweeters speaking of "shame" and "disgust," Clarkson wrote his own chastising tweet, calling the mistake "astonishingly stupid." This quick-tempered policing of silence, and the difficulty of achieving even a strange simulation of it, reveals what an exotic state silence has become. And yet one of the weird aspects of our times is that while silence retreats we are simultaneously becoming quieter. We say less to one another out loud—as of 2012 in the UK, text-messaging officially eclipsed both phone calls and speaking face to face as the main form of daily communication. At this point we might think of beekeepers tapping the sides of their hives, listening for the reassuring hum that never comes. Almost as if in sympathetic muteness with the world's collapsing bee colonies, our own hive lives prosper in silence.
If the digital age were straightforward and in need of a pantheon, we might be tempted to say that Thunderclap is reminiscent of Zeus and his disciplinary lightning bolt. Homer, after all, calls him "the Thunderer" and "the Cloud-gatherer." In the Iliad, when Zeus warns the other gods not to involve themselves in the mortals' war, Homer tells us that "they all fell silent as he spoke, astonished by the force of his words." When he "thundered aloud," hurling a bolt among the Greek army, "they were dumbfounded." Here Zeus's use of noise to shut people up is orthodox and by-the-books. But digital life, particularly when it comes to sound waves, has a kink to it. It deals in silent booms of thunder; so much of its noise, so evident and so heard, is in reality an absence of noise, a cacophony of mouthless text and pictures. Indeed, with its present form being such a predominantly visual medium, digitization gives itself a more complete sensory range by way of metaphor: consider, for instance, the photographic meaning of "digital noise" as referring to a graininess or unwanted pixellation of the computerized image. Thus the god for whom we're looking isn't Zeus but Dionysus, born, like an accidental text message, of Zeus's thigh. Dionysus's sense of aural kink matches this digital perversity. Like his father he has deafening monikers: "the Roarer" or "the Loud-Shouter." His trademark entrance onto an Arcadian scene involves blaring pandemonium, but crucially it is from within this noisy ecstasy that a terrible silence petrifies any mortal present. As Walter Otto wrote of his dreadful roar, "it is as if the insane din were in reality the profoundest of silences."
This slipperiness between noise and silence makes digital life Dionysian. Collectively we invoke the bellowing god. To create this communal sonic boom in cyberspace, we ironically fall quiet, our fingers gliding over touchscreens, our chins pleated. I recently teased one of my young American friends that she and her entire generation find everything awkward. "I know!" she said. "It's awful. People can't even stand to be silent around each other any more. Everything is awkward." It's true that the term "awkward silence" seems to have dropped out of usage, precisely because it has become a tautology: all silences are awkward. Perhaps most awkward about these modern social silences is that they are often double-layered, consisting of the silence between those gathered stiffly together and the private silences into which they are likely to retreat. There was a time when the pressures of quietness would generally force us into some casual, throwaway noise-making, but now we fight like with like, and only barely get away with it. Increasingly our standard defence against the social unease formerly known as the awkward silence is not to make noise but to stroke our little talismans of talkative silences. We outsource our incidental chat, idly checking email or Facebook or sending a text, hoping that the fleshy aggregation loitering in soft focus beyond the crisp horizon of our smartphone will soon move on. We fill 3D silence not with 3D small talk but with our respective 4D silences, our noisy chaperones.
Indeed, 4D silence has turned up the volume of life so much that even our eyes need earplugs. This sensory delocalization evokes once again the honeybee, with its widespread capacity for smell and taste. Most significant about Clarkson's irritation is that it betrays the extent to which we're now prone to think of online text as possessing an audible dimension. It is becoming intuitive to think of silent images and strings of text as forms of noise. In the case of the Top Gear tweet, the shameful opposite of silence wasn't noise but the invitation to distraction. With this expansion of our experience of noise, it will soon be necessary to broaden the definition of the word "mute," which is certainly in the ascendant. Mute may end up being the verb of the century. I remember noticing the mutation of muteness while trying to get rid of an unwanted advert crowding in on my YouTube viewing. It was one of those online billboards, an inert, soundless, digital poster. Moving my cursor pitilessly towards the X button, a piece of rollover text intervened like a social worker, asking if I wanted to "Mute This Ad." I did so, and a square of plain color covered the billboard, displaying the words: "Ad Muted." The ad re-formed when I clicked again on the Mute banner, loitering conspicuously once again beside The Hollywood Reporter Actress Roundtable.
Google launched the muting option for its ads in mid-2012. Nowhere in its history has the word "mute" been related to obscuring or rendering invisible; it has always been associated with the absence or disciplining of sound. Increasingly we're trying to soundproof the soundless. Noise-dampening applications, which allow Twitter users to silence their followers without deleting them, are coming to seem like a necessary aspect of online life, a sign of our relentless proximity and its strains. In May 2014, Twitter announced its official silencing feature. Note the cross-wired senses: "Muting a user on Twitter means their Tweets and Retweets will no longer be visible in your home timeline."
It is of course still possible in digital terms for mute to mean the silencing of the audible. In the video game Grand Theft Auto, users are aggravated by the actual, old-fashioned noisiness of their real-life, disembodied opponents, with whom they interact over the gaming software, like a conference call crossed with an imaginary heist. On forums players complain about how conversations between other players, and, in at least one instance, singing, drown out the game's sound effects. They give each other advice on mute settings, but even here the language of the platform reveals how, online, silence is the default setting for sound. Actual sound, which creates waves that hit the instruments inside our ears, needs to be specified as its own, secondary category of digital noise. We see this in the terminology, for in Grand Theft Auto the unwanted din is transmitted via Voice Chat. This one-time redundancy, which prior to the digital age would have seemed as strange a term as, say, Ear Listening, now offers a valid distinction. "Chat" alone no longer implies vocals. Voice Chat thus efficiently suggests, in two words, how our assumptions about sound, and the ways we perceive it, are not what they used to be.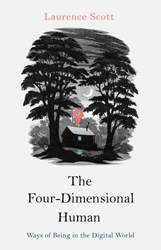 Excerpt from The Four-Dimensional Human: Ways of Being in the Digital World by Laurence Scott. Copyright © 2016 by Laurence Scott. With permission of the publisher, W. W. Norton & Company, Inc. All rights reserved.
---