What Does it Take to Illustrate Elie Wiesel's Books?
Mark Podwal on a Lifetime Project
Elie Wiesel's narrative poem The Tale of Niggun was written in the late 1970s, recently found and republished with illustrations by Mark Podwal. Podwal had worked with Wiesel for years, and shared his experience illustrating this new book.
 *
What drew you to this project?
For nearly forty years I illustrated Elie Wiesel's books and his NY Times Op-Ed page articles. When the United States Mint asked Elie who he'd like to design his Congressional Gold Medal, Elie chose me. Our collaborations and friendship began in 1977 when Elie, in response to one of my NYTimes editorial page drawings, sent a brief handwritten note full of generous praise saying we should meet. So it was a given for Elie's son Elisha and Elie's literary agent Georges Borchardt to ask me to illustrate "The Tale of a Niggun."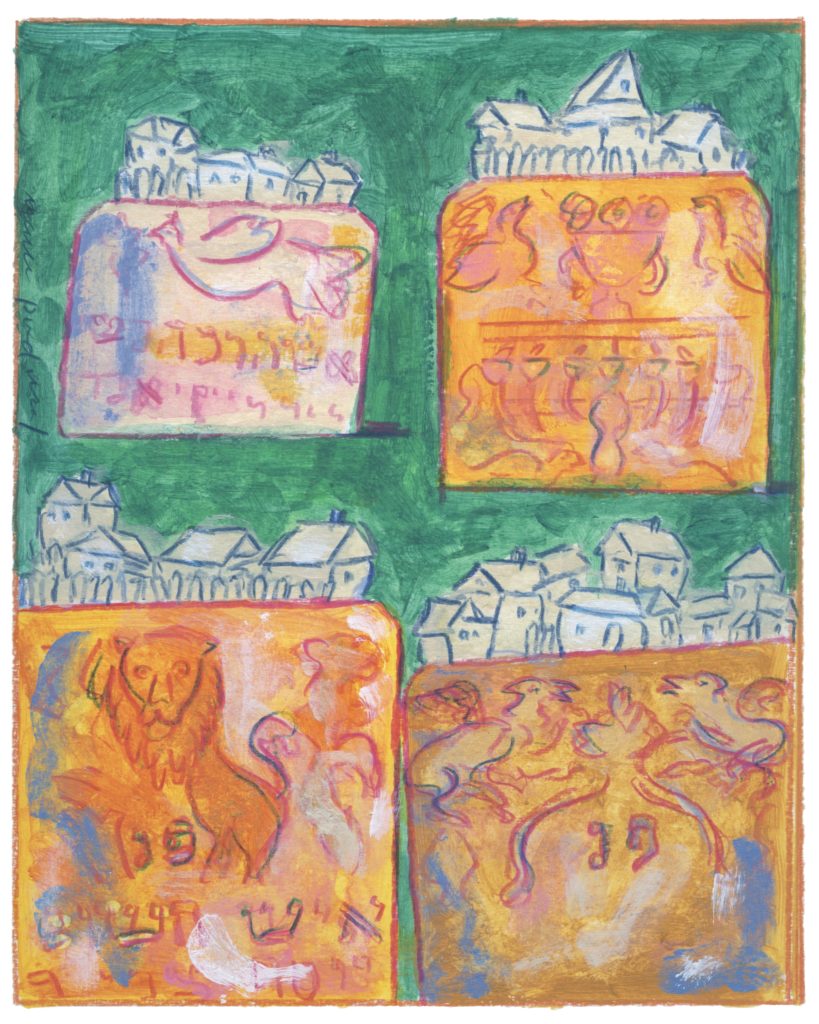 What were some of the challenges of illustrating this particular story?
Challenges included imagining images that are striking and memorable yet not gruesome, avoiding visual clichés, not recycling my previous illustration ideas, and not drawing anything Elie would have objected to. Only three times did Elie offer advice on my illustrations. In particular, not to draw the Holocaust's victims.
Are there any archival materials that you consulted?
An early 20th-century photo of a Polish wooden synagogue is the reference for the illustration depicting a "ghetto somewhere in the East." The source for the hanging of the villain Haman's ten sons is an eighteenth-century megillah scroll in the collection of the Hebrew Union College Library. Pictures of the rabbis are based on existing imagined portraits whereas my Vilna Gaon portrait is based on a popular lifetime likeness. The Jewish tombstones illustration is derived from sketches made by the Ansky ethnographic expeditions through the Russian Pale of Settlement from 1912 to 1914.
Were there any visual references you found helpful or illuminating?
Most helpful were visual references Elie did not mention. My illustrations aim to extend and deepen the impact of Elie's words as opposed to adding a literal interpretation or merely decoration. To picture the ghetto's rabbi dreaming he is "living somewhere else, far away," a window looks out onto a Jerusalem landscape. While the poem doesn't mention Jerusalem, can there be any other place the rabbi would dream of living? Since the story occurs on the Jewish festival of Purim, illustrations include Purim's familiar symbols, which Elie doesn't refer to such as a megillah scroll and hamantaschen, the holiday's triangular pastries. Alluding to the Purim custom of dressing in costumes and wearing masks is a Haman mask with a Nazi Wafen SS Totenkopf cap. Moreover, there's an illustration of broken groggers, the noisemaker used on Purim to drown out Haman's name when read from the megillah scroll.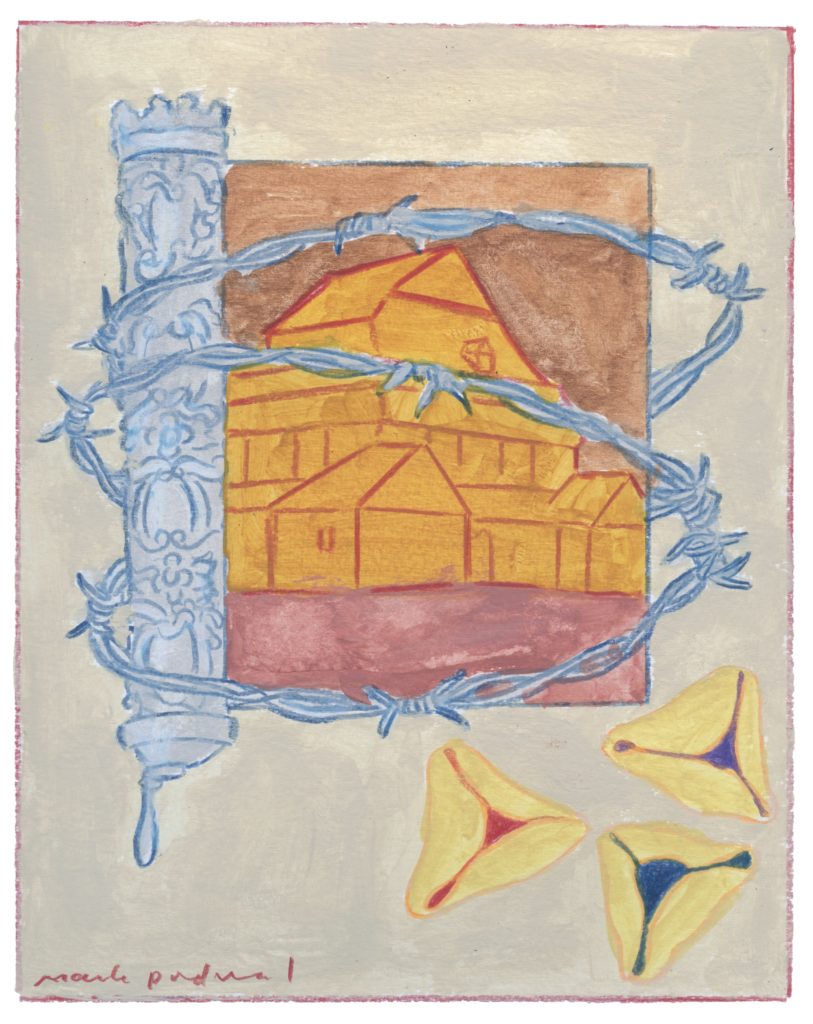 You've often taken on projects that address various events from Jewish history. How do you normally begin the process of planning to visually represent a historical event?
First, lots of research including reading and searching for images. Elie used to say I was his "best researcher." Much of my art entails composing visual metaphors adapted from Jewish symbols and iconography. When chronicling an event, although my art at times may include anachronisms, I like to be accurate concerning historic details. From my prints portfolio on a history of Jewish misfortunes and catastrophes, "All this has come upon us…," the image for the 70 AD destruction of Jerusalem includes a rendition of a coin honoring Titus, the Roman military commander; the print of the infamous Talmud burning in Paris in 1240 in the square in front of the Louvre shows the Louvre as it looked at that time; and the depiction of the 1349 Black Death Massacre in Erfurt, Germany includes a drawing of the 12th-century Erfurt Synagogue. The Erfurt Synagogue, now a museum, owns an Erfurt Massacre print from the edition.
As someone who has illustrated stories by Elie Wiesel for decades, can you share how his work has been meaningful to you, either personally or in your career as an artist?
In 1929, when my mother at age eight immigrated with her family to the United States, her brother David was denied entry based on an erroneous diagnosis of an eye infection. My mother's mother on learning that her son David had perished in the extermination camp Treblinka became severely depressed and was committed to a psychiatric hospital for the last eighteen years of her life. Preoccupied with the Holocaust since my adolescence, when I first saw Elie Wiesel on television I was spellbound. His book on Soviet Jewry, "The Jews of Silence," would later inspire my Passover Haggadah "Let My People Go." Elie's note saying we should meet changed my life. Illustrating his works presented my art to a worldwide audience.
My illustrations for his book on the golem of Prague were so appreciated in the Czech Republic that I've had several museum exhibitions there. Czech Television produced and broadcast two documentary films on my art, one in which Elie is interviewed. I've designed textiles, which adorn Prague's seven hundred year old synagogue the Altneuschul and was awarded by the Czech Foreign Ministry the Gratias Agit Prize. Two years ago, the Berlin and Paris Jewish Museums exhibited my illustrations for Elie's work. For a documentary on Elie's life, Elie invited me to the filming in Auschwitz, Buchenwald, and his birthplace Sighet. When Elie was awarded the Noble Peace Prize, I was in the audience in Oslo. After Elie died in 2016, his son Elisha emailed, "Mark, you were such a close friend to my father—he truly trusted you, loved collaborating with you, and cared about your friendship. And he was always moved by what you saw in Judaism and enabled others to see." How unexpected and extraordinarily fortunate to have the opportunity to illustrate another of Elie Wiesel's books.
*
Elie Wiesel was awarded the Nobel Peace Prize in 1986. The author of more than fifty internationally acclaimed works of fiction and nonfiction, he was Andrew W. Mellon Professor in the Humanities and University Professor at Boston University for forty years. Wiesel died in 2016.
Mark Podwal has written and illustrated more than a dozen books, and has illustrated more than two dozen works by such authors as Elie Wiesel, Heinrich Heine, Harold Bloom, and Francine Prose. King Solomon and His Magic Ring, a collaboration with Wiesel, received the Silver Medal from the Society of Illustrators, and You Never Know, a collaboration with Prose, received a National Jewish Book Award. His art is represented in the collections of the Metropolitan Museum of Art, the Victoria and Albert Museum, Prague's National Gallery, and the Jewish museums in Berlin, Vienna, Prague, and New York, among other venues. Honors he has received include being named Officer of the Order of Arts and Letters by the French government, the Jewish Cultural Achievement Award from the Foundation for Jewish Culture, and the Gratias Agit Prize from the Czech Ministry of Foreign Affairs.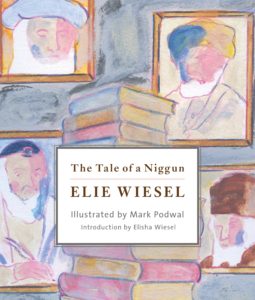 ---