What a Country's Demographic Age Can Tell Us About Its Future
Jennifer D. Sciubba on the Socio-Economic Impact of Aging Populations
Although we may not live more years past age 122, more people are living to be centenarians than ever. That's been an interesting development in Japan, where the Japanese government had been in the practice of recognizing its new centenarians by presenting them with a gift of a sterling silver cup. The problem is that the number of centenarians—those at least age 100—has grown for 50 years in a row, from only 153 when the country started keeping records in 1963, to nearly 80,000 in 2020. Japanese centenarians are now so numerous that the government has switched from sterling silver to silver-plated to save money. That was a smart move, as centenarians there are expected to number 170,000 by 2027.
Of individuals, we often say that growing old is better than the alternative; to an extent the same sentiment is true for aging societies. We should continue to celebrate strides in increasing life expectancy at older ages and better child survival rates, which give people the confidence to have smaller families. But just as an individual feels the pains and strains of aging, so too do aging societies. By 2050, those ages 20 to 69 will shrink by 16.2 percent in South Korea, 14.9 percent in Taiwan, and 8.9 percent in China.
If institutions don't change in states where the government has promised entitlements and early retirement, when those states age their economies will likely contract, and the governments will face a serious challenge in meeting their obligations. In countries where there are few long-term care facilities and low entitlements, the family will be strained to care for its aging members, likely depressing fertility even further. Retirement policies in most developed economies—the first wave of aging states—were shortsighted and expensive, because pay-as-you-go entitlement systems are unsustainable in aging states with shrinking workforces. Schemes that allow older people to skirt the system and exit early, such as through unemployment, are also costly. The most developed states have some hard political work ahead to reform policies in the face of extreme and unprecedented demographic aging. Policies to bring more women of all ages into the workforce and to allow older workers to stay in the workforce longer (getting rid of mandatory retirement age, for example) can increase the size of the workforce dramatically in societies where labor force participation rates of those two groups are low (which is most developed countries).
Those countries can also focus on supporting other factors that contribute to economic growth besides labor—productivity and efficiency, for example, can be improved by technology. Automation and immigration can offset some of the labor shortages that will come with increased aging, but never perfectly. Good health will also be key to thriving in an aging world to keep quality of life high, costs down, and productivity up.
The policies a country puts in place on everything from education, to urbanization, to pensions determine how demographic dynamics play out.
Population is not like a tide that washes over us, taking us to various destinations no matter what we do— we can put policies in place that direct the flow. The good news is there are options. The causal arrow runs both ways between population on the one hand and politics, social relations, and economics on the other, meaning that actions on one side of the equation affect variables on the other. That's also the bad news.
For countries to take full advantage of their demographic dividend, they have to put policies in place ahead of time to lay the groundwork for growth. That means everything from educating and training youth who will be of working age during the demographic window of opportunity, to creating macroeconomic policies conducive to foreign investment, to making sure the country is peaceful and stable enough for investors to take a risk. None of that is easy, but Merilee Grindle has discussed the aim of "good enough governance," which urges us to place stock in the power of small changes. Jack Goldstone and Larry Diamond state the menu of options succinctly: "making sensible investments in education, health, and infrastructure; supporting voluntary family planning; enforcing basic property rights; making economic growth more inclusive; and preventing diversion of too much national wealth and income to unproductive and corrupt ends."
If we've learned anything from the COVID-19 pandemic, it's that a good health foundation makes countries far more prepared for the unexpected. Studying what has worked then implementing those practices more widely can ensure that global health stays on the right track. While malaria still kills 430,000 a year, malaria cases were down 18 percent between 2010 and 2017, and deaths were down 28 percent. In 2019, Algeria and Argentina were declared malaria-free, and the first malaria vaccine was piloted in Ghana, Kenya, and Malawi. We've also seen tremendous gains in the global fight against HIV/AIDS.
Until just a few years ago, in some southern African countries, HIV affected more than a third of the population and reduced life expectancy by up to 15 years. But the World Health Organization reports that between 2000 and 2018, the number of new HIV infections fell by 37 percent. The number of deaths related to infection also fell by 37 percent, and use of anti-retroviral therapy (ART) saved 13.6 million lives. Scholars have expressed concern that COVID-19 would redirect funds from other health areas, so gains in traditional areas of focus could be slower in the short term. It is too early to tell whether developed countries' efforts to prepare for pandemic readiness means they will devote fewer resources to health causes in less developed countries. Substituting pandemic preparedness for the fight against other diseases means trading one shortsighted and incomplete policy for another—instead, we need more funding for health overall so we can comprehensively address health challenges for the long term.
For countries to take full advantage of their demographic dividend, they have to put policies in place ahead of time to lay the groundwork for growth.
Policies also help determine the impact of population aging. Demographically speaking, Brazil is actually much younger than Russia or China. China's median age is 38.4 and Brazil's is 33.5. But, like China, Brazil is aging rapidly, and the most useful thing about demographics is that countries evolve along a fairly predictable path once they are well into the demographic transition. In other words, they know what's coming. Brazil's TFR is below replacement at 1.7 children per woman on average so Brazil's policy makers and business leaders are aware that the country is aging.
And yet.
During her first term in office, former Brazilian president Dilma Rousseff actually increased pension spending. Brazil spends a higher proportion of its GDP on pensions than does the world's oldest country, Japan. And whereas Japan's average age of exit from the workforce is 71 years for males, can you guess what it is in Brazil? Fifty-six. This is a very poor foundation to deal with population aging.
We should also consider India. Some talk about India and China in the same breath because they're big, they're neighbors, and they've sometimes recently seen similar economic growth. But, other than their size—together they compose 37 percent of the world's population—demographically, and in a lot of other respects, they couldn't be more different. The policies a country puts in place on everything from education, to urbanization, to pensions determine how demographic dynamics play out. India and China have a wide variety of policies that shape different outcomes for their demographic trends. Whereas literacy is nearly universal in China, in India only 66 percent of females are literate. China's massive urbanization drove much of its economic growth, while India is far behind the global average of 55.7 percent urban at only 34 percent in 2019 (possibly higher due to data issues). China has been living up to its potential and making the most of its demography—India has not.
Of individuals, we often say that growing old is better than the alternative; to an extent the same sentiment is true for aging societies.
Population data show that the divide between the developed and developing world continues to grow. More than 89 percent of the world's population growth between 2020 and 2050 will take place in lower-middle or low-income countries, while only 3 percent will take place in high-income countries. Sub-Saharan Africa is one of the fastest growing regions in the world, and the United Nations projects that the population will double by 2045, even if the subcontinent is able to reduce fertility from a current average of almost five children per woman to just over three. If fertility stays at its current level, the region's population will double a decade earlier, reaching more than 1.7 billion by 2035.
On the other side of the divide, 42 percent of the world's population, mostly the developed world, lives in low-fertility countries. Of the world's 10 youngest countries, several stand out, including Somalia, the Democratic Republic of the Congo, and Uganda. These are not exactly countries known for being the world's most open, peaceful democracies with the most robust economic growth. Age structure doesn't tell us everything, but it gives pretty strong clues about political, social, and economic issues in various countries.
Given the ties between fertility and age structure, and between age structure and conflict or development, we can project that the economies of very low-fertility and high-fertility countries, which mostly have very mature or very young age structures, will face challenges meeting the needs of their dependents, while those of the middle ages—such as many rising powers—will experience high economic growth and a peace dividend. How these shifts translate to global power, peace, and prosperity will be something to watch. Globally, inequality will widen and deepen. The Middle East and North African (MENA) region illustrates this vast divide. While many states in the region, such as Iran and Tunisia, have relatively low fertility and aging populations, others, such as Yemen, still have high fertility and youthful age structures. The least developed countries continue to suffer from tremendous inequality internally, which can feed discontent and motivate political violence.
Climate change will bring additional challenges. Poor countries will be disproportionately affected, as will poor people even in developed countries; poor countries and poor communities will have less of an ability to adapt to higher temperatures and other extreme weather events. Continued population growth and rising incomes will mean continued rises in greenhouse gas emissions, barring radical change with clear leadership from the United States and China, in particular. Warming and changing climates also introduce diseases into new areas. Mosquitoes, for example, are increasing their range and bringing diseases such as yellow fever along with them.
___________________________________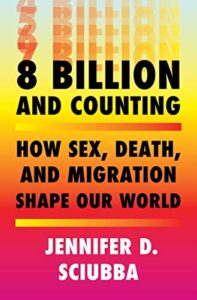 Excerpted from 8 Billion and Counting: How Sex, Death, and Migration Shape Our World by Jennifer D. Sciubba. Copyright © 2022. Available from W.W. Norton & Company.
---