We Should All Probably Be Eating Seaweed
How to Make Sugar Kelp Noodles with Garlic and Butter and Mussels
I have come to an evening seaweed-cooking class at the Island Community Center in Stonington, Maine. The weather is warm, the light drowsy with the end of summer. An old Quonset hut contains the kitchen and tables, and Micah will be teaching the class as a part of the Edible Island series. I notice on a poster taped to the front door that next week's class is how to butcher a pig, with the pig in attendance, and I'm grateful I haven't gotten my dates mixed.
About 20 people have signed up: a businesswoman with a home in Stonington, a young woman who works on a farm farther south, two doctors, a professor emeritus from the School of Earth and Climate Sciences at the University of Maine, his wife, and others, a good-humored crowd, ready to try something new. Not only will Micah teach us how to cook seaweed tonight, but he's prepped to give us a quick overview on pretty much everything and anything about seaweed that we'd like to know.
He starts with a distinction that applies around the world: there are two kinds of seaweed harvesting. One is industrial, in which farmed and wild seaweeds are cut and processed and sold to companies that make all sorts of products, including additives for human food. The other is edible seaweed, or, as some say, sea vegetables, cut wild or grown in aquaculture sites and minimally processed.
He has brought along jars of dried edible seaweeds he's cut, and lines them up on the counter in front of him. He tells us both the scientific and the common names for each. But, he says with a laugh, "the phycologists have been changing the scientific names faster than I can keep up."
He passes around samples of dried laver and dulse and Irish moss to try. Most reject the Irish moss, calling it "fishy." Then he takes some dulse and laver and spreads them on a pan, covers them with a splash of oil, and sticks them in the oven. They crisp and taste a bit like chips.
"I call them the gateway seaweed. Almost everyone likes them," he tells us.
"The bladder wrack I've brought is used medicinally for the thyroid. It can be ground into a powder and put into capsules—it has a bitter taste. It's good for burns, too, good for your skin. It's soothing. You can put a handful in a net bag and drop it into your bath and the hot water will pull the gel out.
"Irish moss soothes the pain of shingles. You cook it, get the gel out, and use that as a poultice.
"Some seaweed varieties wash up along the shore. If it washes up, it's generally not good to eat. The smell and taste are off," he says. And yet, Irish moss, washed up and bleached white by the sun, is an exception.
"Going into the fall harvest, which starts soon," he tells us, "the sugar levels go up in the digitata. After I dry it, if I introduce just a little bit of humidity, it tastes profoundly sweet. Delicious!"
Tonight's menu is sugar kelp noodles with garlic and butter and mussels, and an Alaria salad with blueberries, cucumbers, maple syrup, olive oil, and apple cider vinegar. He drops blades of sugar kelp into a big pot of water to cook, Alaria blades in another big pot, and sets them on the stove.
"Sometimes with Alaria I pour boiling water over it and let it sit through the night. You want to save that water and the cooking water because that's where some of the trace minerals and the iodine are. You can use them in a soup base. The big thing about seaweeds you won't get with land-based plants is iodine, and a lot of people in the United States are deficient in it.
"One of the most important reasons to incorporate seaweed into your diet is trace minerals. Seaweeds concentrate the naturally occurring trace minerals in ocean water. It is estimated that the human body needs 55 to 60 trace minerals for optimal functioning. Seaweeds have them all."
The Alaria and sugar kelps are ready to prepare. Micah rolls the sugar kelp up and cuts it into chunks, and we set to slicing them into thin noodles and chopping the Alaria as he oversees us, answering questions.
"I eat a lot more seaweed in the winter, in salad and as noodles," he tells us. "It stores frozen or dry. You rehydrate it and you have this delicious green vegetable. I add the kelp mix I make to rice and beans and soups, using it sparingly. You could feed people foods with this kelp mix all day long and they'd have no idea they're eating seaweed, but it makes things taste a little bit richer, fuller."
He sautés the noodles with butter and garlic in a large pan on the top of the stove. Soon it's time to eat. We gather around the tables, serving ourselves the thinly sliced noodles—a gray-green color, like spinach noodles—with a cluster of bright orange mussels on top, and we pass around and take some of the shimmering salad. The Alaria is a radiant green, and combined with the marine blue of the fresh blueberries, it is almost too beautiful to eat.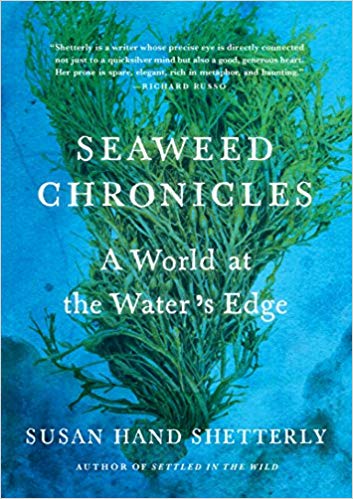 From Seaweed Chronicles, by Susan Hand Shetterly, courtesy Algonquin. Copyright 2018 by Susan Hand Shetterly.
---