Lessons were learned in Dr. Seuss's 1957 classic, How The Grinch Stole Christmas. But, per USA Today, the Grinch appears to have fallen into old habits in a commissioned sequel, set the year after his heart grew three sizes.
How the Grinch Lost Christmas! will be written by Alastair Heim and illustrated by Aristides Ruiz, each of whom has already had their long, fuzzy green fingers in some Seuss-revival projects. The press release offers some broad strokes of the plot:
A year has passed since the Grinch stole Christmas from Who-ville. Now eager to prove to the Whos that his heart has grown to LOVE the holiday, the Grinch devises a plan to win Who-ville's Christmas Crown by making the largest, most spectacular Christmas tree the Whos have ever seen!
But when things don't go as planned, the Grinch's heart turns ice cold, and he threatens to leave Who-ville for good…until one small, special Who reminds him that Christmas is NOT about winning.
Certainly, the holidays bring up a lot of emotions for people! And Christmas-tree decorating is fraught territory, so who (Who?) are we to doubt that the new episode in this epic tale will beguile? As Gabor Maté has said, "The attempt to escape from pain, is what creates more pain." I, for one, find the Grinch a nicely complex character.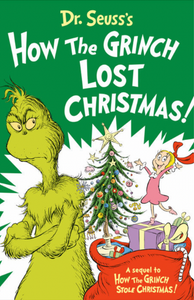 How the Grinch Lost Christmas! will be available on September 5.