Was Abstract Art Actually Invented by a Mid-19th-Century Spiritualist?
Jennifer Dasal on the 1871 Art Exhibition of Georgiana Houghton
There's almost nothing more that art historians love to do (besides looking at art) than to argue about art and artists. It plays out at every university and conference worldwide: who was the so‑called father of modern art, Gustave Courbet or Édouard Manet? (Tough call, I say—can we crown them as co-fathers?) Who was the more important artist, Pablo Picasso or Henri Matisse? (I like Matisse better personally but understand Picasso's groundbreaking significance.) But many of these arguments pale in comparison to one of the biggest questions in the art world: Who was the artist who created the world's first piece of abstract art—a work dedicated solely to color, or pattern, or shape, or gesture (or all the above!) instead of a recognizable subject matter drawn from life? Who invented abstract art, which begat Modernism as we know it?
An early adopter of both abstraction and arguing about the founder of abstraction was Wassily Kandinsky (1866-1944), who was so invested in proving himself as the pioneer of the form that he wrote a letter to his art dealer in 1936 to stake his claim about a painting created 25 years earlier called Komposition V (Composition V, 1911, private collection). About this painting, Kandinsky wrote to his Berlin‑based dealer, J. B. Neumann, "It really is the very first abstract painting in the world because in those days there was no other artist who painted abstract pictures. Therefore, it is an 'historic painting.'"
Komposition V is a monumental achievement, a huge work (6 feet by 9 feet!) filled with thick black lines and swirling colors. There are moments where a Rorschachian need to find a recognizable image takes over—Is that a person standing in profile in the lower-right corner? I ask myself. And over there—is that a bird? But for all my questioning and squinting, the answer is always the same: there's no subject, or object. The painting is what it is—a thrilling blast of color and line so vivacious that your eyes can't possibly stay still long enough to focus on any single detail. It's amazing. And Kandinsky is right: if it was the world's first abstract picture, it would indeed be "an historic painting," and for decades it was celebrated as such by many art historians.
But what if it isn't the world's first totally abstract painting? And what if Kandinsky wasn't the first abstract artist?
Let the arguments begin.
*
This question of the birth of abstraction seems small—perhaps even pointless—at the outset, but it has big consequences. First, it would have been a ballsy move for an artist to paint for the sake of painting, not for representation or storytelling purposes. So, consider how freeing this must have been, too, for artists in the early 20th century: You want to paint a canvas with a blob of red paint in the center? Go for it! You don't need to pretend the blob is a flower or a face anymore! And it's not an exaggeration to note that the move toward pure abstraction at the beginning of the century paved the way for the likes of Mark Rothko, Jackson Pollock, Helen Frankenthaler, Agnes Martin, Gerhard Richter, and thousands more of the biggest names in art over the past century. Just as the invention of oil paint revolutionized the medium centuries ago, the development of abstract art changed the course of art history though our contemporary era.
No longer was it necessary to paint a mountain exactly as it was seen with the naked eye; instead you could represent it based on your emotions or your personal perception of it.
Although abstraction might be considered a hallmark of 20th‑century aesthetics, its roots took hold in the 19th century. In the last decades of the 1800s, many notable artists were preoccupied with experimentations aimed squarely at challenging the tried‑and‑true traditions associated with painting—think Paul Cézanne's flattened landscapes that distort space, or Claude Monet's myriad works detailing the effects of light. Though these artists didn't create abstract art per se, with these experimentations they established a visual precedent for tweaking the appearance of a subject in order to progress beyond the limits of Realism. As such, their images were abstracted. No longer was it necessary to paint a mountain exactly as it was seen with the naked eye; instead you could represent it based on your emotions or your personal perception of it. "Painting from nature is not copying the object; it is realizing one's sensations," Cézanne once famously said. The irresistible siren calls toward total abstraction had begun, though it would take a generation to fully blossom.
A fascination with moving beyond the limitations of sight was not only in vogue in the art world in the late 19th century, it also infused other realms of Western society, buoyed by the optimism and the massive change brought on by the Industrial Revolution. Imagine the promise and the excitement of this period, where anything could happen. Indeed, the world felt new, jazzed up by scientific discoveries and dazzling inventions of the era and the decades that followed. Fossils! The electric light! Photography! X‑rays! The atom, for goodness sake! The invisible was suddenly made visible thanks to these developments, and such previously unfathomable achievements brought more questions to the surface: What else might we not be seeing? What lies beyond the scope of our vision?
These questions, to be fair, have always been asked, regardless of scientific advances—but until the 19th century, their answers were typically only guessed at, or asked within a particular context: religion. Some might think it odd that the same half century that begat a great rush of scientific advancement also produced a resurgence in religious—particularly Protestant—evangelism. When viewed through a capacity of curiosity, however—what lies beyond the scope of our vision?—it doesn't feel like such a stretch. In fact, this mode of questioning had long been the purview of religious faith. And as many 19th‑century societies shifted in ways previously unimaginable—with the dissolution of traditional communities at the behest of urbanization, for example—people were undoubtedly uneasy. They needed something to assuage their fears, something bigger to believe in. Hence there was a notable uptick in religious fervor during this era.
Spiritualism provided a tempting link between science and religion, adopting aspects of both to create a hybrid doctrine combining connection to the afterlife with tangible proof of that afterlife.
In the mid‑1800s, however, an all‑new belief system—some even called it a religion, though others balked at the term—combined fascination with the spirit world and in the "proof" of its existence via communication with the dead: Spiritualism. Spiritualism, a popular movement whose followers believed in the ability to communicate with otherworldly beings, began in the 1840s with the table rappings of the infamous Fox Sisters, who claimed a direct line of contact with ghosts in their purportedly haunted home in Hydesville, New York.
As their fame grew, so did the concept of Spiritualism as a whole—Spiritualism provided a tempting link between science and religion, adopting aspects of both to create a hybrid doctrine combining connection to the afterlife with tangible proof of that afterlife. Even after one of the Fox Sisters confessed in the 1880s to perpetrating a "rapping" hoax, the belief system continued to soar in popularity for several decades to come, inspiring curious minds from Queen Victoria, Pierre Curie (husband to Marie, who was notably skeptical), and Arthur Conan Doyle, creator of Sherlock Holmes.
In truth, Spiritualism—though defined, codified, and popularized in the 1800s—has long been a great influence in art history. Artists have frequently claimed a touch of some unknown, intangible force guiding them toward creation; the ancient Romans believed in the existence of creative spirits, or genii, who inhabited the walls of an artist's home or studio and secretly shaped the outcome of a work of art (the transference of the term genius from a spirit to an artist himself/herself is a meaningful one as art became more of an individual, glorified undertaking during the Italian Renaissance).
Even Albrecht Dürer, the supreme German Renaissance painter, printmaker, and draughtsman, believed that his own self‑portrait (1500, Alte Pinakothek, Munich) was divinely sanctioned, a notion further highlighted by the artist's decision to model his appearance and gesture on medieval depictions of Christ. In each case, spiritual or divine inspiration motivated an artist toward action.
At the height of Spiritualism's rise, however, there came a twist to this time‑worn concept: What if an artist was merely a vehicle for a spirit's artistic creations? Ghost art, you may mutter snidely, and I hear you: it seems a bit far‑fetched, to say the least. But some Spiritualists claimed that they were creative vessels for the dead, producing works of art not of their own accord, but of a ghost's. As if that's not interesting enough, two of the most prominent Spiritualist artists may have even made history, with the help of their otherworldly, artsy guides.
In the summer of 1871—when Wassily Kandinsky was but five years old and toddling around Odessa—Georgiana Houghton (1814-84) was busy preparing for the opening of her very first art exhibition, Spirit Drawings in Water Colors, to be held at the New British Gallery on London's Bond Street. The prolific artist, a relative unknown at age 57, had prepared 155 intricate watercolors alive with swirls of bold color and magnificently layered spiral forms, like tiny vortices meant to draw the beholder into their roiling centers. Houghton had toiled for ten years to complete her works, and she was ready to share them with the world—but the world didn't seem too ready to receive them.
A significant reason behind the exhibition's failure was the artwork itself: though artistically proficient and technically stunning, her paintings were strange and unknowable to the general public.
Having had trouble finding a gallery receptive to presenting her works, she rented the New British Gallery with her own meager funds and produced her exhibition independently (gotta love the confidence of this woman!). Everything was carefully considered: the layout of the exhibition, the frames Houghton rented specifically for the occasion, even the self‑produced catalog replete with an introduction to Houghton's symbology and artistic philosophies. For four months, she championed her own work, even spending five days a week—from 10am through 5:30pm!—in the gallery, chatting up visitors and offering detailed explanations of her work.
For the most part, it did not go well.
A significant reason behind the exhibition's failure was the artwork itself: though artistically proficient and technically stunning, her paintings were strange and unknowable to the general public. Take, for example, Houghton's 1861 painting, The Eye of God (Victorian Spiritualists Union, Melbourne, Australia), whose imagery is explained by Victorian scholar Rachel Oberter as follows:
[W]e see a tangle of transparent straight, wavy, and spiraling lines flowing out of the left corner of the paper and up from the bottom edge of the page as white filaments float across the surface. No recognizable forms appear; all that is visible are lines and colors—yellow, sepia, and blue. There is an organic quality to the undulations, a sense of microscopic detail, and a feeling of being in a deep‑sea world or otherwise mysterious place. The vagueness of the imagery contrasts with the specificity of the title, which evokes a dense underlying symbolism.
Criticisms of Georgiana Houghton's paintings were fierce: one reviewer even said, "If we were to sum up the characteristics of the exhibition in a single phrase, we would pronounce it symbolism gone mad." Likewise, London's Daily News compared Houghton's spiral scenes to "tangled threads of colored wool," ultimately deeming them as "the most extraordinary and instructive examples of artistic aberration." Even a review that seemed positive on the surface—The Era's arts critic called the show "the most astonishing exhibition in London at the present moment"—was a veiled denunciation: it was astonishing in its inscrutability, its bizarreness. Of the 155 paintings in the show, Houghton sold only one, and the cost of the exhibition was so great that it brought the artist to the brink of bankruptcy.
Houghton's work was the opposite of these popular styles, so it is of little surprise that it was met with such disdain.
To be fair, the dueling artistic vogues in London during this time were the early stirrings of Impressionism—still a barely known entity—and the intricately detailed, narrative‑based paintings of the Pre‑Raphaelites, each of which was representative (and in the case of the Pre‑Raphaelites, figurative). This was particularly true of the Pre‑Raphaelites who favored images of "serious subjects"—love, death, poverty, fine literature, mythology— produced with over‑the‑top Realism. A wonderful example, Sir John Everett Millais's gorgeous Ophelia [1851-52, Tate Britain, London], presents the Hamlet character's suicide with such detail that botanically minded viewers can easily identify the luscious flowers that surround her.
Houghton's work was the opposite of these popular styles, so it is of little surprise that it was met with such disdain. And yet her odd‑ball, nonrepresentational images were only part of the problem. The other half was her inspiration for her paintings: they stemmed, Houghton wrote, from numerous spirits who took over her brush, effectively using her as a medium. She didn't paint these, Houghton declared—spirits did, and she deemed her works "spirit paintings" so as to make their genesis perfectly clear.
__________________________________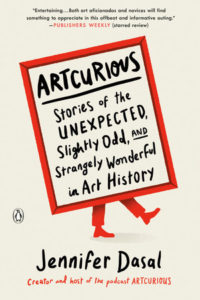 From ArtCurious by Jennifer Dasal, published by Penguin Books, an imprint of Penguin Publishing Group, a division of Penguin Random House, LLC. Copyright © 2020 by Jennifer Dasal.
---