Walter Mosley: When I'm Telling a Story I Imagine the Eavesdropper Over My Shoulder
The Author of The Awkward Black Man Takes the Lit Hub Questionnaire
Walter Mosley's The Awkward Black Man is available now, so we asked him some questions about audience, interviews, and writing advice.
*
Who do you most wish would read your book?
I once explained my audience by saying that I imagined being on a train or a bus sitting side by side with my favorite older cousin, Alberta Jackson. I'd be telling her stories about Easy Rawlins or his murderous friend Mouse. She'd be all excited and worried about Easy.
Sitting behind us is some person we don't know and aren't thinking about. That unknown person is my audience. They're eavesdropping on my story and responding in ways I have no idea of. That way my writing, storytelling cannot be swayed by opinions external to the world I'm talking about.
What do you always want to talk about in interviews but never get to?
I can't come up with the questions I wish others had asked. This is because there aren't specific topics I need covered. What I want is the deepest possible discussion about the world I'm presenting. Most interviews are pretty cursory. What do I think about… whatever?
I remember once, quite a while ago, I was being interviewed by Studs Terkel. He knew my writing better than I did. I had to struggle to keep up with the ideas he had about his own history and my stories. I want that but I don't expect it.
What time of day do you write?
First thing when I wake up in the morning.
How do you tackle writer's block?
I start writing something else.
Which books do you return to again and again?
One Hundred Years of Solitude, The Stranger, The Simple Stories, and about a thousand poems. I'm also a sucker for the first hundred issues of the Fantastic Four and Spider-Man.
Which non-literary piece of culture—film, tv show, painting, song—could you not imagine your life without?
Music. Ten thousand songs and compositions that had a hold of my heart before anything else.
What's the best writing advice you've ever received?
Right after I signed the deal to publish Devil in a Blue Dress my friend Frederic said to me, "Start writing a new book. Finish that before this one comes out. Doing so you will have finished what you wanted to write without worrying about what everyone else loved or hated."
What was the first book you fell in love with?
Winnie the Pooh. Because it took me away into my own imagination.
__________________________________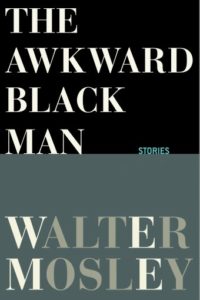 The Awkward Black Man by Walter Mosley is available now from Grove Atlantic Press. 
---