Walt Whitman Had Some Thoughts on Sex
"What Do You Call Free Love? There's No Other Kind of Love"
Toward the end of Walt Whitman's life, the writer Horace Traubel visited him often at his home in Camden, New Jersey, and recorded their conversations on friendship, family, the Civil War, literature, and other topics, producing thousands of pages of transcripts in total. In Walt Whitman Speaks, editor Brenda Wineapple offers selections from their conversations, including these on sex.
*
Damn the expurgated books! I say damn 'em! The dirtiest book in all the world is the expurgated book!
Sex is a red rag to most people. It takes some time to get accustomed to me, but if the folks will only persevere they will finally feel right comfortable in my presence. "Children of Adam"—the poems—are very innocent: they will not shake down a house. A man was here the other day who asked me: "Don't you feel rather sorry on the whole that you wrote the sex poems?" I answered him by asking another question: "Don't you feel rather sorry on the whole that I am Walt Whitman?"
*
All this fear of indecency, all this noise about purity and sex and the social order and the Comstockism particular and general is nasty—too nasty to make any compromise with. I never come up against it but I think of what [Heinrich] Heine said to a woman who had expressed to him some suspicion about the body. "Madame," said Heine, "are we not all naked under our clothes?"
*
We have got so in our civilization, so-called (which is no civilization at all) that we are afraid to face the body and its issues—when we shrink from the realities of our bodily life: when we refer the functions of the man and the woman, their sex, their passion, their normal necessary desires, to something which is to be kept in the dark and lied about instead of being avowed and gloried in.
*
The body is stubborn: it craves bodily presences: it has its own peculiar tenacities—we might say aspirations as well as desires.
*
Obscenity? Obscene? Oh! Is the surgeon's knife obscene? It might just as well be said of the one as the other. This is a picture to the life, a cut to the bone. It is not a pleasant book: it is horrible, horrible, in its truth, its graphic power.
*
There was one of the department heads at Washington who conceived a great dislike for the word virile—gave out orders that it should not be used in any of the documents issuing from that department. I was very curious about it, and asked him once how his antipathy (and it was a virile antipathy!) arose. He said that he hated the word—that it called up in him images of everything filthy, nasty, vile. It was very amusing. I remarked to him: "Did it never occur to you that the fault is in you and not in the word? I use the word—like it—and am never once brought by it into touch with the images you speak of." But he was obdurate—remarking only: "Well—whatever: I won't have it! I hate the word!" And yet he was a man of force, filled his place well, in all the usual ways was sound and sensible.
*
I often say to myself about Calamus—perhaps it means more or less than what I thought myself—means different: perhaps I don't know what it all means—perhaps never did know.
*
Any demonstration between men—any: it is always misjudged: people come to conclusions about it: they know nothing, there is nothing to be known; nothing except what might just as well be known: yet they shake their wise heads—they meet, gossip, generate slander: they know what is not to be known—they see what is not to be seen: so they confide in each other, tell the awful truth: the old women men, the old men women, the guessers, the false-witnesses—the whole caboodle of liars and fools.
*
"Calamus" is a Latin word—much used in Old English writing, however. I like it much—it is to me, for my intentions, indispensible—the sun revolves about it, it is a timber of the ship—not there alone in that one series of poems, but in all, belonging to all. It is one of the United States—it is the quality which makes the states whole—it is the thin thread—but, oh! the significant thread!—by which the nation is held together, a chain of comrades; it could no more be dispensed with than the ship entire.
*
I have heard nothing but expurgate, expurgate, expurgate, from the day I started. Everybody wants to expurgate something—this, that, the other thing. If I accepted all the suggestions there wouldn't be one leaf of the Leaves left—and if I accepted one why shouldn't I accept all? Expurgate, expurgate, expurgate! I've heard that till I'm deaf with it. Who didn't say expurgate? Rossetti said expurgate and I yielded. Rossetti was honest, I was honest—we both made a mistake. It is damnable and vulgar—the mere suggestion is an outrage. Expurgation is apology—yes, surrender—yes, an admission that something or other was wrong. Emerson said expurgate—I said no, no. I have lived to regret my Rossetti yes—I have not lived to regret my Emerson no. Expurgate, expurgate, expurgate—apologize, apologize: get down on your knees.
*
Emerson was quite vigorous in talking about the critics—talking with me: he said: "I seem to mystify them—rather mystify than antagonize them": which I guess was true. I seem to make them mad—rile them: I mystify them, too, but they don't know it: they only know I am vile, indecent, perverted, adulterous.
*
The world now can have no idea of the bitterness of the feeling against me in those early days. I was a tough—obscene: indeed, it was my obscenity, libidinousness, all that, upon which they made up their charges.
*
It has always been a puzzle to me why people think that because I wrote "Children of Adam," Leaves of Grass, I must perforce be interested in all the literature of rape, all the pornography of vile minds. I have not only been made a target by those who despised me but a victim of violent interpretation by those who condoned me.
*
What do you call free love? There's no other kind of love, is there? As to the next step—who knows what it means? I only feel sure of one thing: that we won't go back: that the women will take care of sex things—make them what they choose: man has very little to do with it except to conform.
*
I think Swedenborg was right when he said there was a close connection—a very close connection—between the state we call religious ecstasy and the desire to copulate. I find Swedenborg confirmed in all my experience. It is a peculiar discovery. It was Burns—Whittier's friend Burns—who said in a couple of lines of one of his poems, I'd rather cause the birth of one than the death of 20! And that would be my doctrine, too!
*
We have gone on for so long hurting the body that the job of rehabilitating it seems prodigious if not impossible. The time will come when the whole affair of sex—copulation, reproduction—will be treated with the respect to which it is entitled. Instead of meaning shame and being apologized for, it will mean purity and will be glorified.
*
The woman who has denied the best of herself—the woman who has discredited the animal want, the eager physical hunger, the wish of that which though we will not allow it to be freely spoken of is still the basis of all that makes life worth while and advances the horizon of discovery. Sex: sex: sex: whether you sing or make a machine, or go to the North Pole, or love your mother, or build a house, or black shoes, or anything—anything at all—it's sex, sex, sex: sex is the root of it all: sex—the coming together of men and women: sex: sex.
__________________________________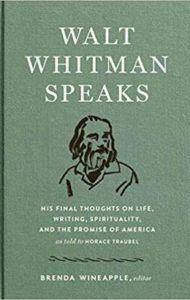 Walt Whitman Speaks: His Final Thoughts on Life, Writing, Spirituality, and the Promise of America as told to Horace Traubel, edited by Brenda Wineapple (Library of America).
---