Wall Street's Problem is Silicon Valley's Too
In 2019, Wendy Liu Paints a Grim Portrait of Economic
Difficulties to Come
For a long time, I clung to the idea that Silicon Valley was morally better than Wall Street. Even as my tech optimism began to crack and the two industries got more interdependent, I still firmly believed that they were qualitatively different. At least Silicon Valley tried to be a meritocracy, unlike the old boys' network of Wall Street. At least Silicon Valley tried to do good in the world, unlike those bankers who were motivated by greed. It's kind of funny, then, to discover that people on Wall Street say eerily similar things about their industry that Silicon Valley apologists say about theirs.
Karen Ho's book Liquidated—an ethnography of Wall Street, published soon after the onset of the 2008 financial crisis—is a marvelous case study in the myths that people will tell themselves to justify what they do. Some on Wall Street would say that it is a meritocracy, where no one cares about your race or gender or family name as long as you're smart and willing to work hard. And some would say that even if people on Wall Street get to make a lot of money—and, yes, are sometimes driven by greed—the industry as a whole is a net positive, because it provides liquidity and discipline to the rest of the economy.
Sure, there are occasionally unfortunate consequences, like mass layoffs after a company has been taken over by private equity and asset-stripped, but that's just the cost of efficiency. And anyway, look at all these smart people with prestigious degrees repeating the importance of maximizing shareholder value—they can't all be wrong.
In the wake of the financial crisis, disillusionment with Wall Street spread pretty quickly. It became clear that all the rhetoric about Wall Street's positive impact on the world was more marketing than fact, and people stopped believing the story that Wall Street told about itself. We couldn't rely on those same institutions to get us out of that mess—they were too invested in the current system being the way it is.
Now, I think people are starting to feel the same way about Silicon Valley.
The problem with the tech industry—and the reason its rise has been so beneficial to Wall Street, even as individual companies claim to be disrupting the banks—is that it's part of the same system that gave rise to Wall Street. Financial incumbents may occasionally find themselves disrupted, but Silicon Valley is not disrupting the power of finance as a whole: it's not challenging financialization, much less reducing the power that capital holds over our lives. Rather than decentralizing power in a meaningful way, Silicon Valley aims to dethrone the powerful in order to take their place.
And this is not a problem that can be fixed simply by having more adults in the room. The problem isn't that the industry is run by unsupervised nerds making bad decisions with impunity; the problem is that any possible supervision only exists within a narrow band of possibility. The problem is the structure in which decision-making power rests with such a small group of people, with such a small window for accountability.
Capitalism as usual won't fix the problems, because the internal feedback mechanism is inadequate by design—those who are served poorly by the system are dispossessed of their capacity for political contestation. The only way out is a rupture of some kind, a disruption of the status quo.
It's 2019 . . . Whispers of another recession abound. Whatever happens, it will likely hit younger generations hardest.
One way to view the current stage of our economic system is as adolescence. Capitalism may have been an improvement on its predecessor, but that doesn't mean we need to keep it around forever. No mode of production exists in a vacuum, after all; a good one is designed to suit the needs of the world in which it exists. Sometimes things change, and you have to adjust the rules to fit the material needs of the current conjuncture. Adolescence is a necessary stage, but eventually you have to grow up.
Here's what we have now: a rapidly diminishing natural world, where unfettered resource exploitation is on track to destroy the ecosystems that sustain us; and a broken social order, where some have more resources than they could use in a lifetime while others have almost nothing. And yet, our mode of production tolerates all this because its priority is encouraging corporations to do whatever the hell they want as long as they remain profitable.
Things have gotten to the point where the focus of our economic system seems increasingly misaligned with social need—the positives are getting diminishing returns, and the downsides are piling up. Perhaps it's time to change our priorities and move over to something new.
*
It's 2019, and I now live in San Francisco. There was a time when I wanted nothing more than to move here as part of the growing wave of tech professionals. Now, though, I have no inclination to work in the tech industry; instead, I'm writing a book calling—only somewhat jokingly—for its abolition.
It feels odd to be here again after my whiplash-inducing personal transformation. I don't see things the same way anymore, and I don't want the things I used to want. I walk past the offices of venture capital firms and where I might have once responded with reverence, I now only feel disgust. The constant startup billboards for cryptocurrency exchanges or marijuana delivery apps are sickening.
Parks and transit centers that would otherwise be perfectly lovely are emblazoned with the logos of tech giants, serving as constant reminders of a system that prioritizes corporate greed over public good. And most of all, that all this is shot through with flashes of staggering poverty is infuriating.
Whispers of another recession abound. Whatever happens, it will likely hit younger generations hardest; an Atlantic article reports that the next recession will destroy millennials. But that pain won't be shared equally—some millennials will fare better than others. The piece quotes a Credit Suisse report on the nature of global wealth distribution, which acknowledges that millennials are less financially well off than their parents overall, but suggests that a tiny proportion of them could overcome their generational disadvantage. Those overcomers are described as "high achievers and those in high-demand sectors such as technology or finance".
When the floodwaters rise, the drawbridge pulls up, leaving everybody outside the castle to drown. When Credit Suisse talks about those working in high-demand sectors, we all know that they don't mean everyone working in those sectors—it's a euphemism that everybody accepts. We know who actually benefits from the money in booming sectors; we know that every sector has a divide between the well-paying jobs that will insulate you from economic insecurity, and the poorly-paid jobs that will never get you inside the castle.
One afternoon I share a Lyft Line with a passenger who's on his way to the warehouse of a lesser-known gig economy company, where he works as an independent contractor. He explains that he got called in for his shift last-minute, and he's taking a Lyft because public transit won't get him there in time. As we cross the Bay Bridge, sunlight glinting off the canted suspension cables, the passenger waxes poetic about how much he loves his job. They provide dinner before the night shift! The pay is above minimum wage! Once he got injured on the job and was paid for the entire day even though he got to leave early! He sounds genuinely jazzed about his employer. Our driver looks intrigued and asks for details.
I think about the monstrosity of a society where it's accepted that most companies do the bare minimum for their workers, and it's considered a delightful surprise when they do even slightly more. I think about the gig workers who have been killed on the job, whose families are apparently owed nothing by the company that profits from their work. And I think about the shareholders of these companies—founders, investors, early employees—who are going to cash out massively when their company gets acquired or goes public.
As the tech industry booms, so does the Bay Area's housing crisis. Houses aren't being built fast enough to counter the increase in demand by homebuyers and would-be landlords looking for a safe investment vehicle; in 2019, the median home price in San Francisco was $1.3m for condos and $1.7m for single-family homes. At the same time, the city counts between 8,000 and 10,000 homeless residents, depending on how you define the term; the broader Bay Area counts over 20,000. There are no numbers on how many people who would have preferred to stay here have been priced out.
This is what happens when global capital, funneled into a local industry, meets a housing policy landscape that is simultaneously pro-developer and anti-development. In a city where the average one-bedroom apartment rents for over $3,000 a month, and new builds tend to be luxury buildings marketed at the upwardly mobile, most units being built are completely out of the reach of anyone without family money or previous startup success.
Financial incumbents may occasionally find themselves disrupted, but Silicon Valley is not disrupting the power of finance as a whole.
Though developers are required to set aside a certain percentage of new units as affordable housing—usually around 20%, waivable by paying a small fee—what counts as "affordable" in San Francisco is a little unreal. A family of four that wishes to qualify for the program must be making under the area median income of $118,500, and also must have enough saved to afford the down payment on a several hundred thousand dollar home. And even with those restrictions, there aren't nearly enough houses to satisfy demand—in 2017, there were 85,000 applications for only 1,210 units.
Most of the housing debates here bounce between two poles, NIMBYism (Not In My Backyard) and YIMBYism (Yes In My Backyard). The mainstream assumption is that you're either a pro-developer YIMBY, or you're selfish and don't want any new houses to be built. The pro-developer argument goes something like this: if developers are permitted to build enough new units to meet demand, then supply and demand will equalize, and prices will stabilize; eventually, the housing crisis will fix itself. In the meantime, it's sad that people are being priced out of their homes, but the best way to fix it is to allow the market to do what it does best.
But what is the market really good at optimizing for? Given the current excess of global capital, the market's most pressing task is finding new investment opportunities. From the point of view of the market, housing is primarily an asset and only secondarily a place to live—exchange value takes priority over use value. Buying a house is considered an uncontroversial investment vehicle: you rent it out to pay the mortgage, then flip it to reap that appreciation when you need liquidity again. The more precarious and price-gouged your renters, the more liquid and lucrative your asset. Capital doesn't shed tears when people are made homeless or impoverished in the process of trying to keep their home.
No wonder the homeless population keeps growing here, just as it is in other cities where housing's status as an asset attracts global wealth looking for a safe place to park. After all, housing can't be simultaneously an asset and a human right; safeguarding capital's right to a return requires the ability to evict people if they don't comply with capital's demands for a tithe of their income.
Capitalism governs through a mix of carrot and stick, and this particular city—the epicenter of capitalism run amok—is a sordid blend of tantalizing dangled carrots and very sharp sticks. There are plenty of opportunities to become fabulously wealthy, but it's also very punishing to be poor.
It's not all bad here, though. Walking around the city reveals defiant enclaves of hope that have resisted displacement despite wave after wave of capital. Murals about solidarity and resistance adorn walls in the Mission district, and Coit Tower still has its New Deal-era murals depicting the 1934 general strike.
Wedged between startup offices in SoMa and the Mission are union offices and hiring halls, a memento of a different chapter of labor history. Schools and streets bear the names of labor organizers and social activists fighting for a different world than the one in which they grew up. And signs of support for workers who have unionized at a local brewing company are sprouting in the windows of seemingly every bar in the vicinity.
As tiny as these seeds are compared to tech's leviathans with their fountains of money, it's a nice reminder that things don't have to be this way. If you're disillusioned, you're not alone. Silicon Valley's tech-inflected brand of capitalism is only the latest battleground in a long war; others are doing what they can to push back, and they've been doing this for a long time.
__________________________________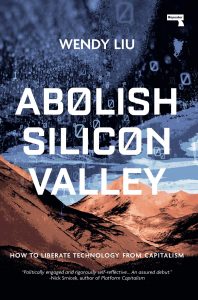 This is an excerpt from Wendy Liu's Abolish Silicon Valley: How to Liberate Technology from Capitalism, out this month from Repeater Books. Find Wendy on Twitter @dellsystem.
---