Voting is Still One of Our Most Powerful Tools For Change
John Freeman on How Every Election is a Chance to Rebuild
A vote is the difference between a citizen and a subject. The powerful used to be able to say to all and sundry, You must; a vote says to the powerful, No, you must listen.
Thus begins, in many places, the modern world.
For a long time the powers that be have turned an ear toward the people—because every two to four years, those voters are waiting for them. Everywhere the vote has traveled, so has a sense of accountability. If you are greedy or corrupt or abuse your power or ignore the needs of citizens, there's a chance you will be voted out.
So there has been a move, from the very beginning of the vote, to restrict who has the power to use it—to plane down the realm of responsibility. From the beginning, in most places, it was just men with land who could vote; then it was just men; then it's all those men plus women. The history of many liberal democracies is this story—at least in part: the drive toward greater inclusion.
Now we are swinging the other way. Most of our societies are so top-heavy—literally crumbling under the weight of an oligarch class whose interests are vastly overrepresented—that the only way for them to function is to reduce or even cancel the vote. Were people to vote at higher percentages, power would lose. So the vote itself has to come under attack.
Some of these assaults are soft and accomplished through suggestion. A foreign power or even a candidate may put out that the vote is rigged, stoking the already understandable apathy. In many two-party systems, the candidates themselves play a game in debates, provoking just enough apathy to shave off voters from each other's total. These subtractions can be accomplished with targeted messaging, too.
A voter is a mighty thing; a single voter has decided elections. A single voter has led to sweeping social change.
Apathy, however, is not enough to keep the powers that be in their seats. So voters literally have to be removed from rolls. Those who haven't voted in years are scrubbed from voter rolls; new laws are passed to make it harder to vote—paperwork is needed, appointments required. These rules target poor and overworked people, minorities, and those who have an unhappy relationship with the law's surgical precision. Sometimes "accidents" happen: you turn up to vote and your name isn't on the rolls. On it goes. Districts are drawn and redrawn, especially in America, to make it especially difficult for one of the parties to win. Both parties have used this tool. In some cases, the police are brought out: nothing turns some voters away from a polling center like two or three squad cars parked, lights flashing. False messages are spread about polling time, about laws. Polling stations are moved across town to someplace inconvenient. In one recent election, a candidate illegally installed cameras inside polling stations. In the worst cases, people are beaten, chased away. Called and threatened. The history of voter suppression is told through the bodies of citizens.
Voting isn't entirely fair; it's only a partially decent enterprise. Yet it's the best one we've created for channeling civic participation.
The very first responsibility that comes with a vote, then, ought to be the awareness that it needs to be protected and constantly improved. A great many people are handed the right to vote, and it never occurs to them that it will be taken away. This fact needs to be taught to children—who have an instinct for fairness—when they first learn history and government. Many schoolbooks ask teachers to present the right to vote as an arrival point, a destiny of civic society, when in fact the vote is simply an element allowing a civic society to function. You corrode the vote and hope will go dark.
Social scientists have found that in the absence of mandatory voting, some people will always need to be coaxed to the polls. They are old, or indigent, or depressed, or lonely, or apathetic, or just simply not engaged. They don't have a ride, or they are too busy; they aren't feeling well, or they have better things to do. So volunteers need to walk door-to-door to speak with them about upcoming elections. To agitate democracy to life. Imagine if instead of 55 percent of people voting, 90 percent did. Imagine if this were a celebratory part of every civics class taught round the world—children escorted by an adult or two around neighborhoods reminding people to vote, with no partisan agenda? What sort of accountability would a candidate face? Who can face down the civics equivalent of a Girl Scout cookie sale?
This kind of ceremony feels like just the beginning of a series of changes that could protect the vote. Any government that refuses to consider them is sending up a red flag. Why isn't voting mandatory? Why isn't registration automatic, say, when you get a driver's license or a state ID? Why isn't voting a national, state, and local holiday with required paid leave? Why isn't public transportation free on voting days? Why can't you vote online? Almost every single study of voter participation tells you these elements will increase turnout. Ask yourself why your local and federal governments are not following these simple questions.
The only answer to continued resistance to these changes is to run. To run yourself. Governments in some parts of the world know that the financial barriers to candidacy are often so high that they can essentially neglect their constituents. Indeed, there's a cycle to voter suppression, one made worse by the corruption of elections through the politics of money. Certain populations are said not to vote, so candidates from those backgrounds and areas can't run because they do not get the money to run. Even when they do get the money to run, their opponents know just which demographics to push down on, whom to scrub from voting rolls. The nakedness of this control mechanism can vandalize any kind of optimism.
Yet each election is a chance to rebuild a politics of optimism. Each candidate is a chance to defeat the cynical politics of voter suppression. So if your vote is being ignored, run. One of the extraordinary aftereffects of the Me Too movement has been a huge surge in female candidates. If government cannot be trusted to protect the rights of women, let alone a woman's right to choose, then the thing to do is to run. Nearly five hundred women ran for congressional primaries alone in 2018 in the United States, which led to the most diverse Congress ever elected, one that looks a lot more like the nation it represents. In a world knitted by social media and crowdsourced funding, smaller candidates have greater weapons than ever in elections. It is possible to run for office without taking major donations or beginning with enormous ad buys. 
A cynic might say here that even if someone enters elected office with the noblest of intentions, the politics of power and money will eventually corrupt them. In a world in which most elected officials make terrible compromises, that may be so. Here's why we need a revolution of how we approach civic life, though, and who gets to be involved. Imagine if in coming elections, candidates win who are not corrupted, who were themselves once voters so outraged they ran for office; imagine if a great many of them refused the kinds of strings-attached donations that have led us to the point we are in now, where elected officials say one thing and vote another way on key legislation. What if so many people like this get elected that it's impossible to buy them all—also because they refuse. What would be possible then?
A vote is the most important way to ask, Are you hearing us?
The ubiquity of money in politics today, especially in America, means that one of the most powerful statements a candidate can make is, I won't take the money. Voters can signal their desire for this. Peer pressure can, in fact, drive it. Voters can also protest for it. Have you ever watched an election in which one candidate changes a position under duress so that their opponent holding it loses that advantage? With the right amount of protesting and public service ads and a strategic use of social media, voters can make it known that refusing dark money in elections is a must.
These types of changes are necessary to lend power back to the voter. A voter is a mighty thing; a single voter has decided elections. A single voter has led to sweeping social change. A single vote, in, say, a justice system ruling, has led to the overturning of some of the worst and most discriminating practices in many of our societies. A common judicial ruling tally is 5–4. That vote was made possible by your vote. A candidate who talks only of himself gives fair warning that he does not understand this fundamental truth. Change is always driven by and stems from people. The elected official—the person later seen as heroic—often has done something quite simple, decent, and just. People bring to politics an understanding of what they need and how they live. This should not be so hard. Yet society has shown that preserving this relationship requires constant vigilance and questioning. A vote is the most important way to ask, Are you hearing us?
__________________________________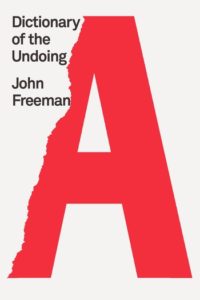 From Dictionary of the Undoing by John Freeman. Used with the permission of Via MCD X FSG Originals.
---