Valerie Jarrett on 26-Year-Old Michelle Obama's Unforgettable Job Interview
And Dinner with a Political Super Couple-to-Be
The idea that black people need to work twice as hard and be twice as good has been repeated to us time and again. We've absorbed it into our bloodstream. It's become second nature. But for a phrase that's become so commonplace, we often leave out an important part: yes, work twice as hard, so that you can be twice as good, but you need to be lucky, too.
Luck plays an enormous role in all our lives. Working twice as hard earned my father his medical degree, but it was luck that he happened to know a man who happened to know about a job offer in Iran, which was the opportunity that began to allow him to flourish. If you're not working hard, you won't be in a position to take advantage of luck when it comes your way, but you still need the luck. And in the summer of 1991, during the brief four-month window while I was busy working twice as hard as Mayor Daley's deputy chief of staff, luck landed on my desk.
Plowing through my ever-growing pile of incoming mail, I saw a handwritten note from Susan Sher, by then the city of Chicago's top lawyer and one of my best friends, attached to a résumé. It read, "Very impressive! Bright, mature, interested in public service. Does NOT want to practice law. Please meet with her." Quickly scanning the résumé, it was obvious why Susan had sent it my way: a 26-year-old Chicago native, cum laude grad of Princeton, Harvard Law alum, and now second-year associate at the law firm of Sidley Austin.
The name at the top was Michelle Robinson.
I called Michelle in for an interview, and when she walked into my office, I was immediately struck not just by her appearance—tall, strikingly beautiful, simply dressed, with her hair pulled back and barely a hint of makeup—but also by her composed demeanor. She had a firm handshake, made direct eye contact, and exuded a confidence that I had rarely seen in anyone so young.
All the other candidates I'd interviewed had tried to impress me by hard-selling their strengths. Michelle let her résumé speak to her credentials and instead told me about her background growing up in a working-class neighborhood on the South Side of Chicago. Her father, a blue-collar worker with the city's water department, prided himself on working hard even as he endured multiple sclerosis. As she described his involvement as a precinct captain in ward politics and his love for this city, it was clear the loss of her father a few months earlier was still fresh and painful.
We compared stories about shared experiences, such as the drudgery of law firm life, the gift of being raised by happily married parents, and being instilled with a sense of responsibility to give back. Michelle talked less to impress than to simply inform. We also talked about loss of young people we loved. Her best friend from college had died too young from cancer. My younger cousin, Jackie Cook, had been killed in 1981 by a drunk driver during the summer after her freshman year in college.
About 30 minutes into what was supposed to be a 20-minute interview, she got down to business. Innocuous questions that any job candidate might ask, such as the responsibilities of the position, turned into a rigorous and thoughtful grilling. "How many staff are you going to have?" "What will the organizational chart be?" "What kinds of projects will be assigned to me, and who will make those assignments?" "What will happen if I disagree with a decision of Mayor Daley?"
Her questions made me uncomfortable. Not because they weren't perfectly legitimate, but because no one had ever asked them before. I was so used to people selling themselves to me that I was both startled and impressed by the ease with which Michelle turned the tables. What an unusual young person, I thought. To be able to realize that it was as important for her to want to work with me as it was for me to want her showed a maturity I certainly didn't possess at her age.
After well over an hour had passed, with meetings stacking up, I was running way late, and I am never late. I straight up offered her the job. Which I had no authority to do! I hadn't talked to David Mosena, the chief of staff, or the mayor. But I was so impressed with Michelle Robinson that I blurted out an offer on the spot. I could tell she was perfect for the job. She exuded competence, as well as character and integrity. It was also clear that her moral compass pointed only in one direction: true north. And, I really liked her. Wisely, Michelle said she needed to think about it.
The young couple shared my passion for public service but were unsure how best to serve.
A few days later, I called Michelle to check in and see if she was ready to accept my offer, which by then I had cleared with my bosses. She got right to the point; she had talked it over with her fiancé, and he had some serious reservations.
What?
Thinking she and I had really clicked, I wasn't expecting that wild card. All the other applicants were clamoring for a job in the mayor's office.
"Who the hell is your fiancé?" I blurted out. "And why do we care what he thinks?"
With a disarming laugh, she said, "His name is Barack Obama, and he thinks the mayor's office could be a dangerous place to work. We're a team and make all big life decisions together."
Barack Obama. I'd heard of him. I didn't know him personally, but there weren't many black lawyers in the country who hadn't heard of the first black president of the Harvard Law Review in its then 104-year-history. He also had received some local attention as a successful community organizer on Chicago's South Side before he went to law school. Plus his name is not one you forget.
Michelle said that she and Barack, who had just graduated from law school, wanted to know if I'd be willing to have dinner with the two of them to discuss the job. It was an unconventional request, to say the least. But I really wanted to hire her, and if that's what I had to do to win her over, then dinner it was. What a wise decision on my part!
Within the week I was sitting in a booth across from the young couple at a popular restaurant not far from city hall. From my phone conversation with Michelle, I knew that Barack had recently moved back to Chicago to practice as a civil rights lawyer, and he was wary that Mayor Daley might succumb to machine politics. I understood his reservations, since I, too, had questioned whether the mayor would remain committed to Harold Washington's progressive ideals, so I'd come armed with a slew of arguments to convince them this was the right job for Michelle. But instead of launching into hardball questions about, say, the mayor's plans for the city's decaying neighborhoods, or employment resources for the residents, Barack started by simply asking me, "Where are you from?"
"Chicago," I answered.
"Were you born here?"
I took a deep breath, as I always did whenever I was asked this question.
"No, I was born in Iran," I said.
Typically, at this point in any conversation, I'd receive a look of surprise, followed by a series of banal questions that I'd quickly dispatch so the conversation could move on. But that didn't happen here. Barack smiled and leaned in. He genuinely wanted to know more. He asked thoughtful follow-up questions that proved he was really listening, and I found myself slowly opening up and telling him my story. I described how I arrived in the United States at age five, a redheaded, freckled kid who spoke Farsi, French, and English with an accent, dealt with bullying because I was different, and not surprisingly, just like any kid wanting to fit in. And since I still felt uncomfortable talking about my "exotic" beginnings even as an adult, I suppose I still wanted to fit in.
But Barack's unexpectedly open and curious responses put me at ease. He told me about his own international background and his biracial parents—his African father, who'd abandoned him at the beginning of his life, and the several years of his youth spent in Indonesia with his white mother. He talked about his close relationship with his grandparents, a lot like mine with Pudden.
We discussed memories and ideas that I had previously confided only in my parents—how much we both learned from living abroad, and how we had a different attitude toward the privileges so many Americans take for granted, from civil liberties to clean water. Or how, when we meet a person from another country, or with a different background, we always expect to find something in common, language barrier or not. Appreciating the importance of being willing to search for a common ground. And that we had both figured out early on that while the United States is the greatest country on earth, it's not the only one, and we could, and had, both learned much beyond our shores. As a child I wanted only to blend in, but my conversation with Barack made me feel like I was no longer so unique, for we shared such similar experiences.
Although we had just met, we were already finishing each other's sentences while Michelle listened intently, amused at our bonding session. Finally, as we moved into the third hour of dinner, our discussion turned to city hall. The young couple shared my passion for public service but were unsure how best to serve. Keenly aware of the value of their education and life experiences, they wanted to maximize their abilities to make a positive difference. I delicately told Barack that, although I had enormous respect for his work as a community organizer, there is great value in fighting for the powerless from inside government and that desire is what drove me to join city government.
The paramount concern for both of them was being able to serve the public and stay true to their values. "I will protect you," I said to Michelle. "I will never ask you to do anything you're uncomfortable doing and will stand in the way of anybody who does." I won both of them over, and in the summer of 1991, Michelle joined me in the mayor's office. And in the many years that followed, life has carried the three of us on an extraordinary journey.
__________________________________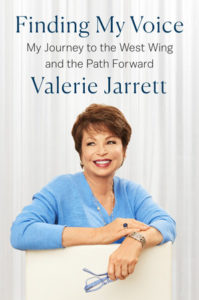 Finding My Voice by Valerie Jarrett, published by Viking, an imprint of Penguin Publishing Group, a division of Penguin Random House LLC. Copyright (C) 2019 by Embarcadero LLC.
---