Ursula K. Le Guin's birthday—yesterday—should be some kind of national book holiday. The literary internet was awash in celebratory remembrances, quotations, miscellany… all of which only served to underline what a brilliant, compassionate, clear-eyed woman she was.
To wit, the ILWU Local 5 shared via Twitter this 1999 letter Le Guin wrote to Powell's Books then-owner Michael Powell (son of the founder, who sat on a board with Le Guin) about the prospect of the store's employees unionizing: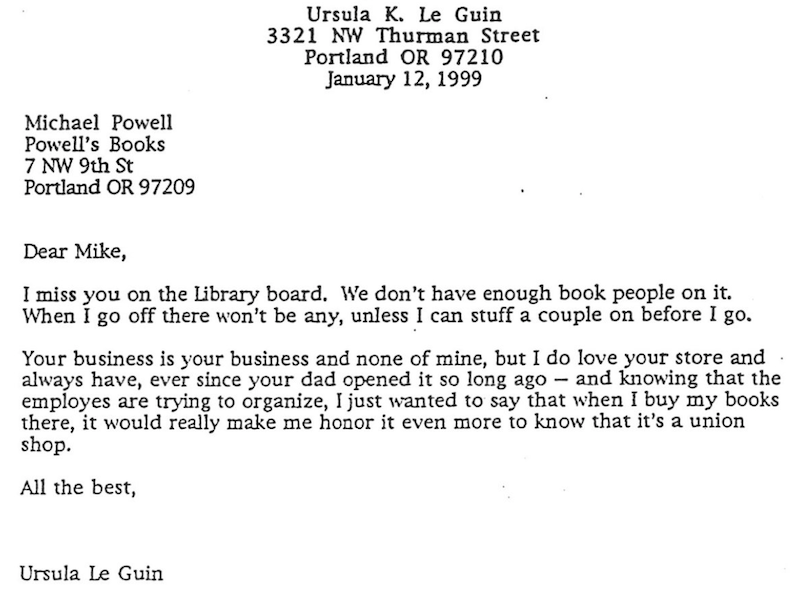 Why is this more than just a historical footnote? Though Powell's booksellers did, in fact, achieve collective bargaining rights under the auspices of the ILWU Local 5, many of them are still fighting for the right to be reinstated to their jobs following Powell's COVID-related closing in March 2020. At the time, it was announced that nearly 350 bookstore workers had been laid-off; shortly thereafter, based on a surge in online orders, Powell's announced, in vague, genial language, that "we have over 100 folks working at Powell again—all full-time with benefits." What wasn't made clear was that half of those restored jobs had been taken up by management, rather than the union workers who'd previously held the positions.
At the heart of the current issue is the status of what are called "recall forms," which are filled out by laid-off workers who want to make sure their jobs are restored should company operations return to normal. Despite agreeing in May 2020 that the recall list of laid-off booksellers had no expiration date, as of this past summer Powell's has declared the recall forms "expired," effectively locking out laid-off union workers from their former jobs. NOT GREAT POWELL'S.
In closing, if you (particularly if you are one of the country's largest independent bookstores) should find yourself wondering if you're doing the right thing, just ask yourself: What Would Ursula Do?
(HINT: "When I buy my books there it would really make me honor it even more to know it was a union shop.")