Untangling My Character's Story of Grief from My Own
Victor Manibo on Loss, Writing, and Unknowing
My father loved books. He raised me in a lower-middle class home in Manila that had no shortage of something worthwhile to read, and he taught me how to love books. He dissuaded me from being a writer, though, at least until I had finished a degree in something more stable, dependable. I did that, waited a few years, and then I wrote.
He never knew that I had started writing—seriously writing—nor that I had sold my debut novel, until after the fact. Painting the plot in broad strokes, I told him that The Sleepless was a futuristic murder-mystery set in New York. He liked the title, he said, his eyes filled with pride. He couldn't wait to read it. Not until it's published, I replied; he'd have to wait a year. He died three months later.
That was last summer. In the days before I lost him, I spent most of my time editing The Sleepless, trying to get it into a form that was more coherent that it was. After all, it is a mystery, and everything had to be tight. The story's central conceit is its world where some people do not require sleep, and the protagonist, Jamie Vega, is one of these hyperinsomniacs. He uses his waking hours juggling his job as a journalist, his multifarious hobbies, and solving the untimely death of his mentor, Simon, who dies in an apparent suicide. The death traumatizes Jamie and brings up old wounds, and Jamie spends most of the story grappling with the layers of his grief. I was deep in the thickets of this story when my own father died of suicide.
Under the circumstances, I had to take a break from writing. The parallels were too close, for one. For another, I felt a deep sense of pointlessness; how frivolous writing seems in the face of death, how frivolous the act of writing about death. Yet I was a debut author who had deadlines, and I couldn't step away from The Sleepless too long. Soon enough I returned to the manuscript, and to steel myself, I compartmentalized: I assured myself the book was drafted years ago and was a separate entity.
Sure, Simon was something of a father figure to Jamie, but they were nothing more than fictional characters. It helped, too, that the story was constrained by what I had already written, which prevented me from being too keenly aware of the parallels. That gave me some distance from what had happened to me, which allowed me to keep working on the manuscript without the endeavor feeling like hell. This worked, at first.
*
There is a chapter in the middle of the book where Jamie undergoes sensory deprivation therapy to cope with Simon's death. In the total silence and darkness of an immersion pod, he goes through a journey of remembrance. He recalls the trauma of seeing a loved one die, the fruitless search for answers, the formlessness of grief. I first drafted that chapter as an abstraction, imagining what someone in that position would feel, infusing it with what I know from secondhand accounts, from portrayals in art.
Returning to those words after my father's death was difficult. Now, it was all real. I was feeling what Jamie felt, asking the unanswerable questions he asked. I was feeling that grief in my own body, and though the words I wrote weren't completely off-base, they were inadequate.
I was never going to know my father's reasons, and that unknowing is closer to the truth.
That feeling of inadequacy made me see an opportunity to make the book better by fictionalizing parts of my own experience. I felt unsure about doing that at first, until I began to accept that, to some extent, that's what every writer does. Short of writing memoir, one is always writing about their own experience. With a debut novel, this autobiographical tendency is often at its fullest. Write what you know, they say. As a first-time author, I might not know much, but I know to stick to the aphorism. I just didn't think that the life experiences that would be available to me would come after the drafting, nor that the experience would be quite so similar.
The surface details were easier to tackle. For example, the scenes after Jamie discovers Simon's lifeless body gained more detail, benefiting from my own experience with the interrogatory gauntlet of police officers, the medical examiners, crime scene photographers and cleanup crews. I was also able to lend verisimilitude to Jamie's initial attempts to find his bearings in the wake of his trauma: the settling of unfinished affairs, the building of a timeline, the questioning of family and friends. My own conversations with relatives made its way into the dialogue, showing the awkwardness of such encounters and the hollowness I felt during them.
The more emotional details were harder to translate into fiction. In editing The Sleepless, I had a chance to revisit Jamie's interior journey as he tried to understand why someone would take their life. In turns, Jamie was shocked, confused, heartbroken, guilty; I'd written in whose emotions in 2018, but now I understood. Now I could bring that journey closer to my own, so I did. As I made changes, I underwent the same journey and found that, through the pain, the words were becoming richer and truer.
Feeling those emotions through Jamie did come with complications. Maintaining a comfortable distance became harder, and I began to doubt whether I could disentangle the story from my own feelings. At one point, I attempted a fundamental rewrite, taking Jamie's story in a direction that concretely provided answers about Simon's suicide. The prospect appealed to me partly because the book was in a genre blend that overlapped with mystery, and doesn't a mystery require solutions? I thought, surely, the story could end with more than answers to the who- or howdunit. It could answer the why too.
The bigger reason, of course, was my desire for answers. It took time and reflection to resist the urge, but I eventually understood that such a change was not for the benefit of a better written story, but for my own solace. Retrofitting clear answers about Simon's death would have meant that the book wouldn't be Jamie's story anymore. And in truth, it wouldn't have been my story either, not really. As with Simon, my father's suicide did not come with any explanations or reasons. The Sleepless would have become the story of the person who I craved to be, a person whose pain would be eased by knowing.
That's not how these things go, and I'm not convinced that that's how these things should go. So Jamie's journey ends as I had initially drafted it, only now I had been able to revise it so that it is laden with more detail, with more intimacy and specificity, and with more personal meaning. I was never going to know my father's reasons, and that unknowing is closer to the truth.
*
Being deep in The Sleepless during that time also allayed my grief, albeit obliquely. Over several chapters, various figures in Jamie's life offer advice on dealing with trauma. Back when I wrote those words, I had no direct experience with death, and so had to extrapolate those moments from anecdotes or media. From stories that are not mine. There thus came a strange comfort from seeing my own characters help Jamie gain acceptance and understanding. In a sort of feedback loop, working on my manuscript felt as though a former me—one untouched by the tragedy of my father's suicide—was reaching through time to keep me company and give me strength, if not wisdom.
After I turned in my manuscript, I took a trip to an immersion spa in Greenpoint. I wallowed in the warm of the salt water, surrounded by darkness. I reflected on the weeks past, on how quickly and devastatingly the story of my life changed, and how it had changed me. I worried what other sharp, peculiar turns my life would take. More was coming, that much I knew. I thought of my father, and it hurt as much as it helped as much as it healed. Now came the wait.
__________________________________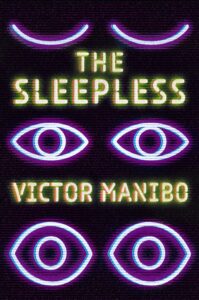 The Sleepless by Victor Manibo is available via Erewhon Books.
---